Body language expert says photos of Prince Harry, Meghan, Prince William and Kate over the years show there was always a crack
Most royal fans still remember Prince William, Kate Middleton, Prince Harry and Meghan Markle showing up at events together, looking happy and laughing together. But those times are over.
Over the years, many royal observers have tried to pinpoint exactly where things have turned for the "Fab Four." Now a body language expert has chimed in after examining photos that seem to show there was tension all along and a rift was brewing much sooner than we all thought.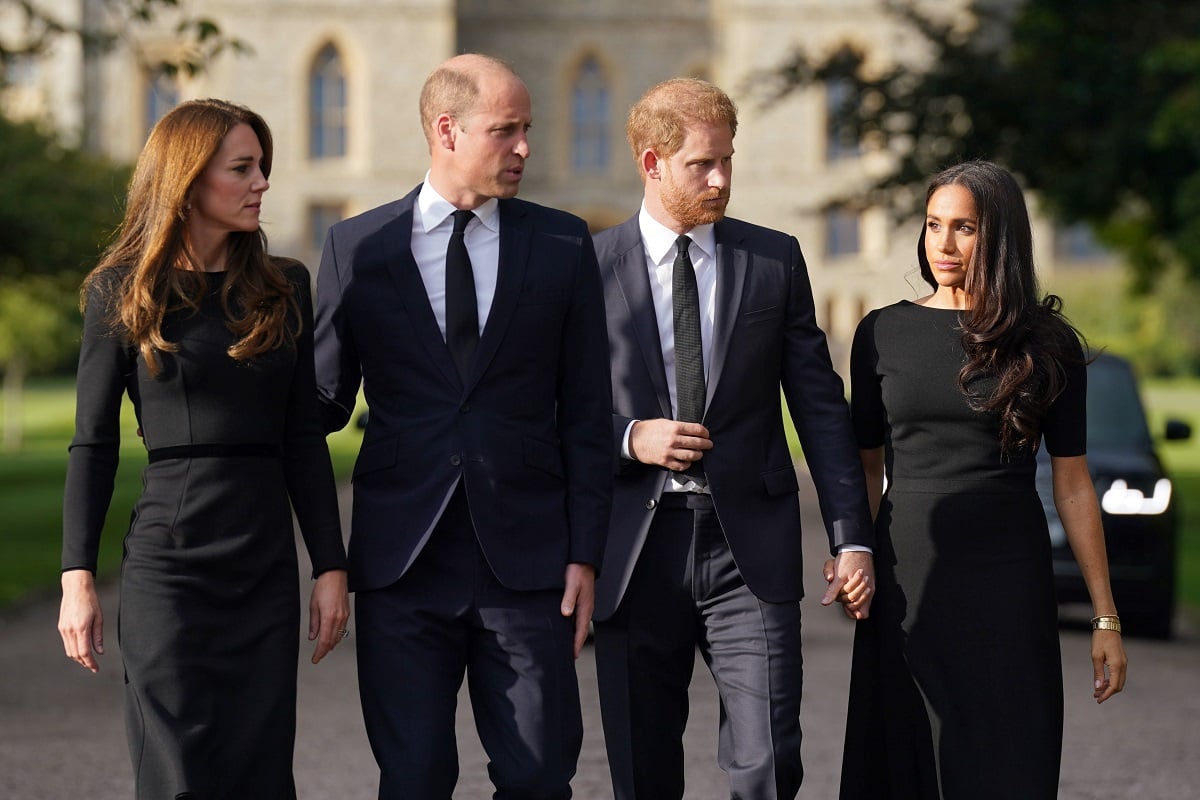 2018
Perhaps we were so caught up in Harry and Meghan's fairytale wedding, or the excitement the team of William, Kate and the Sussexes was bringing to the royal family, or simply a lack of a trained eye because many of us miss any signs of it have tensions in 2018. But body language expert Judi James noted that some of their behaviors at the time showed things weren't always going well between them.
James spoke to The Sun's Fabulous about a case at the Armistice Centenary where she saw how chilly things were.
"The couples lined up in close proximity, which could indicate the 'Fab Four' were still on the way, but again, the smiles on Kate's and Meghan's faces look fixed enough to suggest tension, and Kate's smile barely reaches her eyes." James watched. "However, it's the tension between the brothers that's starting to show here. Their poses may be mirrored, but they are self-protecting fig leaf hand poses."
2019
According to James, things haven't improved in 2019.
She pointed out that on Commonwealth Day 2019, Meghan seemed to be the one "who likes to draw on her acting skills to pull off a very convincing and fun looking smile".
On the others, James added: "Kate's facial expression here makes her almost unrecognizable. The social smile is gone and her mouth is drawn down at the corners instead. Her brows are raised and her eyes look intense and unhappy. And the brothers weren't faring much better. Harry was beginning to adopt the pained look in his eyes, which grew stronger as the couple got closer to leaving the UK for good. He appears to be biting his inner lip in a little self-attack here, and while the brothers always used subtle tie signs in public to lift each other's spirits, there's no sign of warmth or playful connection here."
2020
The Sussexes announced in 2020 that they were stepping down as senior royals and moving to America, and their most recent royal engagement in the UK showed the tension between the brothers and their wives in full.
William and Kate arrived for the Commonwealth Day service at Westminster Abbey after the Duke and Duchess of Sussex were already seated. Before sitting down, William tried to at least make things look polite by exchanging brief pleasantries with Harry and Meghan. However, Kate didn't follow suit and didn't even make eye contact with the Sussexes.
As James noted, "The last official appearance of the 'Fab Four' frankly showed a very emphatic erosion of any kind of warmth, closeness or even ease in each other's company. "
And as James took a close look at their facial expressions that day, he said: "They were at the point of openly avoiding or blocking out each other and only Meghan seemed interested in applying the social smile we can see here. Harry's fierce expression reflected the resentment and anger we were supposed to see erupting verbally in the Oprah interview, while Williams' pursed lips suggested misery and remorse. Kate's expression here had taken on a firm expression, with a pursed lip and a rather stern eye expression."
Showbiz Cheat Sheet recognizes that conditions and cultures can affect body language and is sensitive to all backgrounds
RELATED: Prince William and Kate have 'deliberate' reason not to hold hands like Prince Harry and Meghan, body language expert says
https://www.cheatsheet.com/entertainment/body-language-expert-says-photos-prince-harry-meghan-prince-william-kate-years-show-always-rift.html/ Body language expert says photos of Prince Harry, Meghan, Prince William and Kate over the years show there was always a crack