Box office: "Avatar: The Way of Water" marks 6 weeks at #1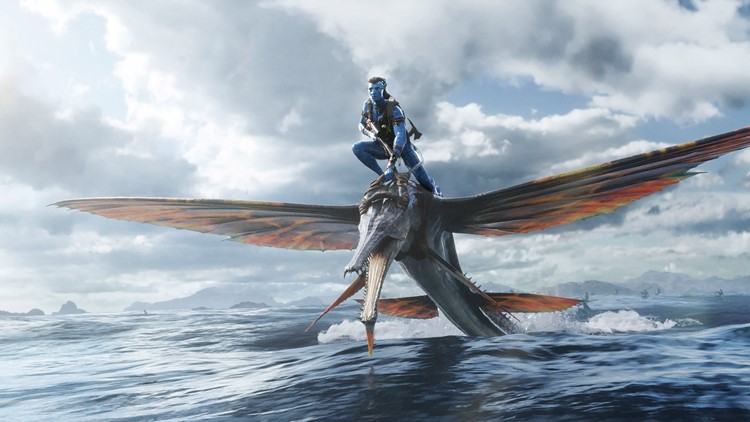 You have to go back to Cameron's original Avatar to find a film that has stayed at #1 for so long.
The Walt Disney Co.'s "The Way of Water" grossed $19.7 million in U.S. and Canadian theaters as of Sunday, according to the studio's estimates. Its global total has now surpassed $2 billion, ranking sixth all-time and just ahead of Spider-Man: No Way Home. Domestically, The Way of Water costs up to $598 million. Continued strong international sales ($56.3 million for the weekend) have helped the Avatar sequel climb to $2.024 billion worldwide.
A year ago "Spider-Man: No Way Home" also topped the box office for six weekends, but did so over the course of seven weeks. You have to go back to Cameron's original Avatar to find a film that has stayed at #1 for so long. ("Avatar" eventually ended at seven weeks.) Before that, the only film in the last 25 years to achieve that feat was another Cameron film; Titanic (1997) went unbeaten for 15 weeks.
Box office dominance for The Way of Water was aided in part by a lack of formidable challengers. The only new major release by a major studio over the weekend was the Thriller "Absence," by Sony's Screen Gems and Stage 6 Films. "Missing" is a low-budget sequel to 2018's "Searching" starring Storm Reid as a teenager who is searching for her missing mother. The $7 million budget film debuted at $9.3 million.
January is usually a slow time in theaters, but a handful of strong-performing holdovers have helped prop up sales.
Although it didn't have a grand opening in December, Universal Pictures' "Puss in Boots: The Last Wish" had long legs as one of the few family options in theaters last month. In its fifth week, it ranked second with $11.5 million domestically and $17.8 million overseas. The Puss in Boots sequel has grossed $297.5 million worldwide.
The scary doll horror hit "M3gan", also from Universal, has also continued to attract moviegoers. It made $9.8 million in its third week, bringing its domestic yield to $73.3 million.
And while the popularity of horror titles in theaters is nothing new, Sony Pictures' "A Man Named Otto" starring Tom Hanks, thrived in a market craving adult drama. The film, a remake of the Swedish film A Man Called Ove, about a pensioner whose suicide plans are constantly thwarted by his neighbors, grossed $9 million in its second week of release. As of Sunday, it had taken in $35.3 million domestically.
Estimated ticket sales for Friday through Sunday in US and Canadian theaters, according to Comscore. The final domestic figures will be released on Monday.
1. "Avatar: The Way of Water," $19.7 million.
2. "Puss in Boots: The Last Wish," $11.5 million.
4. "Missing," $9.3 million.
5. "A Man Called Otto," $9 million.
6. "Plane," $5.3 million.
7. "House Party," $1.8 million.
8. That Time I Got Reincarnated as a Slime The Movie, $1.5 million.
9. Black Panther: Wakanda Forever, $1.4 million.
10. "The Whale," $1.3 million.
https://www.kvue.com/article/news/nation-world/avatar-marks-6-straight-weeks-at-no-1/507-3c8d48a4-f58a-434c-981a-28cdaa711d6a Box office: "Avatar: The Way of Water" marks 6 weeks at #1