British nurse shocks live TV audience: 'If you voted Conservative you don't deserve to be resuscitated by the NHS'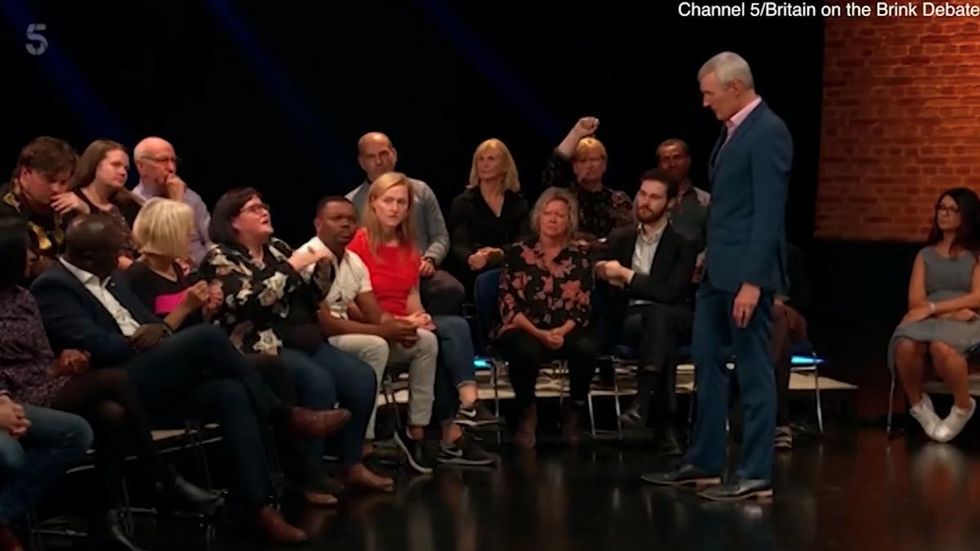 After President Ronald Reagan was shot dead while about to have surgery in 1981, he became joked to the Doctors: "I really hope you're all Republicans out there!" His surgeon, a liberal Democrat, replied, "Today we are all Republicans," which was undoubtedly a compassionate and dutiful response.
A nurse in the UK is under fire for showing the opposite reaction after saying on live TV that Conservative voters don't deserve to be resuscitated by the National Health Service.
Miranda Hughes, an NHS nurse, made these highly inflammatory and controversial comments during a debate on Britain on the Brink moderated by Jeremy Vine. Her comments prompted a swift backlash, with many calling for her to be suspended from the NHS or fired from her job.
"I couldn't handle the emotional stress of not being able to deliver for my patients," she said on the program. "They're bruised to the point, you can't treat them the way you want to treat them. You're constantly told in the news that nursing homes are being fenced off. It is a lie."
"I'm sorry," she continued, "but if you voted Conservative you don't deserve to be resuscitated by the NHS."
Her outburst caused members of the live audience to gasp and shake their heads. "It's tough but I look at these gentlemen and it makes me so angry," she said before walking back.
"Of course I would [resuscitate Conservative patients]but it's appalling how we've been treated," she said.
The soundbite sparked outrage online, where Hughes was condemned for essentially wishing millions of British voters dead.
"How can a nurse responsible for the health care of others continue her job when she believes that 14 million patients should be left to die? Parliament Martin Daubney tweeted.
"It's not 'break culture'. It's the consequences of being an unbridled fanatic," he added.
"This repulsive woman #MirandaHughes was a complete disgrace to her profession before being rightfully fired from the private hospital where she worked. She should never be allowed to work in healthcare or social work again," said British media personality Christine Hamilton.
Following the outcry, Hughes said the telegraph She will lose her job at a private hospital in South London.
"They can do that to me because of their media policy. I'm not allowed to say anything. I discredited the company. So yes, I'll be fired," she said in an interview.
"The reason I went into the program was because you can't take care of your patients. It is impossible. Because I care too much. And even Jeremy Vine said to me, 'Working in the NHS has broken you.'
"Well, yes it did, and it broke me again. I can't do the right thing and it frustrates me like hell because I've been sick myself. I've had to watch people die and there are no resources to help.
"That's the point I wanted to try and yet I had someone goading me and laughing from across the studio. It made me so angry, and I directed the comment at him," she said.
"I lost my temper and said something inappropriate. Now I'm going to lose my job because the Twitterati went to town," she added. "I get vilified for being a monster that doesn't care and unfortunately the problem is that I care too much."
The Telegraph reported that if someone files a complaint, Huges, a registered nurse with the Nursing and Midwifery Council, could face an investigation into whether her comments break the Code of Conduct.
"Our code is clear that professionals on our registry must promote professionalism and trust at all times. If a concern is raised with us, we will always look into it and take action if necessary," the council said.
https://www.theblaze.com/news/uk-nurse-shocks-live-tv-audience British nurse shocks live TV audience: 'If you voted Conservative you don't deserve to be resuscitated by the NHS'