California church gunman, an Asian man 'tied up' by churchgoers: Deputy
Members of the Geneva Presbyterian Church in California are credited with preventing more deaths and injuries after parishioners stopped the suspect in Sunday's mass shooting and "tied up" the man with an extension cord.
The suspect, an Asian man in his 60s, had already been arrested when deputies arrived in Laguna Woods shortly after Sunday's shooting at 1:26 p.m., the Orange County Sheriff's Department reported.
"We believe a group of churchgoers arrested him and tied his legs with an extension cord and confiscated at least two guns from him," Jeff Hallock, OCSD Deputy Sheriff, said at a news conference. "This group of churchgoers showed what we believe to be extraordinary heroism and courage when they stepped in to stop the suspect. They undoubtedly prevented further injuries and deaths."
The shooting happened during a banquet following a church service in Laguna Woods, a Southern California city with roots as a senior-oriented community. One person was killed, four seriously injured and another slightly injured, the OCSD said.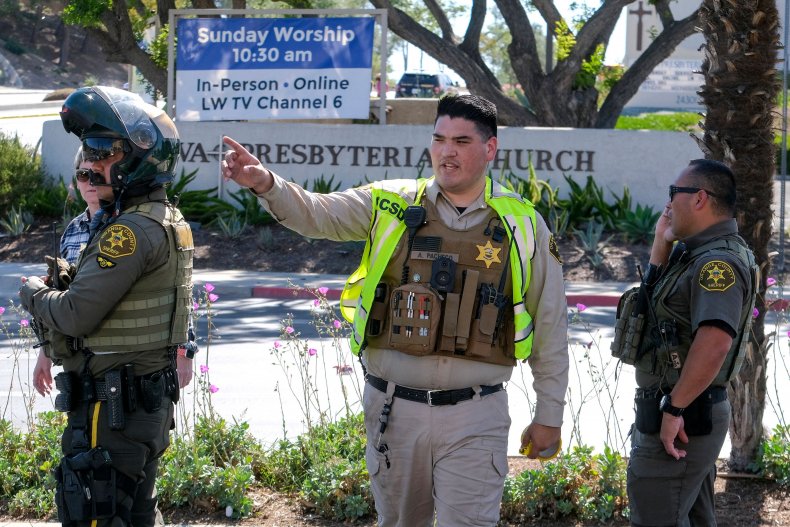 Many of those in the church at the time of the shooting were Taiwanese, the sheriff's department said. About 30 to 40 people were present.
The condition of the hospitalized victims is unknown, Hallock said.
The suspect was not named by police and was not injured in the incident.
Investigators are working to determine his location and whether he had any connection to the church, but said they do not believe he is from the Laguna Woods community.
"At this point we don't know what the suspect's motive might be or if he had an intended target or even if it was a hate incident," Hallock said.
Kristi Johnson of the FBI's Los Angeles field office said federal investigators support the OCSD.
"Right now we're working very hard to determine the motive," she said, noting that linguists will help.
Two handguns recovered at the scene are currently being pursued, according to the Bureau of Alcohol, Tobacco and Firearms.
Orange County Supervisor Lisa Bartlett called it a "very dark day for the people of Laguna Woods and Orange County," noting that it came shortly after the "tragic and hateful actions" in Saturday's mass shooting at a Tops Friendly Market in Buffalo, New York, the deadliest US mass shooting that year.
Buffalo suspect Payton Gendron shot dead victims at Tops Friendly Market in a racially motivated attack that killed 10 people, investigators said. Eleven of the 13 people shot were black.
According to the New York Times, Gendron has reportedly posted 180 pages of hateful writing online in a document allegedly relating to racist, anti-immigrant and anti-Semitic beliefs.
news week contacted the OCDS for more information.
https://www.newsweek.com/california-church-shooter-asian-man-hog-tied-churchgoers-deputy-1706795 California church gunman, an Asian man 'tied up' by churchgoers: Deputy