Caltech is on the verge of harvesting energy from space
Researchers at the California Institute of Technology (Caltech) are making renewable energy history by sending solar panels into space to harvest our sun's energy from orbit.
On Jan. 3, researchers at Caltech successfully launched the Space Solar Power Demonstrator (SSPD), a prototype spacecraft designed to harvest the sun's energy without the atmosphere and day-night cycle getting in the way. The spacecraft will wirelessly transmit this energy back to Earth.
Solar panels on Earth work by converting sunlight directly into electrical energy using the photovoltaic effect. Here, photons knock electrons off the atoms in the silicon photovoltaic cells, creating a flow of electricity. Energy can also be harvested from sunlight using concentrated solar power (CSP), which uses mirrors or lenses to concentrate sunlight into extreme heat to eventually produce steam that is converted into electricity by a turbine.
In 2021, solar energy generated 4 percent of the world's electricity.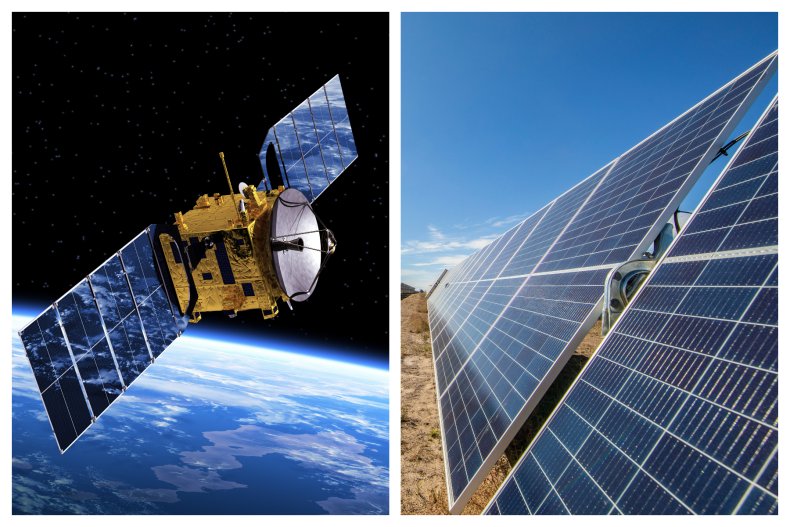 However, a major disadvantage of solar energy on Earth is that it can only collect energy during the day and its efficiency is affected by seasons and cloud cover. In space, these problems could be avoided.
The SSPD consists of three sections, each of which will conduct a separate experiment. The first is DOLCE (Deployable on-Orbit ultraLight Composite Experiment), which will test the deployment of modular spacecraft. Measuring 6 feet by 6 feet, DOLCE will test the mechanisms needed to eventually unleash a kilometer-wide constellation of spacecraft. Another experiment is ALBA, which will test which of 32 different types of photovoltaic (PV) cells are most effective in space, and the last is MAPLE (Microwave Array for Power-transfer Low-Orbit Experiment), which will test the transmission of energy from microwaves.
However, there are some important milestones to be passed for this emerging technology to become viable.
"For me, the biggest challenge is indeed bringing the energy back to Earth without major losses or other problems (like rays falling down in places where they are not wanted)," Kevin E. Trenberth, climate scientist and Distinguished Scholar at the National Center for Atmospheric Research news week.
"This shouldn't be a problem in space, where there's no air, but once air atoms (charged atoms in the ionosphere) and molecules get in the way, scattering takes place."
Trenberth said the worst problems are most likely associated with water vapor, as it absorbs sunlight and creates some localized heating. This reduces transmission and its efficiency.
"Some parts of the world, like the subtropics, have less water vapor and offer a window of sorts, but I don't know how these can be targeted or productively exploited on a rotating planet. Now this can be partially avoided by changing the sun's energy into microwave energy, which can be more easily transmitted through the atmosphere when raindrops or particles are not in the way. Microwave towers are used at the surface to beam energy over distances of about 10 miles, not hundreds of miles," he said.
"A big problem is that the beam spreads out and doesn't stay focused. More focus is achieved with huge antennas, but even then huge receivers would also be required. Laser power beams could be used in space but not in the atmosphere."
Even if the technology turns out to work, some don't think it will catch on.
"I find it very difficult to imagine how this approach could ever compete with ground-based PV, even if storage costs for a 24-hour supply are included," says Thomas White, solar cell scientist and associate professor at Australia's University of Sydney. told news week.
"Even with some very optimistic assumptions about future technology development, [a recent cost-benefit analysis commissioned by the European Space Agency] came up with a potential levelized cost of electricity (LCOE) of 3.8 – 10.6 euro cents/kWh by 2045. The levelized cost of electricity for ground-based PV is already around 3c/kWh and is getting cheaper every year, so it will be well below this price by 2045 Storage costs are also falling rapidly."
White said that if the space-based solar cells are successful, they will have to compete with existing technology that is well understood, field-tested, already one of the cheapest forms of power generation and is following a very predictable cost-cutting path.
"While we should be considering a wide range of strategies to achieve net-zero emissions as quickly as possible, I still don't see a compelling case for space-based solar being one of them," White said.
Testing SSPD will take a long time, although the team hopes to have a full assessment of its performance within a few months.
"No matter what, this prototype is a huge step forward," Ali Hajimiri, Caltech's Bren Professor of Electrical and Medical Engineering and co-director of SSPP, said in a statement.
Do you have a tip for a science story for Newsweek to cover? Do you have a question about solar energy? Let us know at science@newsweek.com.
https://www.newsweek.com/caltech-space-solar-energy-experiment-1771528 Caltech is on the verge of harvesting energy from space