Canadian restaurant owners traded grilled cheese sandwiches for a painting that just sold for $272,548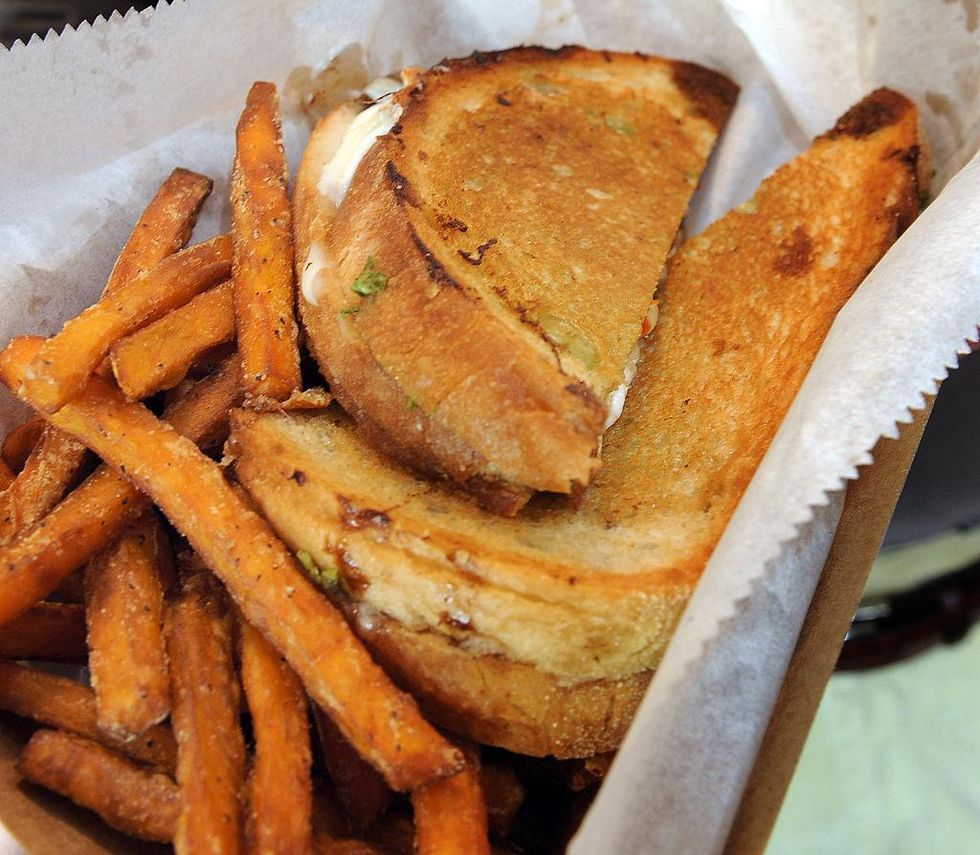 According to a report by Washington PostTwo restaurant owners in Canada just sold a painting for over a quarter million dollars – and all they paid for the painting was some grilled cheese sandwiches.
According to the report, restaurant owners Tony and Irene Demas owned The Villa restaurant in Ontario for many years and in the 1970s developed a special friendship with a local artist named John Kinnear, who loved The Villa grilled cheese sandwiches.
Kinnear reportedly visited the restaurant every day with his wife for a grilled cheese. As a struggling artist, however, Kinnear couldn't always afford his sandwiches, which cost $1.95 at the time. So Kinnear and the Demases came to an agreement: Kinnear would provide art for the restaurant, and the Demases would allow Kinnear to sometimes eat his grilled cheese sandwiches without paying.
Kinnear usually brought his own work, but one day he came with some paintings done by Nova Scotia artist Maud Lewis. Lewis, who died in 1970, was not famous at the time, but she went on to become one of Canada's most treasured folk artists. The story of how Kinnear came into possession of some of Lewis's paintings is interesting in and of itself.
According to the Post report, Kinnear read about Lewis in a 1965 newspaper article that described her as a door painter who had difficulty affording her own painting supplies. Kinnear was touched by the story and sent her some art supplies. Lewis was touched and responded by sending Kinnear some paintings – which she sold curbside for $10 each. Kinnear gave one of these paintings along with some letters from Lewis, proving that she had given them to him as thanks for the supplies, in exchange for his continued supply of grilled cheese sandwiches.
The Demases immediately showed off the colorful painting, which depicts a black truck driving down a road through a bright landscape, propped up on a chair at their restaurant.
Lewis' popularity exploded after her death and her paintings skyrocketed in value. When the Demases retired, they tried to give the painting, which they knew must be worth a considerable sum, to their children, but their children encouraged them to sell the painting and use it to fund their retirement. So they put the painting up for a virtual auction, where it sold for a whopping $272,548. They also sold the letters from Lewis to Kinnear for a staggering $54,500.
"I was just speechless," said Demas.
Regarding the decision to regularly feed Kinnear against artworks that were worth next to nothing from a monetary point of view at the time, Irene Demas said: "It was different in the 70s. We didn't think about ourselves that much; we thought about our neighbors and how we can help each other."
https://www.theblaze.com/news/canadian-restaurant-owners-traded-grilled-cheese-sandwiches-for-a-painting-that-just-sold-for-272548 Canadian restaurant owners traded grilled cheese sandwiches for a painting that just sold for $272,548