Carl Radke and Lindsay Hubbard officially call off their wedding
Things aren't so great in the Rad-House anymore. Lindsay Hubbard And Carl Radke gave their enviable New York apartment this name when they moved into the Summer House together. And after a few loved-up seasons together, Loverboy's former VP called off the wedding while the cameras were rolling.
While both parties remained silent on the matter, there were speculations and rumors. Carl reportedly had a mistress who was possibly close to fathering his child.
Then there was the question of the wedding ceremony. Carl was accused of intentionally waiting until after the refund deadline. There was speculation that the event might simply be postponed. Not like that.
Lindsay is "devastated"
Carl and Lindsay have officially called off the engagement and wedding. People confirmed.
The news publication has a letter Carl wrote to family and friends officially calling off the wedding.
"Words cannot possibly express how difficult the last two weeks have been for Lindsay and I," Carl wrote. "We deeply regret the confusion and lack of communication among all of our guests. We had to figure out exactly how this all happened before we even had a chance to determine the path forward together."
Carl acknowledged the rumor mill going into overdrive due to the couples' silence. He continued: "There have been a lot of false narratives and misunderstandings that have only made things more painful, but unfortunately we are not moving forward with the wedding at this time."
The reality TV star spoke very respectfully about his ex-fiancé. He continued: "The fact is that Lindsay is devastated and I am devastated about how this all happened. I graciously ask you for some patience and grace to heal and recover as we navigate this extremely difficult time."
What about the wasted money?
"The financial and time investment was a lot," said Carl, appreciating his guests. "I do not take [this] light. We are very grateful for the love and support you have shown us and will do my best to help with any costs associated with changing your plans."
His guests could always put on a Katie Maloney and show up to the room and vacation, heck, the wedding. Carl offered this and alternative solutions to mitigate financial losses.
"I'm sorry again that it's become such a mess," he concluded the letter. "Thank you for your unconditional love and support during this difficult time. I will contact you with further updates. With love, Carl"
Tell us – how do you react to the official cancellation of the wedding? WHY DO YOU THINK ONLY CARL MADE A STATEMENT?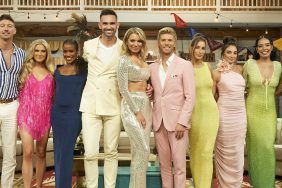 Summer House is coming.
Ashley is skeptical about the whole thing.
A wedding. Just what Lindsay needs!