Carson Daly receives a letter from AARP ahead of his 50th birthday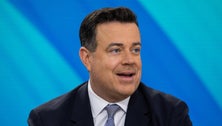 Carson Daly can't believe the countdown to his 50th birthday is on.
The former MTV VJ reminded fans they're not teenagers anymore when he took to Instagram on Wednesday to post a letter he recently received from AARP, an organization that focuses on people over 50.
"I have a big birthday next month and this shit just got real!" Daly captioned a photo of his post, welcoming him to the "50s club."
However, The Voice host still has a few days to reflect on the milestone. His actual birthday is not until June 22nd.
Daly was only in his mid-20s when he found fame as one of MTV's afternoon "video jockeys." From 1998 to 2003 he held the title "Top TRL" presenter.
"Columbine, 9/11, these are big events that we are monitoring at MTV," he said on Today. "This generation actually turned to MTV News. It will be sorely missed."
Though Daly's MTV era is well behind him, he's still a fixture on the small screen.
He hosted NBC's late-night show Last Call with Carson Daly from 2002 to 2019, and became the host and executive producer of The Voice in 2011.
Daly appeared as a stand-in for Willie Geist on NBC's morning show Today in 2013 and is now a regular.