Catholic Diocese sets Iowa law: No made-up pronouns, no boys in girls' sports, students must use toilets that match their true gender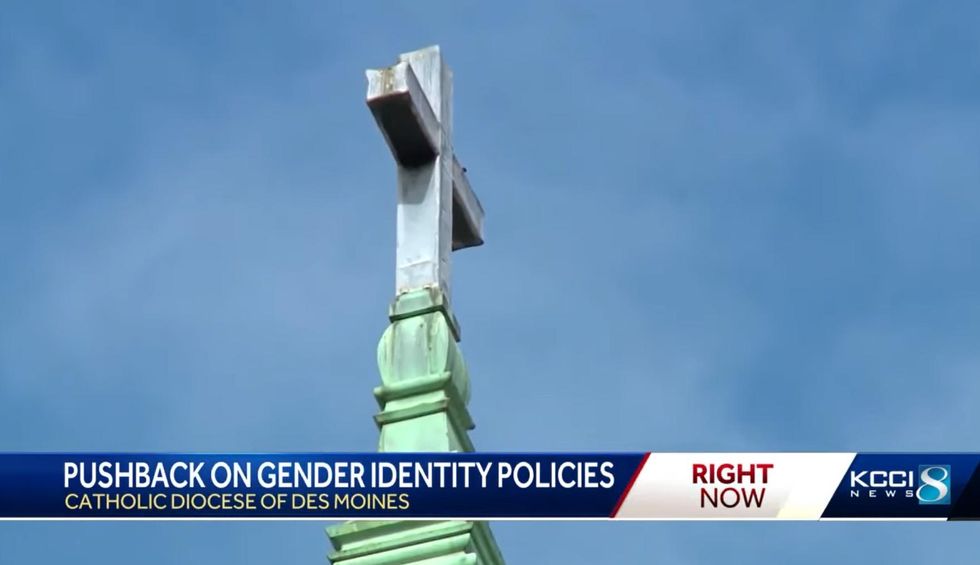 The Catholic Diocese of Des Moines has taken a strong stance against Awakened ideology and LGBT activism. From Monday is the Diocese of Southwest Iowa — led by 60-year-old Bishop William M. Joensen — is enforced New rules in 17 schools, four Catholic hospitals and 80 parishes, reinforcing old common sense and infuriating radical leftists.
New rules
The Diocese "Gender Identity Guide and PoliciesThe document contains seven guidelines, all of which are mandatory for diocesan parishes, schools, organizations and other Catholic Church institutions in the Diocese of Des Moines. However, they do not apply to passers-by, casual sellers and others who "might be on church premises not acting in an official capacity."
The rules are as follows:
Any documentation that requires an individual's gender to be identified must reflect the individual's actual biological sex. So-called "preferred pronoun".[s]' are not allowed because hugging invented pronouns, 'although intended as an act of charity, instead promotes the separation of sex and 'gender,' thereby confusing or denying personal integrity.'
All individuals must use the bathroom or changing room that matches their biological sex. However, buildings are permitted to have individually occupied bathrooms.
"All people should usually present themselves in a manner consistent with their God-given dignity." This rule applies primarily to uniform dress, with girls wearing girls' uniforms to school and boys wearing boys' uniforms.
With the exception of mixed sports, men shall participate in men's sports and women in women's sports. There must be no crossover.
Same-sex schools, buildings, and other programs or institutions (eg, women's shelters) are restricted to members of the designated sex.
Children may not take "puberty blockers" on community or school property, and "sex reassignment drugs" may not be distributed or stored on-site.
Counseling for vulnerable individuals affected by gender dysphoria will be "consistent with church policies and teachings."
The Diocese of Des Moines made it clear that those who disagree with these practices can leave: "We recognize their freedom of conscience to withdraw or remove themselves from situations that they find objectionable to reason and faith when they do so in full." participate in our faith communities, including our Catholic schools."
the diocese
told
KCCI that these guidelines "are part of a lengthy process … to answer questions raised by leaders in [their] communities and schools."
wisdom of the ages

While the rules run counter to LGBT conventions and social-constructivist illogicality, the diocese's policy document makes it clear that it "fervently hopes that all persons suffering from gender dysphoria know what the Catholic Church tirelessly affirms, that they are of Jesus Christ and… to be loved unconditionally by the Church, and that they are vital members of the body of Christ, having a home in the family of God."
The church may love her unconditionally, but she obviously gets by without her made-up pronouns and left-wing customs.
The new guidelines emphasize that "any response that merely confirms and reinforces the perceived disconnect between sex and gender is not genuine compassion."
Instead of maiming children with gender dysphoria or doling out puberty blockers, parents are instructed to "truly help the child by acknowledging the suffering it involves and to guide them on the path to personal healing, self-acceptance, integration and peace. "
"Integration" includes the understanding that the "human person is a body-soul union and the body – as created as male or female – is an essential aspect of the human person that is physical (i.e. in the gonads and other obvious features) , psychological and social components. A healthy person is one in which these dimensions are integrated."
Diocese and Catholic Church reject alternative to integration proposed by LGBT activists.
"The Catholic Church teaches that the disruption of normal sexual development, or more dramatically the removal or destruction of healthy sex and reproductive organs, is a type of 'mutilation' that is medically and morally harmful," the document says. "Procedures, surgeries and therapies designed to assist a person in the 'transition' of his or her gender are morally forbidden."
The document cites Scripture as justification for these and other claims, but also references Pope Francis' indication that "biological sex and the sociocultural role of sex (gender) can be distinguished but not separated."
Fadic outrage

Democratic State Senator Claire Celsi expressed outrage that the Catholic Church in Iowa is standing by its values.
Celsius tweeted"The Diocese of Des Moines enacts a ban on transgender children. These schools want public money and want to treat children in a way that could make them commit suicide. That's not what Jesus would do."
The Democratic Senator recommended that the purpose of the new guidelines was to "implicitly exclude LGBTQ students and staff".
Celsi has a track record of ridiculing the church and claiming that Catholics whose politics she finds uncomfortable are unchristian.
Celsius recently proposed that Texas Gov. Greg Abbott bussing illegal aliens into sanctuary cities is casting doubt on his confidence. she also lambed a Catholic school for asking a teacher to remove an LGBT activist flag from a classroom.
The Daily Mail reported that the leftist Iowa Interfaith Alliance called the diocese's policies "dangerous" and claimed they encouraged "bigotry" toward transgender people in the state.
Keenan Crow, director of policy and advocacy for LGBT activist group One Iowa, suggested that the diocese's policy "sounds like conversion therapy," despite the rules preventing children from undergoing transgender conversion therapy on diocese property.
Courtney Reyes, also an activist with One Iowa, said"You cannot pretend to be compassionate while misgendering people and denying them access to all spaces under your control."
Like Blaze News? Bypass censorship, sign up for our newsletters and get stories like this straight to your inbox. Sign up here!
https://www.theblaze.com/news/catholic-diocese-lays-down-the-law-in-iowa Catholic Diocese sets Iowa law: No made-up pronouns, no boys in girls' sports, students must use toilets that match their true gender