CDC map shows the most obese states in America
A map from the US Centers for Disease Control and Prevention (CDC) shows the US states and territories with the highest and lowest obesity rates.
West Virginia is the state with the highest obesity rate in the country, with a prevalence of 40.6 percent. The state of Kentucky follows closely with a prevalence of 40.3 percent.
Obesity is a common condition in the United States, affecting about one in five children and one in three adults, CDC figures show. An estimated 70 million adults in the country are obese — 41.9 percent of the adult population was classified as obese in 2017.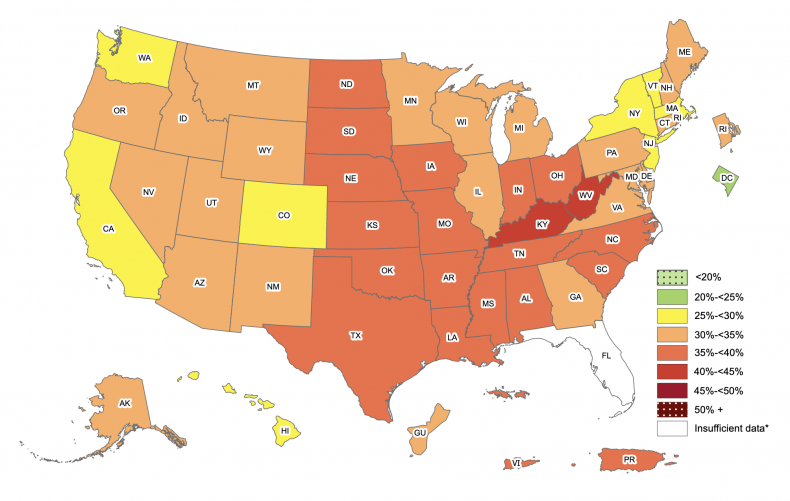 The disease has a significant impact on individuals' health and is associated with a higher risk of serious health conditions such as heart disease, stroke, type 2 diabetes, some cancers, severe COVID-19 outcomes and poor mental health.
Annually, the United States spends approximately $147 billion on healthcare related to the obesity epidemic.
A person is considered obese if their weight is greater than what is considered healthy for a given height. In adults, a body mass index (BMI) of 30.0 or greater falls within the obesity range, while 40.0 or greater is classified as "severe" obesity. BMI is calculated by dividing a person's weight in kilograms by their height in meters squared. (You can use this tool to calculate your BMI.)
The CDC map was created using 2019-2021 data collected by the Behavioral Risk Factor Surveillance System — an ongoing telephone survey conducted by the agency and state health officials.
The data shows 19 states and two U.S. territories have adult obesity prevalence rates of 35 percent and above — more than double the 2018 figure, according to the CDC. A notable absence is Florida, which has insufficient data for inclusion on the map reported.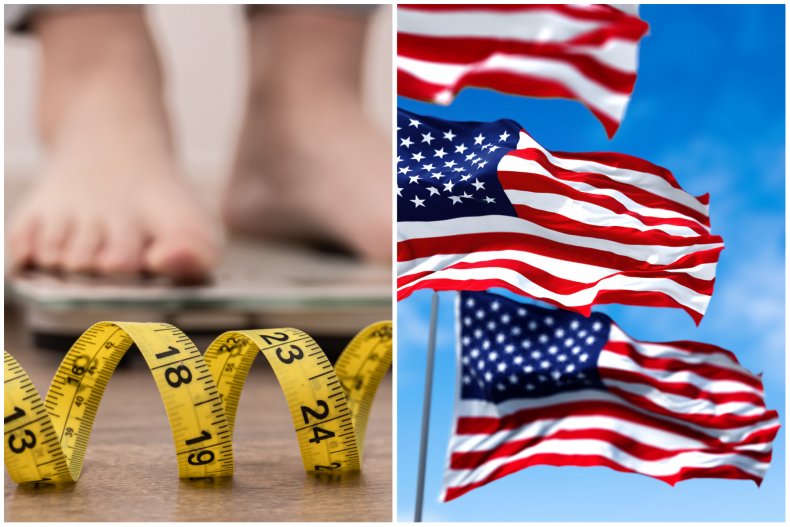 The states and territories with an obesity prevalence greater than 35 percent are: Alabama, Arkansas, Indiana, Iowa, Kansas, Kentucky, Louisiana, Mississippi, Missouri, Nebraska, North Carolina, North Dakota, Ohio, Oklahoma, South Carolina, South Dakota, Tennessee, Texas, West Virginia, Puerto Rico and the US Virgin Islands.
Overall, the South had the highest prevalence of obesity (36.3 percent) among all regions, with the Midwest ranking second (35.4 percent), followed by the Northeast (29.9 percent) and the West (28.7 percent). Percent).
The data also shows how obesity appears to be more common in certain groups. For example, none of the 37 states and territories that reported sufficient data had an obesity prevalence of 35 percent or more among Asian adults. This compares to 36 states and the District of Columbia out of a total of 47 jurisdictions with adequate data reporting a prevalence of 35 percent or more among non-Hispanic black adults.
There are also clear differences in terms of age and level of education. For example, adults without a high school diploma or equivalent had the highest obesity rates (37.8 percent), the lowest among college graduates (26.3 percent).
Meanwhile, adults ages 18 to 24 had the lowest obesity rates (20.7 percent) compared to adults ages 45 to 54, who had the highest (39.3 percent).
At the other end of the scale, the District of Columbia reportedly has the lowest obesity rate in the United States, with a prevalence of 24.7 percent.
Other states with lower obesity prevalence include Colorado (25.1 percent), Massachusetts (27.4 percent), California (27.6 percent), New Jersey (28.2 percent), Washington (28.8 percent), New York (29.1 percent) and Vermont (29 percent), according to the CDC map.
https://www.newsweek.com/cdc-map-reveals-most-obese-states-america-1747122 CDC map shows the most obese states in America