Chicago Mayor melts when reporter asks her to retract 'call to arms' tweet about abortion: 'The more he talks, the dumber he sounds'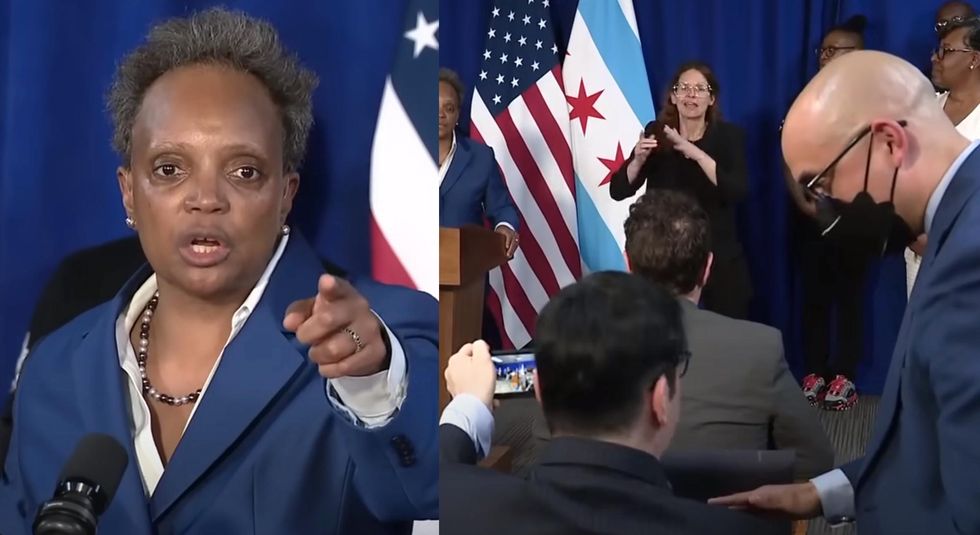 Chicago Mayor Lori Lightfoot melted during a media briefing where a reporter challenged them to withdraw their overheated rhetoric about the expected overthrow Roe v. calf Decision.
Lightfoot angrily cut him off and yelled him down as he tried to follow up on his questions during Wednesday's media briefing.
"Mayor Lightfoot, you pat yourself on the back today for rushing through a casino that 80% of people in the 42nd Precinct say they just don't want," the reporter said.
"They say that if it's ever built, it's going to lead to tourism, it's going to lead to conventions, but the real reason we don't have tourism or conventions is violent crime," he continued. "They issued a violent tweet 'call to arms' and since then we've had several incidents of mob violence in downtown Chicago, we've had shootings, murders, mass shootings – you're talking about Texas – mass shootings here in Chicago. "
"Is there a question? What is that? Let's get down to business," Lightfoot interrupted.
"There is indeed, absolutely!" he answered.
"A speech is not a question. Let's get down to business," she continued.
"They went to Texas for a gay fundraiser, okay? I've spoken to the taxpayers, the voters, the citizens of Chicago, mostly black and brown, they say they disapprove," the reporter continued. "Will you remember, retract your violent tweet to call to arms?"
"Let him talk. The more he talks, the dumber he sounds," she interrupted again.
"Are you going to withdraw your 'call to arms' tweet in light of the mass shooting in downtown Chicago, as stupid as you think it is?" he added.
"So let me just deconstruct the string of lies you just spat out like you do every time you come to one of our press conferences," Lightfoot replied.
Lightfoot claimed that Chicago's tourism has not declined, based on a statistic that says capacity in one area has dropped to just 90% from pre-pandemic rates.
"Somehow, the call to arms – the call to action that I issued – related to the Supreme Court decision has to be overturned Roe v. calf and basically turning back the clock 50 years to where women can no longer be in control of their bodies," she continued.
"No sir, I will not resign, I will not retire, because women in this country are not going to run for an unelected body to tell us we don't have the right, the circumstances and the when and where in which to control we produce our children!" said Lightfoot.
"You will let me speak, sir. You won't talk about me; those are not the rules here in this press conference and if you don't want to abide by those rules you can take your nonsense somewhere else because I'm about to be with you!" she added.
Lightfoot continued to rant about tourism before the interview turned into a screaming match.
"You're going to stop talking! You're going to stop talking!" She called. "You are, you are, you are full of shit! And that's the nicest thing I can say!"
At this point, one of Lightfoot's thugs stepped in to berate the reporter.
"I will not let you spoil this moment and if you don't stop I will ask you to leave and I will have the police get you out of here!" she threatened. "You will not behave like this, sir!"
Lightfoot ended her tirade with an impression of Jack Nicholson.
"Now you don't want to hear the facts because you can't handle the truth, sir!" she closed.
Here is the video of Lightfoot's meltdown:

Lightfoot argues with reporter after city council meeting: "The more he talks, the more stupid h becomes

www.youtube.com

https://www.theblaze.com/news/lori-lightfoot-yells-reporter-tweet Chicago Mayor melts when reporter asks her to retract 'call to arms' tweet about abortion: 'The more he talks, the dumber he sounds'