Chicago News crew robbed while covering robberies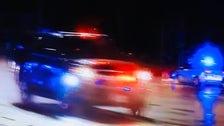 Two journalists became part of history on Monday when they were robbed at gunpoint while covering a series of armed robberies in Chicago.
The robbery occurred just before 5 a.m. at the 1200 block of North Milwaukee Avenue in the West Town area, Chicago Police Department told the media.
Spanish-language television station Univision Chicago said its reporter and photographer were robbed by three men wearing ski masks and carrying guns Chicago Sun Times reported.
The suspects reportedly got out of two separate vehicles, demanded money from the two men, and stole a camera, two bags of gear and a personal backpack. They then fled in the vehicles.
Police said no injuries were reported and no arrests were made.
The journalists filmed a report of robberies in the West Town community for the morning news.
The footage was never aired because the camera that recorded it was stolen, said Luis Godinez, vice president of news at Univision Chicago, said the Chicago Tribune.
Godinez told the Tribune the station reported on the robberies on the evening newscast, but didn't focus on the incident involving its own news crew.
"We don't want to make the story about us because there were other robberies in the same period," he said.
Between Sunday night and Monday morning, at least seven robberies and two auto thefts occurred in the city. according to CBS 2 Chicago.
Monday's incident was the second robbery of a Chicago news team this month.
Raza Siddiqui, president of the National Association of Broadcast Employees and Technicians Local 41, which represents media workers, told the Sun Times the union is concerned about the safety of its members in the workplace and is looking for solutions.
According to Siddiqui, some news channels affiliated with the union planned to introduce new safety measures starting Monday night, including ensuring the safety of certain crews.