Chicago woman defies carjacking and ends up killing teenage suspect and critically injuring another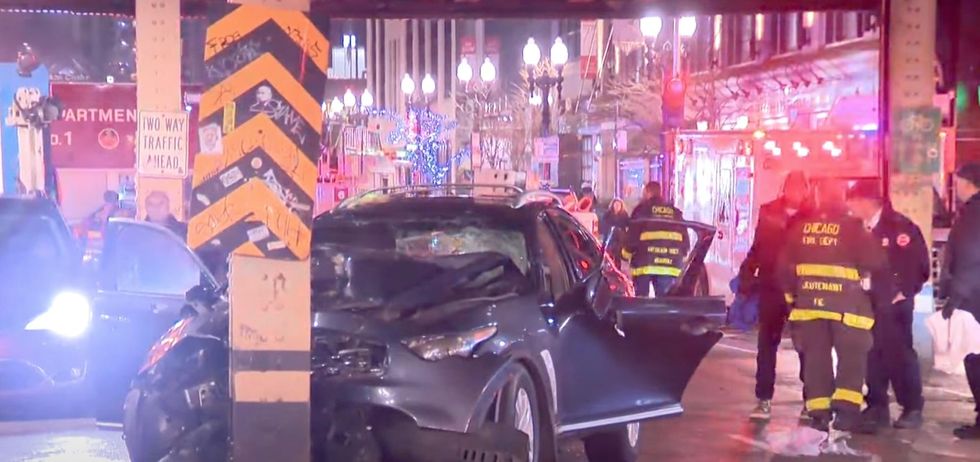 A woman resisted and ended a carjacking attempt in Chicago, Illinois kill one of the alleged teenage attackers and left another in critical condition.
Chicago police said the 35-year-old woman was waiting in her car at the intersection of Lake Street and Wabash Avenue during rush hour when two people approached and got into the car just before 5:45 p.m
The woman fought back against the carjacking and got into an altercation with the two suspects. The male suspect landed behind the driver's wheel and crashed the Infiniti FX35 into a support pillar at high speed. The two suspects and the victim were trapped in the car, but the Chicago Fire Department was able to free all three.
One of the suspects, an 18-year-old man, died of his injuries at a hospital. The other suspect, a 17-year-old woman, was critically injured and taken to Northwestern Hospital.
The victim was also in critical condition at Stroger Hospital.
A witness named Courtney Gordon, who worked nearby, described what he saw WFLD-TV.
"Someone just got out of the car, said they were still in the car and the lady was screaming, trying to get people to come over and try to get the cops. But someone just stole the car, but they resuscitated the person who was still in the car," Gordon said.
"It was pretty awful, you heard the sound, it was a huge bang. I was open minded here at Dunkin' Donuts. It's just a big bang and you thought someone came through the windshield because you saw it was broken," he explained.
The deceased was later suspected identified as Elijah J. Treadwell from Uptown.
WBBM-TV reported that charges are pending against the surviving carjacking suspect.
Here is a local news video of the incident:
Carjacking suspect killed after crash near Lake and Wabashwww.youtube.com
https://www.theblaze.com/news/chicago-carjacking-death-teenage Chicago woman defies carjacking and ends up killing teenage suspect and critically injuring another