China has complained about videos of Pompeo discussing the CCP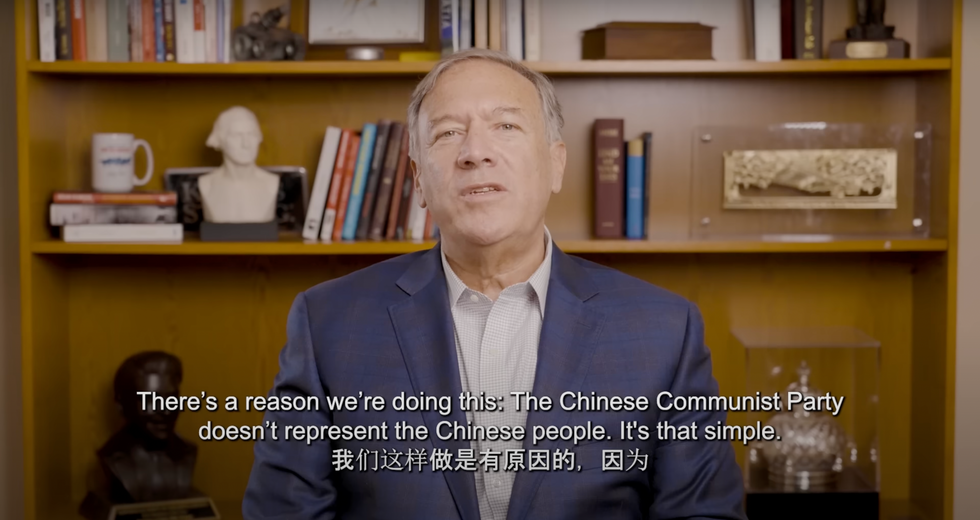 The Chinese embassy in the US released a letter complaining about videos from the Hudson Institute's China Center of former US Secretary of State Mike Pompeo speaking out against the Chinese Communist Party.
"The CCP wants me to stop telling the truth. That's not going to happen," Pompeo tweeted on Tuesday.
Pompeo's post included a photo of a letter in which the Chinese embassy in the US complained about the videos and claimed that the Chinese Communist Party had benefited the nation's people.
In the Hudson Institute videos, Pompeo berated the Chinese communist regime for being against the Chinese people.
"The Chinese Communist Party does not represent the Chinese people," says Pompeo in the first Video, which also includes the English and apparently Chinese text of his on-screen remarks. "The CCP is a totalitarian, one-party political organization committed to a foreign, anti-Chinese ideology. It started out as a group of brutal, radical extremists. And to be honest, not much has changed."
"There is no greater enemy to the CCP than you, the Chinese people," Pompeo said. He also said that "what the CCP really cares about is maintaining its stranglehold on the Chinese people."
So far, the video has accumulated more than 53,000 views on YouTube.

The Chinese Communist Party does not represent the Chinese people

www.youtube.com

The letter from the Chinese embassy said Pompeo had "made baseless allegations against the Chinese Communist Party".
"The CCP was founded for the people and nurtured by the people. The leadership of the CCP is the choice of history and the people, and is ratified by the Chinese Constitution. China's development would never have been possible without the CCP's leadership. Under his leadership, through arduous struggle and hard work, the Chinese people have established the People's Republic of China and freed themselves from bullying, oppression and subjugation," the note said.
pompeo served CIA Director during part of President Donald Trump's tenure before serving as Secretary of State. He previously served as a Kansas congressman in the US House of Representatives. He seems open to the possibility of making an offer from the White House.
"Deciding what I'm going to do next, where I find myself, whether I'm helping someone run for president or nominating myself as a candidate, ah, will depend on my judgment of how to most effectively deliver that." American people deserve it," Pompeo said Last month.

The Chinese Communist Party does not represent the Chinese people

www.youtube.com
https://www.theblaze.com/news/china-complains-videos-pompeo-communist China has complained about videos of Pompeo discussing the CCP