Chris Christie blasts ABC panel as he points out glaring issue with Jan. 6 committee: 'It's a TV production'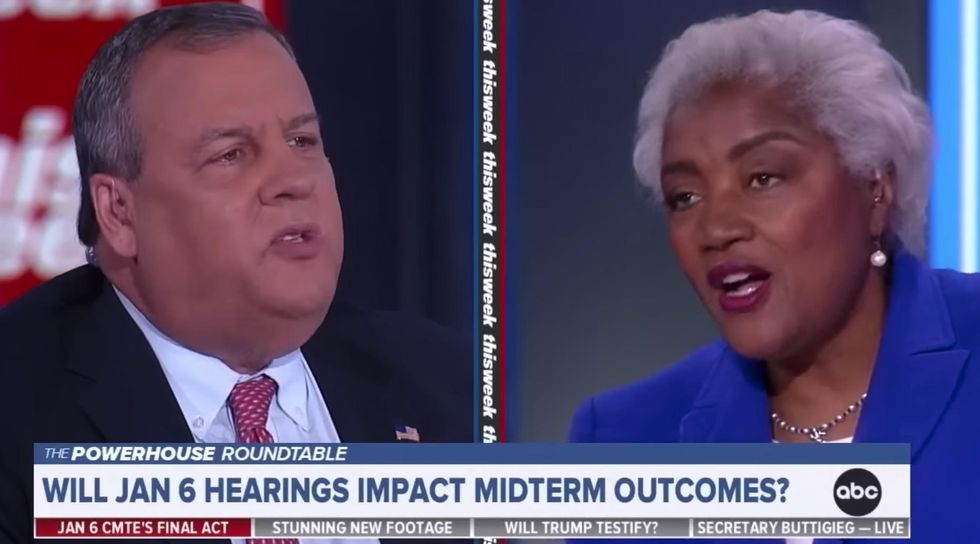 Former New Jersey Gov. Chris Christie (R) provided a much-needed reality check on Sunday, explaining to ABC News why the Jan. 6 committee hearings didn't move the needle with voters.
Influencing the 2022 midterm elections was indeed one of the main goals of the committee, which decided to televise many of its hearings in prime time.
Indeed the New York Times reported before the first hearing that House Democrats wanted to use the hearings "to bring voters' attention back to Jan. 6" by "directly associating Republicans with an unprecedented conspiracy to undermine democracy itself."
What did Christie say?
During a panel discussion on "This Week," Associated Press reporter Julie Pace noted that Democrats are not campaigning on the Jan. 6 committee hearings because the hearings have not had an impact on voters.
Christie then suggested why the committee is not having an impact: it lacks credibility.
"I think the January 6th committee, despite some really good work they've done, has come to terms with having a credibility issue because of the committee's membership and the way it was done," Christie said .
"So there are a lot of Republicans in this country who just say, 'There's no one arguing the other side. [Reps. Adam] Kinzinger and [Liz] Cheney doesn't argue the other side," he added.
Then came the interruptions. Moderator George Stephanopoulos interjected, "There is no other side," a point Democrat Donna Brazile agreed with.
"What's the other side, Chris?" Brazile interrupted.
"I think you can interview a lot of these witnesses that have come up and – and test their credibility, Donna," Christie replied.
"Bill Barr? You want to test the credibility of the former Attorney General? You want to test the credibility of the people who were in the Oval Office advising the President?" Brazile continued.
After a back and forth, Christie was finally allowed to speak. He said by examining the credibility of witnesses, the January 6 committee could have strengthened its own credibility.
"But instead it's a television production," Christie pointed out.
"There are a lot of people in the White House who now have comfortable memories of things that they didn't have memories of before," he explained. "You can ask questions about it."

ABC panel slams down Chris Christie's Jan. 6 attack on committee

www.youtube.com

The second reason the Jan. 6 committee has no effect, Christie said, is because Trump is not on the ballot.
"In the end it's all about Donald Trump and his role on January 6th," Christie explained. "But when he's not on the ballot, it's very difficult for Democrats to make this a cutting issue, especially with skyrocketing inflation, gas prices, crime on the streets, open borders and drug overdoses – these are things that affect people's everyday lives, and they don't see it that way."
Interestingly, former President Barack Obama made a similar point on a podcast over the weekend, explaining that wasting energy on Trump is increasing dissonance between Democrats and the issues Americans care about most.
"We're spending a tremendous amount of time, energy and resources pointing out the last crazy thing he said," Obama said. "It's probably something that, in the minds of most voters, doesn't override their basic interests: Can I pay the rent? What are the gas prices like? How do I handle childcare, etc."
https://www.theblaze.com/news/chris-christie-jan-6-committee-credibility Chris Christie blasts ABC panel as he points out glaring issue with Jan. 6 committee: 'It's a TV production'