Christian petition against Donald Trump's 2024 campaign signed by thousands
Thousands have signed a petition by a Christian organization condemning Donald Trump's bid for the White House in 2024.
Trump became the first candidate to officially launch a 2024 campaign at his Mar-a-Lago club on Tuesday night, after a disappointing performance for the GOP in the 2022 midterm election that left many Republicans blaming the former president after numerous calls from Trump supported candidates had lost their races.
It came as Trump faces a series of escalating criminal investigations, including an probe into documents bearing secret markings seized at his Florida home and another into his efforts to hold on to power after his defeat in the 2020 election .
The morning after Trump's announcement, Faithful America launched a petition that has since garnered more than 14,000 signatures.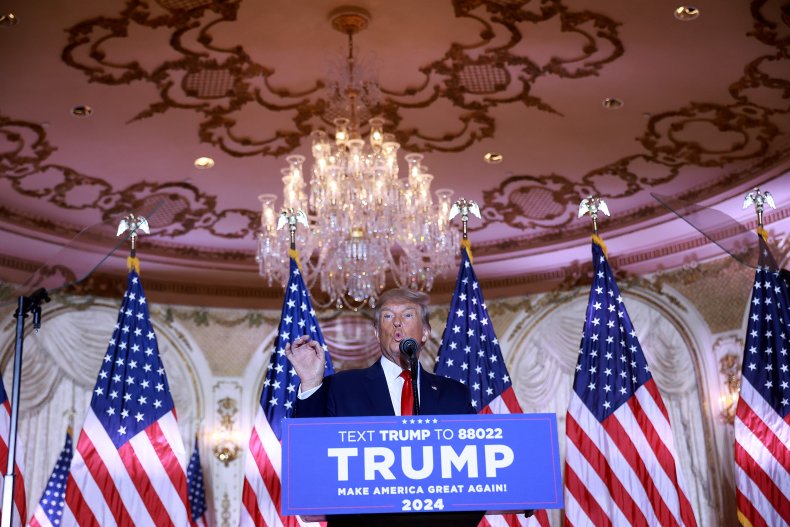 The petition said Trump announced his recent presidential campaign with a speech "riddled with fear mongering and lies" and made it clear that he "intended to redouble the fascist tactics" leading to the "Christian nationalist" Attack on the US Capitol January 6, 2021.
"We don't know much about how the 2024 election will turn out, but one thing is certain: another Trump presidency would be catastrophic for our country," she added. "Several power-hungry pastors and Christian nationalist leaders like Mike Huckabee, Mark Burns and Eric Metaxas are already lining up to join him, falsely pretending to speak for all Christians."
She urges Christians to "speak up" and "make it clear that Donald Trump does not share our values ​​and will never have our votes."
Reverend Nathan Empsall, executive director of Faithful America, said Trump has repeatedly "weaponized" religion in his last two presidential campaigns.
"The insurgent ex-president has repeatedly armed religion in his last two election campaigns, and 2024 will be no different. Neither the country nor the church can afford another four years of this charlatan's fascism, racism, misinformation or ego," Empsall said news week in an opinion.
"Contrary to what Trump and his Christian nationalist allies preach, Christianity is rooted in the gospel of Jesus Christ, who taught us love, equality and dignity – values ​​that the vast majority of American Christians understand and values ​​that… they care about and remember we choose."
news week has reached out to Trump's office for comment.
Faithful America also started a petition earlier this month condemning Republicans, including Georgia Representative Marjorie Taylor Greene, a Trump ally, as "false prophets."
The petition, which has garnered more than 15,000 signatures, says: "Leaders of the Christian nationalist movement come to us in sheep's clothing, claiming to speak for Jesus, but ultimately turn out to be ravenous wolves who speak the language of religion manipulate and only care about themselves that is eating away at the rights of non-Christians, women, migrant families, voters and the LGBTQ community."
It adds that a majority of Christians across the country are "tired of seeing false prophets like Marjorie Taylor Greene, Franklin Graham, Doug Mastriano, JD Vance and Michael Flynn using the gospel for their cultural agenda of hate, power and… distort cleavage".
https://www.newsweek.com/christian-petition-against-donald-trump-2024-election-1761032 Christian petition against Donald Trump's 2024 campaign signed by thousands