Chrysler showcases future technology powered by a brain
The fledgling Chrysler brand is serving as a showcase for the future of Stellantis smart technology and design at the annual CES conference in Las Vegas this week.
Although Stellantis only has two vehicles on the market today, the Pacifica minivan and the 300 sedan, Stellantis has again unveiled a concept intended to show future viability and bearing the Chrysler badge. The brand has confirmed that the 300 will be leaving its lineup this year.
Last year, the company unveiled its Chrysler Airflow Concept, a clean mobility vehicle designed to showcase the brand's future interior and technology design as it prepares to launch its first battery electric vehicle in 2025.
Chrysler will have an all-electric portfolio by 2028.
The new two-seat Chrysler Synthesis Cockpit is a hub for three technologies the company has already demonstrated: STLA Brain, STLA Smart Cockpit and STLA AutoDrive.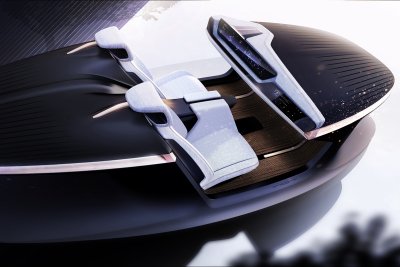 It is designed around the theme of "Harmony in Motion," which Chrysler says embodies the harmonious combination of "product, technology, purchase and ownership."
STLA Brain is the nerve center of the concept, an electrical architecture working to integrate advanced technology throughout the command center, i.e. the 37.2-inch infotainment screen mounted on the dashboard.
STLA Smart Cockpit is the consumer-facing side of the infotainment system.
The automotive brand says in a press release that the system is also capable of running a virtual personal assistant capable of managing the customer's digital lifestyle across home, work and personal devices.
For this purpose, the technology used in the concept has a number of features. MyDay combines calendars and schedules as well as car charge levels to help a user determine the best time to charge the car and create a smart travel plan for the day.
Vehicle Welcome uses biometric recognition to convey a "Welcome" via a virtual personal assistant. Genesis already has a similar feature in the electric SUV GV60.
The Chill/Zen/Fun modes offer vehicle occupants a sensory experience including meditation, karaoke and a DJ game while the model is standing or driving autonomously.
STLA Drive offers Level 3 autonomous driving technology that allows hands-free operation of the steering wheel while the driver takes their eyes off the road.
All of these systems can be updated using over-the-air (OTA) technology. Many vehicles that are already on the market today use OTA technology.
The systems come together in a smaller concept vehicle that is modern, spacious and sustainable. It is chrome-free and uses vegetable-tanned leather and soft upcycled covers on the seats. Chrysler's concept instrument panel made from recycled Mélange Heather is made from 100 percent post-industrial plastics and ocean plastics. The floor is covered with walnut.
https://www.newsweek.com/chrysler-shows-off-future-technology-powered-brain-1771057 Chrysler showcases future technology powered by a brain