Clarence Thomas lays wreaths at Arlington National Cemetery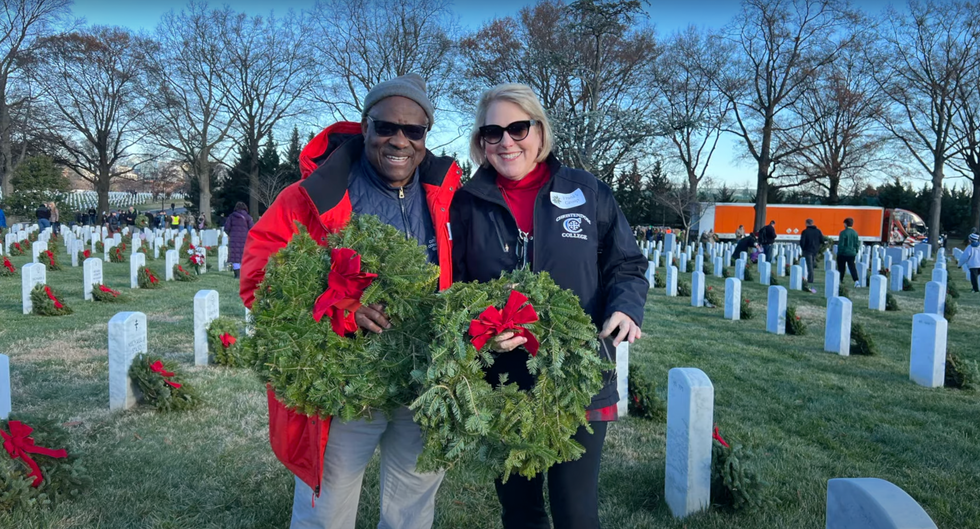 Journalist Emily Miller published a photo of herself with Supreme Court Justice Clarence Thomas at Arlington National Cemetery and noted that Thomas was there to lay wreaths.
"I love how Judge Clarence Thomas quietly lays wreaths with all the other #wreathsacrossamerica volunteers each year at Arlington National Cemetery to honor those who made the ultimate sacrifice," Miller said tweetedadd another tweet that Thomas is attending to "honor the fallen and spend time supporting Gold Star families in Arlington."
Miller noted that Thomas was unaware that she posted the photo of him online. "He has no idea I posted that. I've been doing this with him for years," she said tweeted.
"We were in the same group that is organized every year by a veteran named Frank," Miller wrote in one piece about the photo and Thomas' participation in the annual event. "The only people I've seen who found out who Justice Thomas really is during these events are the members of the Gold Star family, whom he speaks to to honor and privately support," she wrote . "Know his top notch security detail was there and blended in well with the crowd."
Miller highlighted a photo which she posted in 2016, which also showed Thomas laying the wreath, although she didn't point out in that tweet that Thomas was in the photo.
Thomas, 74, is currently the senior and senior justice of the nine-member High Court – he was nominated by Republican President George HW Bush and has been in office since 1991.
The wreathsacrossamerica.org website notes that "Each December on National Wreaths Across America Day, our mission of remembering, honoring and teaching is accomplished by coordinating wreath-laying ceremonies at Arlington National Cemetery and more than 3,400 other locations in all 50 states, at sea and abroad."
Wreaths Across America | Section 60 Arlington National Cemetery | Judge Clarence Thomas | Kabul 13www.youtube.com
https://www.theblaze.com/news/clarence-thomas-wreath-laying-arlington Clarence Thomas lays wreaths at Arlington National Cemetery