Coco Gauff reveals which celebrity she had in mind while playing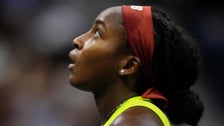 Coco Gauff may have vented her inner Queen Bey during her US Open third-round match on Friday night.
The young tennis star revealed this in a post-game interview that she was thinking about Beyoncé's ongoing Renaissance World Tour as she defeated Belgium's Elise Mertens 3-6, 6-3, 6-0 at Arthur Ashe Stadium in New York City.
"When I play tennis I think of a lot of things outside of tennis," she said. "I was thinking about the Renaissance Tour during my game."
She added, "I think about a lot of different things and honestly it relaxes me. I don't know if it's a coping mechanism or what."
Gauff also noted that celebrity couple Justin and Hailey Bieber, as well as Marvel, were on her mind at times on Friday.
The Biebers attended the Arthur Ashe game to watch the Florida native play. The 19-year-old told reporters she spotted the pair on the Jumbotron "right away."
She said she was honored by the presence of celebrities including the Biebers and Miami Heat star Jimmy Butler, who was also in attendance. She said Justin Bieber's 2010 hit "Never Say Never" was one of her favorite songs when she was younger.
But when Gauff was asked which star would cast her most spell over her, Gauff said it was none other than Beyoncé.
"If she ever came along, oh my god, I hope they wouldn't put her on screen," she said, laughing. "Maybe in the end."
In May, Gauff posted a TikTok video This indicated that she was preparing for a Renaissance World Tour stop in Paris.
"I had a little tears in my eyes when she came out. I've always wanted to go," she said, adding that she has plans to attend another concert later this year.
Beyoncé recently received a new title during her tour: Honorary Mayor of Santa Clara, California, for a day.
The singer said she was grateful to her fans for the "special" occasion during a performance in Santa Clara on Wednesday.