Colorado quarterback Shedeur Sanders receives high praise from Tom Brady
When University of Colorado quarterback Shedeur Sanders took the field toward the end of the fourth quarter of Saturday's game, he had only one thing on his mind.
"I was just thinking about Brady mode," Sanders said after the game. "That's it. Very easy."
The 21-year-old son of Colorado coach Deion Sanders has a close relationship with seven-time Super Bowl champion Tom Brady. They text after every game, Shedeur said. And he didn't want to disappoint the "GOAT."
Shedeur led Colorado with a 98-yard touchdown drive and subsequent 2-point conversion to tie the game against Colorado State with 36 seconds left in regulation. Colorado won 43-35 in the second overtime to improve its season record to 3-0. Shedeur figured Brady, known for his late-game heroics, could also thrive in late-game situations.
Following the win, father and son joined Brady's "Let's Go" podcast on Monday, co-hosted by former NFL receiver Larry Fitzgerald and sportscaster Jim Gray. They discussed topics ranging from the incredible list of athletes Shedeur's drive reminds Brady of to whether the three-time NFL MVP thinks Colorado's star QB needs a new Rolls-Royce.
Check out some of the highlights from the conversation.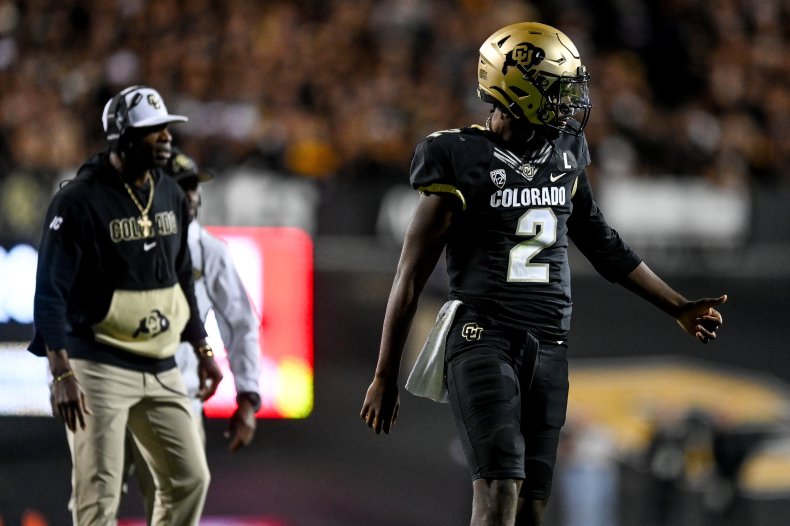 Brady sees Jordan and Bryant in Shedeur's drive
Shedeur Sanders has thrown for 1,251 yards and 10 touchdowns through the first three games of the 2023 season. But his performance on the field may not be as impressive as the way he carries himself on it, at least according to Brady.
Brady raved about Shedeur's competitive spirit about 13 minutes into Monday's half-hour episode. But he didn't stop there. The 15-time Pro Bowler compared the college QB to some of the most successful athletes of all time.
"I love seeing people go out and compete. That's what the game is ultimately about," Brady said. "Mike Tyson didn't try to make friends. Kobe Bryant, Michael Jordan, they weren't trying to make friends. You're out there to do a job. Tiger Woods didn't try to make friends. We don't." I'm trying to make friends. I love it when I see other people like that.
"I relate to them a lot more than the guys hugging on the field before the game. Man, get this out of here. That was a load of nonsense to me, I never tried to love anyone."
Fitzgerald then joked that every game was personal for Brady, a nod to Deion Sanders' motivational tactics.
"Brady mode" takes on a new meaning
After 23 seasons in the NFL, Brady retired last offseason. For the future Hall of Famer, "Brady mode" means something different in retirement than it did when he was carving up NFL defenses in crunch time.
"Brady Mode for me now means my golf game and cutting 98-yard sand wedges," Brady said. "As I said [Instagram account]"I said I wanted to be in 'Shedeur mode' just once."
Shedeur was previously coached by Brady and often gets his tips on how to play the quarterback position. Deion Sanders said Shedeur "loves" Brady and that he will often use the former quarterback as an example as he tries to "move forward." [Shedeur's] Butt."
In his first season in Colorado after transferring from Jackson State, Shedeur ranked second among Division I quarterbacks in passing yards and seventh in touchdowns thrown.
"I'm so proud of him, just watching him grow and mature," Brady said of Shedeur. "We all start at a certain point and he had a lot of high expectations and he embraced them. I love him and it just makes me proud to see what he does. So I know it's just the beginning for you, and of course this is the beginning of the season."
At one point in the show, Brady urged Shedeur to remain humble given all the nice things that were said about him. "I would rather tell your dad and tell you to get back to work," the former Patriots and Buccaneers QB said on the podcast.
Even though he had a Hall of Fame football player as a father, Shedeur said it was still valuable to hear Brady's opinion.
"When I hear it from my dad, I hear it my whole life," Shedeur Sanders said. "So it's like most of the time I kind of understand what he's saying now, I would say. But of course it's just different when I talk to Tom. Because he was actually there taking snaps. "My dad was never a quarterback.
"I was there in high school, son," Deion Sanders said. "Don't minimize it."
Sanders family asks "GOAT" for car advice
The end of the "Let's Go" podcast on Monday got a little off track.
Brady said Monday that he's "always there for Shedeur" whenever he needs advice. And the Sanders family made sure to find some immediately. The upcoming debate? Whether 21-year-old Sanders needs a new Rolls-Royce.
"Tom, do you think a student needs a Phantom, like a Rolls-Royce?" asked Deion Sanders.
"No, it's not a phantom," Shedeur Sanders said. "It's a Rolls-Royce Cullinan."
"I think he needs to get his [butt] "I'm in the film room and I spend as much time there as possible," Brady replied.
"Thanks, Tom," Deion Sanders said.
"Less time in the car and more time in the film room," Brady said.
The Sanders family will be in the spotlight again on Saturday during a Week 4 matchup between No. 19 Colorado and No. 10 Oregon. The game will be televised nationally at 3:30 p.m. ET on ABC. Until then, Brady is preaching the same thing he wrote to Shedeur after Colorado's win in Week 1: "Don't be complacent."