Colorado's "Coach Prime Experiment" is headed for an ugly end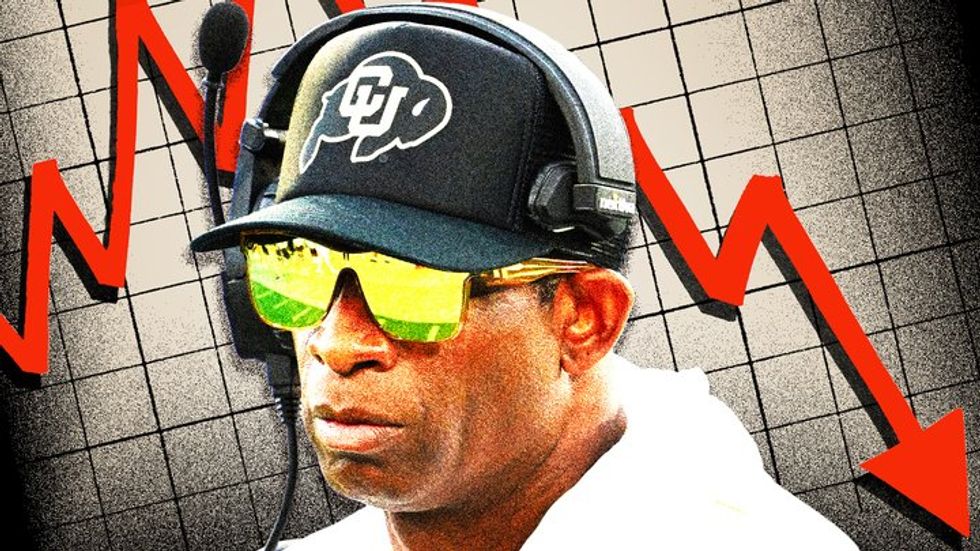 The University of Colorado's coaching experiment with Hall of Fame football player Deion Sanders will likely end in a lawsuit.
Someone – a player, an assistant coach, the athletic director, a fan, a cheerleader – will sue Sanders for coaching errors. Complainant will use Saturday's Colorado-UCLA game as Exhibit A in the lawsuit. Deion's postgame press conference will serve as closing arguments.
After the Buffs' 28-16 loss, Coach Prime unleashed a level of self-serving narcissism, egotism and incompetence unusual outside of Pop Warner. Sanders' frustration was justified. It's almost impossible to lose a football game – let alone by double digits – when you win the turnover battle 4-0, which Colorado did.
The Bruins' turnovers all came in the first half. Still, they led 7-6 at halftime. Colorado squandered a game that its opponents tried to squander.
When it was over, Sanders attacked his offensive line, questioning their "killer instinct, desire, desire, will and athleticism" after allowing his quarterback son Shedeur to suffer seven sacks and a dozen more hits. Sanders sounded like a pee-wee coach.
The Coach Prime experiment is a disaster. Deion better lawyer. This type of coaching misconduct should be illegal.
"The hardest ones to win are linemen. So when people have a good one, you rarely see linemen jumping around and going to different schools. "I think we have a few guys who like it with a little spice," he said. "But overall we just don't have the fight or the passion to do what we want to do. I'm a little biased because I'm his father, but I think we have the best quarterback in the country. I don't think any other quarterback could take it, stand and deliver like we do, week in and week out, and take the beating he takes."
This is not a coaching conversation. That's how fans talk. That's what Little League coaches talk about. That's how fathers talk.
Offensive linemen are trained at the college level. They are rarely purchased. Many of them are not top-notch high school players. They are big kids who are too heavy to play basketball. Or they are defensive linemen who lack the athleticism to play at the Power 5 level on that side of the ball.
Deion doesn't understand this because he spent his football career playing cornerback on an island. In his previous coaching positions he always had more talent than his competitors. The details were never really important to Deion as a player or coach. Talent trumped everything. He still believes in it. For this reason, he feels completely comfortable as he still has four games left in the season and he publicly announces that he wants to replace his offensive players with new players.
"The big picture is you bring in new linemen," he said. "This is the picture and I will paint it perfectly."
Deion plays fantasy transfer portal football. The sports fans who love fantasy and video game football believe Deion is right. The jock-sniffing ex-athletes who talk football on social media and on ESPN and Fox Sports believe Deion is right.
Coaches laugh at Deion. You can see what any objective, informed footballer can see. Deion's approach creates a toxic culture that undermines the intangibles that lead to consistent profit.
Six weeks ago, after Oregon beat Colorado, I Posted that the locker room dynamics within Deion's program were going to be very interesting:
The locker room in Colorado is getting real in the next few weeks. They have a weak offensive line that protects the coach's young quarterback. The coach and the quarterback have big, unbridled egos. The media has already started highlighting the offensive line. No one is questioning the scheme or the all-pass-showcase-shedeur-for-Heisman NFL approach. The media will ignore it, but the dynamic in the locker room will be very interesting in Boulder.
Colorado can't run the football because Deion never invested in the team's running game. Deion loves seeing the ball in his son's hands. He is a father who coaches a pee-wee team. Colorado's refusal to run the ball is the main reason Shedeur is the most sacked quarterback in college football. The talent on the offensive line is not great. The all-pass strategy is one of the reasons the offensive line looks weak.
"Well, it's a struggle to run the ball," Sanders said Saturday after his team ran just 25 yards. "It's a struggle to run the ball. And that's what we have to figure out because now you're one-dimensional and it's easy to stop a team when they're one-dimensional. And that's exactly who we are at this point."
"I think we committed to it on first down and it was 2nd-and-15," he added. "Those are the things you don't want to do and get behind the eight ball. First downs are so important. First downs are everything."
Here are the facts: Colorado opened the game with a 13-play drive that resulted in a successful 31-yard field goal. They ran the ball once. On second down, Dylan Edwards rushed for three yards. Every other play was a planned pass for Shedeur. The drive stalled at the UCLA 13 when Shedeur threw three straight incompletions.
Colorado's second drive after a UCLA interception lasted seven plays and ended with a successful 39-yard field goal. The Buffs ran the ball once. Edwards ran for nine yards. The drive stalled after three consecutive pass attempts by Shedeur, a short completion and two incomplete attempts.
Colorado's third drive consisted of five plays and a punt. One of those five plays was a Shedeur scramble for seven yards. The other four plays were pass attempts by Shedeur.
On Colorado's fourth drive, the Buffs opened with a running play by Anthony Hankerson that resulted in a loss of five yards.
That single play justified Sanders calling off the running play. At halftime of a one-point game, Colorado running backs Dylan Edwards and Anthony Hankerson carried the ball a total of seven times.
It's a ridiculous, childish strategy. It's the kind of insulting plan only a father would concoct for his son. Everything Colorado does is based on Deion getting his son into the Heisman race and being drafted in the first round of the NFL.
The sad thing is that the motivation is not about empowering Shedeur Sanders. The motivation is to satisfy Deion's ego. Shedeur is a tool to serve Deion.
Why do I say this?
I say this because the Buffaloes were down 28-9 with six minutes to play and Sanders left his disabled son in the game. Shedeur limped around the field for most of the second half. After the game, Deion admitted that doctors injected Shedeur with a painkiller at halftime.
"Our quarterback has to take a lot of punishment," said Sanders. "He got an injection at halftime. I probably shouldn't tell you this, but you know I'm 100. Just to take the pain away. That's why I'm giving him the next few days off so that he can at least be mobile, because I know he will feel it when this blockage is lifted.
The game was over. Deion left his walking-impaired son on the field for two meaningless trips. It's statistical padding. It's a stupid Heisman push.
"I don't know who else they have in this Heisman election and candidacy that will take the abuse he endures and get back up," Sanders said. "I don't know if any of these guys can handle delivering the way they do every week with the same level of stress that they deliver. That's why I'm proud of him, not only as a father, but also as a coach. I'm proud of his progress and what he's doing and what he's seeing."
This is a coaching mistake. In this era of safety-first football, there is no other coach who can get away with treating a college quarterback the way Deion treats his own son. Deion's worship justifies and enables Deion to abuse his own son to further a false narrative that Deion is a great coach.
Deion is not a great coach. He is a figure that Fox Sports and ESPN use to determine television ratings. He is another golden calf.
No great coach would subject his quarterback to the kind of on-field abuse Shedeur endures. No great coach would use an all-pass offense against a team with UCLA's pass rushers. No major head coach would accompany his quarterback and star defensive player to an NBA game during a week of game preparation. No great coach would be happy with a star quarterback who refused to shake his opponents' hands after a game. You certainly wouldn't call this kid the leader of your team.
The Coach Prime experiment is a disaster. Deion better lawyer. This type of coaching misconduct should be illegal.