Couple threaten ban on groom's gay stepfather from 'non-ideological marriage'
A couple are being criticized for not allowing the groom's father to bring his husband because they want the wedding to be "non-ideological".
The stylized AITA, u/Stuckinthebone, writing for the popular Reddit forum r/AmITeA**hole, received over 4,500 upvotes and 600 comments for his post, "AITA for telling my son to call off his wedding?"
The original poster (OP) said he is a 49 year old gay man despite being in the closet in his 20's. When he was 24 he slept with a woman and got her pregnant and they had a son, now 25. Although u/Stuckinthebone never married his son's mother, they raised their child together and are very close friends.
Eleven years later, u/Stuckinthebone met his now-husband and said his son considered him his stepfather and his son's mother adored him too, joking about him being "her gay best friend".
Now his son is preparing for the wedding. OP got the invite but it was just for him; he assumed his husband would get his own, but that didn't happen. He called his son's mother and she confirmed that not only had she received an invitation, but also a plus one for her husband.
At a dinner with his son and fiancee two days ago, he asked the couple about the missing invitation for u/Stuckinthebone's husband.
"My son was a bit embarrassed and said they don't actually invite stepparents, only their parents," he wrote.
The OP said that was fine, but that his mother's husband was invited, so that was a bit odd.
"His fiancé then said they would rather have a 'non-ideological wedding'. My husband looked so shocked and frankly I was just hurt," wrote u/Stuckinthebone.
When he called her about her homophobia, she tried to clarify, "I'm not homophobic, I just don't want to deal with it at my wedding." When the OP asked what she meant, she said it was a church wedding.
"I said, 'Well, you know, we're not going to burst into flames in the pew.' She got angry and demanded they leave and left to wait in the car for my son," u/Stuckinthebone wrote.
His son started crying and apologized and u/Stuckinthebone told him he loved him but added that was a red flag and told him: 'He really should cancel or postpone this wedding because this woman is a displays behavior that only gets worse." This angered his son, who called him an "a**hole" for "interfering with his private life."
Although the son's mother says he can live life as he pleases, what he and his fiancee did was wrong. However, the OP's father thinks he should "line up" and participate. His friends say the fiancee is wrong, but OP's brother says he's wrong for not respecting his son's wishes.
In a comment, u/Stuckinthebone explained his feelings.
"That hurts me the most. That my son seems to see me first as gay and then as his father. And I've literally spent my life being a dad first and everything else second," he wrote.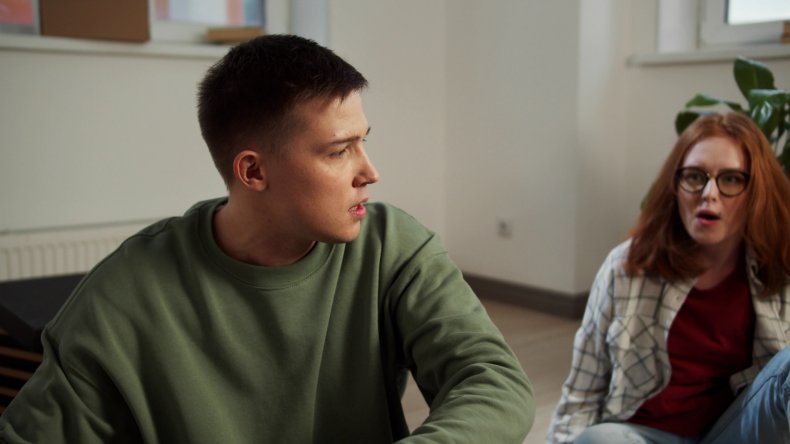 Wedding etiquette dictates that the partners of all wedding guests are invited as well, whether they're married, engaged, or just on a date, according to Peggy Post in That New York Times. This is true even if the bride and groom have yet to meet the guest's partner, Post adds.
A similar question to u/Stuckinthebone was asked by Emily Yoffe in her 2013 column Dear Prudence. In this case the marriage was that of a letter writer's niece who had invited neither his husband nor his sister's wife. Yoffe urged the author to confront the bride directly. If it was an accident, it can easily be corrected; but if the snub was intentional, Yoffe says the letter writer shouldn't attend the wedding — or even bother sending a gift.
Reddit was firmly on the side of u/Stuckinthebone, however there has been some dispute as to whether or not the son or his fiancée was the worst party.
"Your [future daughter-in-law] is clearly the greatest [a**hole] here. Not ideological? For example, isn't it an ideology to uninvite gays? Give me a break," u/BusyDadGaming wrote in the top rated comment with over 7,800 upvotes. "However, it was probably a step too far for him to tell him to call off the wedding before asking you for advice. He has a lot to think about, and while procrastination is definitely good advice, he's not emotionally able to listen to it. so you are [Not the A**hole]per se, but the commentary was never received as it needed to be."
"Your son is the asshole if he puts up with this. He didn't even have the decency to discuss it with you before the invites went out. He marries a fanatic and confirms her bigotry. They will be excluded from all future events even if they have children," u/Reasonable_racoon wrote. "Without my husband, I would decline to attend. [Not the A**hole]"
"Honestly, OP, I think you should tell your son that while you can't call him to cancel or postpone his wedding and that you're sorry about how it turned out, you have serious concerns about this one make relationship. Let him know that his fiancé is extremely homophobic and dismissive, and that while you want nothing but his happiness, there will be some serious changes in his relationship with you and your husband if he goes through with this nuptials. Tell him you will always love him, but if he's married to someone who sees you and your husband as something to deal with, then your son will have a lot less to do with you, too," wrote u/Global_Fig_6385. "Absolutely [Not the A**hole]but his fiancee…"
"He agreed to this decision instead of standing up for his family," wrote u/EulaShaw. "For me, the son is one [a**hole]though not as close as his fiancee."
"I really can't believe a son who was partly raised by a queer couple could find love with a homophobe?" added u/addisonavenue. "Why isn't that a deal breaker when he probably found out about you while sending out the invites?"
"I actually think the son is bigger [a**hole] as the future daughter-in-law," wrote u/Most_Thanks_1000. "Imagine stepping aside and allowing the abuse of your (active and loving) father and his partner (who is also an active and loving parent) in such a way, and accepting it as normal and allowing it to happen persists in your future life.
"There is no word for so much cowardice. I can't even imagine doing that to someone I profess to love," they continued. "Yes, that [future daughter-in-law] is a huge one [a**hole]but the son is just as much, if not more."
"I would even go a little further. You won't be attending the wedding, but you wish him the best. She will no longer be allowed in your house and you will not attend events that she will attend. And if you are paying for part of the wedding I would cancel asap. [Not the A**hole]," wrote u/not_levar_burton.
news week contacted u/Stuckinthebone for comment.
https://www.newsweek.com/couple-panned-ban-grooms-gay-stepdad-non-ideological-wedding-1710237 Couple threaten ban on groom's gay stepfather from 'non-ideological marriage'