Covenant School shooter Audrey Hale eyed a second target, police say
Audrey Hale, the gunman who killed six people at a Christian private school in Nashville, Tennessee, targeted multiple locations in a written manifesto investigated by police.
Hale, a 28-year-old Nashville resident, killed three children and three adults at the Covenant School Monday morning. The victims were identified as 9-year-old students Evelyn Dieckhaus, Hallie Scruggs and William Kinney, as well as Cynthia Peak, 61, Katherine Koonce, 60, and Mike Hill, 61.
The Nashville Police Department later confirmed during a news conference that Hale was a former student at the school, although Police Commissioner John Drake could not confirm when Hale was present. Police have also reported that Hale identified as transgender.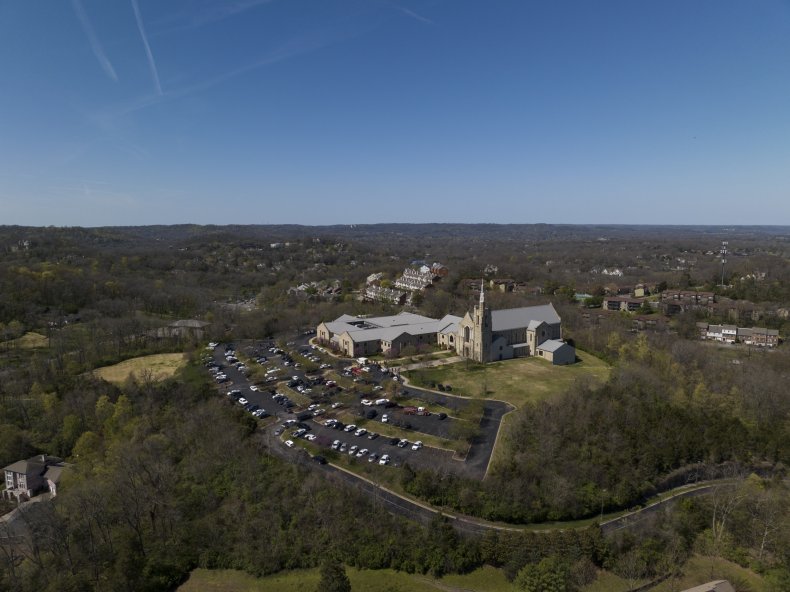 Police also discovered a manifest when searching Hale's home after the shooting, Drake told reporters, which contained a "detailed map" of the Covenant School that included "surveillance, entry points, etc." in relation to the building.
The Nashville police later Posted a photo on Twitter of what officers determined to be Hale's car parked on the school's campus, where officers found "additional material written by Hale."
Drake told reporters that "there was another location that was mentioned, but based on the suspect's threat assessment, too much security, they decided against it."
"This area was here in Nashville, so we're continuing this investigation," Drake said.
Monday's shooting, which marks the 129th mass shooting this year, has reignited calls from some Democrats for tighter gun controls. President Joe Biden again asked Congress while hosting the Women's Business Summit at the White House to pass his ban on assault weapons, adding, "It's about time we start making more progress."
Police have confirmed Hale was armed with two assault weapons and a pistol. Drake also told reporters that the shooter had "several rounds of ammunition" and was "ready to do more damage than was actually done."
However, some gun rights advocates have argued that the mass school shootings underscore the need for increased school security. The National Rifle Association (NRA) published a clip of Drake's press conference on Twitter when he spoke about Hale assessing that one of their targets had "too much certainty".
"School safety is a deterrent," wrote the NRA. "It's time to prioritize school safety and protect our children."
news week has reached out to the NRA for further comment through its website portal.
Alabama Representative Barry Moore, a staunch gun rights supporter and Republican, also took to Twitter Monday afternoon to advocate for school safety.
"We have a mental health crisis in this country that cannot be denied," Moore said wrote. "We need to take a look at school safety and consider more funding. If we can secure airports, we can secure schools. If we can send $100 billion to Ukraine, we can spend it here to protect our children."
Also Republican, Texas Senator Ted Cruz tweeted that the Covenant School shooting was "horrific," adding, "For anyone who says 'thoughts and prayers are not enough,' I agree."
"Ask why EVERY SINGLE SENATE DEM voted against my bill doubling the number of police officers in the school," Cruz wrote. "An armed officer could have stopped this lunatic BEFORE a child was killed."
Cruz's bill, the Safeguarding Our Schools Act, was introduced in the Senate in September. The bill aimed to use unspent COVID-19 school funds for more resource officers and mental health professionals in middle and high schools, as well as building physical security improvements.
In June, Republican Tennessee Gov. Bill Lee signed an executive order to improve school safety in his state, including establishing "additional resources to assist parents, teachers and law enforcement to improve school safety practices," according to a press release from the governor's office.
Lee also suggested this month that all K-12 public schools should be required to keep their outside doors locked or risk losing state funding, Chalkbeat reported. Nashville police say Hale fired through glass doors on the side of the Covenant School Monday to enter the building.
https://www.newsweek.com/covenant-school-shooter-audrey-hale-eyed-second-target-police-say-1790702 Covenant School shooter Audrey Hale eyed a second target, police say