Crews battle fires in Pennsylvania as a Tesla car burns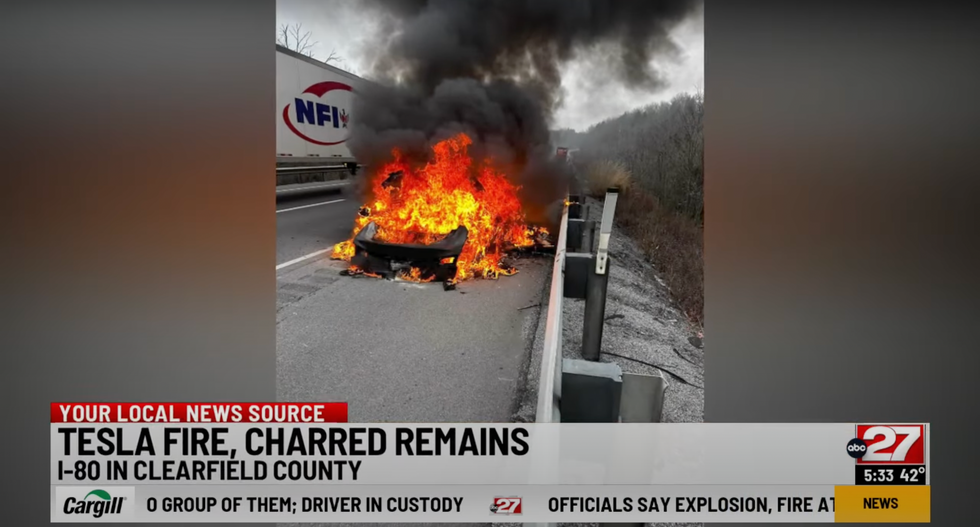 Firefighters recently ran through thousands of gallons of water when a Tesla electric car caught fire in the state of Pennsylvania earlier this week.
Morris Township Volunteer Fire Company #1 released photos of the inferno and aftermath, noting that approximately 12,000 gallons of water were used.
"A total of about 12,000 gallons of water were used. To give you an idea of ​​the severity, crews can usually put out a fully involved vehicle fire of about 500 gallons or less," the fire department said on Facebook post. "Due to the lithium-ion battery in the vehicle, extinguishing this fire would require additional tankers as the vehicle would continue to reignite and burn violently at times. In all, it took crews nearly two hours to continuously apply water to the vehicle as the battery would begin to reignite and maintain high temperatures," the post reads. "This vehicle burned so hot and for so long, that without the rims you might not even know it was a vehicle."
Other fire departments were also involved in the operation.
"Several tank trucks were requested to keep the batteries cool after the fire was put out. A large volume of water is required for this type of fire to ensure the batteries stay cool and do not reignite," according to the Columbia Volunteer Fire Company written down on Facebook.
WTAJ reported that a couple who were in the Tesla Model S were not injured. The outlet reported that there was debris in the street, according to the couple's daughter. The outlet said the vehicle began smoking after the debris got under the car and after people exited the vehicle, it caught fire. The couple and their dog were unharmed.

Incredible photos show an unidentifiable Tesla after a highway fire in Pennsylvania

https://www.theblaze.com/news/crews-battle-tesla-fire-pennsylvania Crews battle fires in Pennsylvania as a Tesla car burns