Dad finds heartwarming way to prove Santa visited them on Christmas Eve
A delighted dad has shared heartwarming footage showing just how far he's willing to go to keep Santa's magic alive for his young son.
Believing in Santa Claus is a special part of Christmas for millions of children around the world. However, there comes a point in every young child's life when the truth emerges.
According to Thalia Goldstein, assistant professor of applied developmental psychology at George Mason University in Fairfax, Virginia, there is a key time in every child's young life when the wonder and excitement about Santa Claus is at its strongest.
"It's very strong when they're between 4 and 8," she told CNN. "By the age of 8 we start to see the apostasy as children begin to understand the reality of Santa Claus." Yet during this time, sustaining a child's faith in jolly old St. Nick has some notable benefits.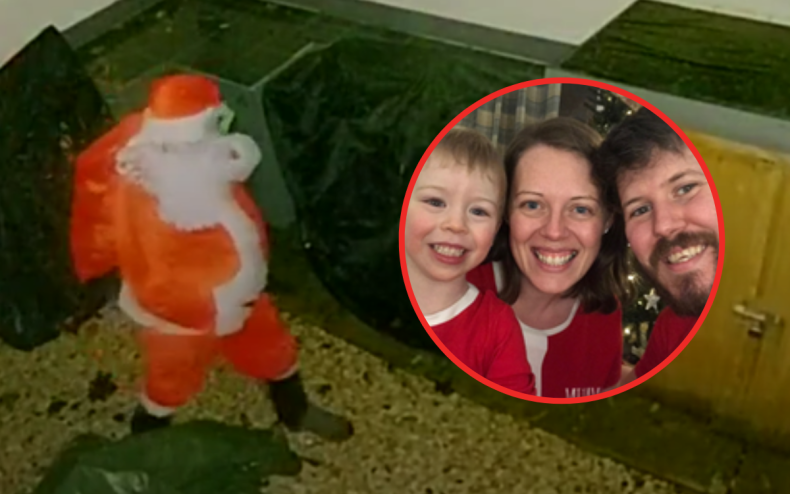 Rachael Sharman, Senior Lecturer in Psychology at the University of the Sunshine Coast, has spent over two decades researching children's brain development. She told the Brisbane Times that discussing Santa Claus and Christmas triggers activity in the brain's pleasure centers and provides a shot of "expectant dopamine".
dr Matthew Lorber, a child psychiatrist at Lenox Hill Hospital in New York City, sees other benefits in believing in Santa Claus. "I don't think it's a bad thing for kids to believe in the myth that if they behave someone is trying to make people happy," he told Live Science. "Imagination is a normal part of development and helps develop creative minds."
While parents can't stop their kids from forming their own conclusions about Santa Claus, research suggests they can help keep the myth alive.
A 2004 study published in Developmental Science concluded that children are more likely to believe in Santa Claus when parents leave evidence around the house to support his story.
The father of a Jamie Murray from Scotland has certainly made an effort in this regard. For the past five years, Murray has dressed up as Santa Claus on Christmas Eve and 'visited' the family home as soon as his 7-year-old son Oliver has gone to bed.
Then, on Christmas morning, Murray uses footage captured by his ring security camera and doorbell cameras to show Santa visiting the house, much to Oliver's delight.
As the NHS Pediatric Physiotherapy Technical Instructor, Murray has spent the last two Christmases helping patients amid the COVID-19 crisis but has always found time to contribute something unique to his family's festive celebrations.
Murray said: "For the excitement on his face, it's all worth it. We plan on doing it for as long as possible and I might end up doing it just for myself!
"In the first year he understood a little bit of what was happening, but not really. Now it's a family tradition. We don't have a chimney so it's great that we have a ring doorbell that can catch Santa when he comes in the door."
Not only does Murray dress up as Santa, but on December 1st it's now a family tradition that he pays Oliver a visit dressed as the elf Balthazar to remind him to look his best in the run-up to December 25th got to.
Murray said: "For the past few years I've been working on NHS wards with COVID. This year, now that people can spend time with their families, it feels very special, there's no fear."
Commenting on the video, Murray urged other parents to follow his example and create memories that will last a lifetime. "This year, a lot of families want to have fun without spending so much money, and if you have a video doorbell, that's a great thing — you don't need an expensive camera or a tripod," he said.
Did you have a Christmas dilemma? Let us know at life@newsweek.com. We can ask experts for advice on relationships, family, friends, money and work, and your story could appear in Newsweek's What Should I Do?
https://www.newsweek.com/dad-heartwarming-santa-video-christmas-eve-1769031 Dad finds heartwarming way to prove Santa visited them on Christmas Eve