David Spade gives $5,000 to 27-year-old Burger King worker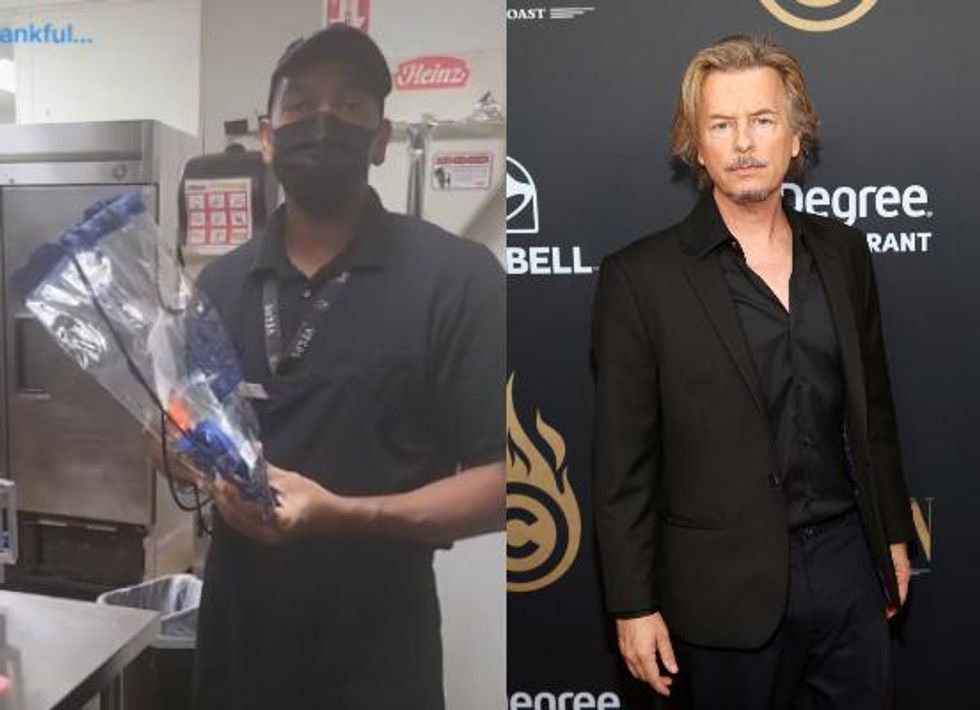 A Burger King employee has worked at the fast-food restaurant for 27 years and hasn't missed a day. In recognition of his hard work, the management company rewarded the worker with a lousy gift bag. However, comedian David Spade stepped up to give the hard worker a much more fitting gift.
Kevin Ford, 54, works as a cook and cashier at Burger King at Las Vegas McCarran International Airport in Nevada. Ford received a gift bag from HMS Host – a company that operates restaurants in airports.
For 27 years of work without missing a single day, the company rewarded Ford with a single movie ticket, a Starbucks trophy, two packages of Lifesavers candy, a bag of Reese's Pieces, two pens and other trinkets.
Despite the extremely lackluster gifts, Ford was very appreciative of the gesture.
A video of Ford accepting the shabby goodie bag went viral this week. Many viewers noted how grateful Ford felt as they accepted the uninspiring gifts.
@thekeep777

He has been with the company for almost 3 decades and has never exclaimed!!!😵‍💫🥺😱😭
Ford's daughter noticed that people were interested in getting her father a more rewarding gift for his hard work, so she started one GoFundMe campaign.
"Hello, my name is Seryna. The man in this video is my father. He's been at his job for 27 years and yes, he's never missed a day's work," Seryna Ford wrote on the crowdfunding site.
"He originally started working as a single father in this job when he got custody of me and my older sister 27 years ago," she explained. "As our family grew and he remarried, he continued to work here because of the amazing health insurance offered by this employer because it was unionized. Which got all four of his daughters through high school and college with full health insurance."
The daughter noted they weren't expecting any money, but said her father would love to visit his grandchildren in Texas.
The GoFundMe campaign caught the attention of many – including David Spade.
Spade donated $5,000 to Ford after hearing his story. However, Ford wasn't sure if it was the real David Spade. Then Ford received a message on Instagram, according to TMZ.
"Keep it up. 27 years," Spade wrote to Ford.
Ford was stunned when the Hollywood star reached out: "HOLY S**T dude!!! Can't believe this!!!"
The Burger King employee exclaimed, "THANK YOU SO MUCH!!! For even watching the video! I love you my brother!!! Lots of love and God bless… I think [I] maybe take a day off."
Spade replied, "Wait until year 30."
Ford joked, "Damn, are you one of my managers???"
Burger King issued a statement accompanying the viral video: "The Burger King brand and its many franchisees across the country are committed to recognizing and celebrating the achievements of thousands of people who serve in a variety of roles – all of whom… committed to providing our guests with a world class experience."
"Following review by this location's franchisee, we have learned that this video features a team member receiving a peer-to-peer reward in recognition of a positive short-term performance/experience," Burger King said People Magazine. "The franchisee offers its team members a robust employee recognition program that includes recognition of tenure milestones and cash awards."
In an interview with YouTube personality Sierra Nicolethe gracious Ford thanked everyone for the support.
"I just want to say thank you to everyone out there. It's just so overwhelming," Ford said. "I'm just Kevin, you know. I just love everyone. I think it probably touched people because I think as humans, period, all we need is love and gratitude. And when you see someone like that, you know… I was happy to get something. Some people didn't get anything, so I was just happy to get something."
At the time of publication, the GoFundMe campaign had raised more than $63,000. He told TMZ he could use the money to buy a new hybrid vehicle so he can visit his daughters and grandchildren in Texas.
https://www.theblaze.com/news/burger-king-worker-david-spade David Spade gives $5,000 to 27-year-old Burger King worker