Day 4 of testimony in Sgt. Daniel Perry's trial is over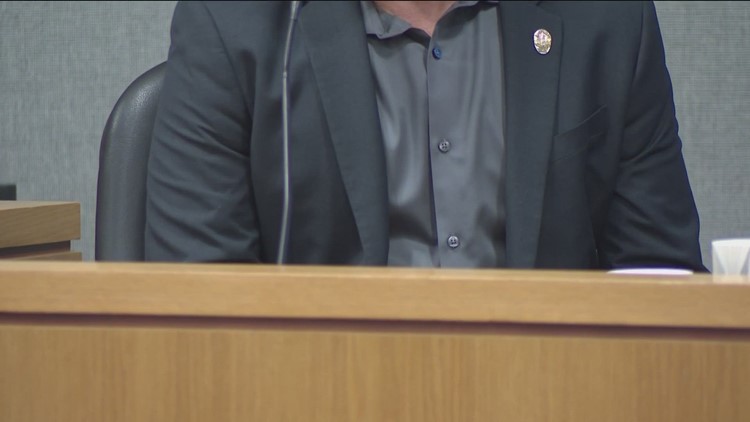 7 witnesses took the stand on Friday.
AUSTIN, Texas – Day four of testimony in the murder trial of a rideshare driver accused of killing a protester in downtown Austin nearly 3 years ago.
Army Sgt. Daniel Perry says he shot Garrett Foster in self-defense after Foster pointed his rifle at him. The jury heard seven witnesses today, including three crime scene specialists, a fingerprint specialist, a weapons examiner and the coroner who performed the autopsy on Garrett Foster.
Former police officer Joshua Visi testified Friday, saying he was assigned to the protest to "keep the peace" when he received a call from shots pointed at Sgt. Daniel Perri.
During his testimony, Visi said he remembered Perry's hands "trembling" and he remembered the "tremor" in his voice. The trial played the audio recording of the 911 call made by Perry and body camera footage of the officers' interactions with Perry after the shooting.
"I've been to Afghanistan and I've never been more scared than tonight, you know, this is Austin, you know, I always felt safe here up until tonight," Perry said.
In the footage, Visi tried to sympathize with Perry.
"I wasn't in the car with you like you describe me, I can see why you reacted the way you are, I won't say if it was right or wrong because only you can answer that question" said Visi.
The body cam footage also shows Perry saying he was "focused more on Foster's gun" than his face.
The trial will continue on Monday morning.
https://www.kvue.com/article/news/crime/day-4-of-testimony-in-daniel-perry-trial-wraps-up/269-8a1a243c-94ad-490b-9bf8-6da80ca9cda8 Day 4 of testimony in Sgt. Daniel Perry's trial is over