Death penalty for murderous 'demon' who stabbed pregnant woman and ripped her unborn child from her womb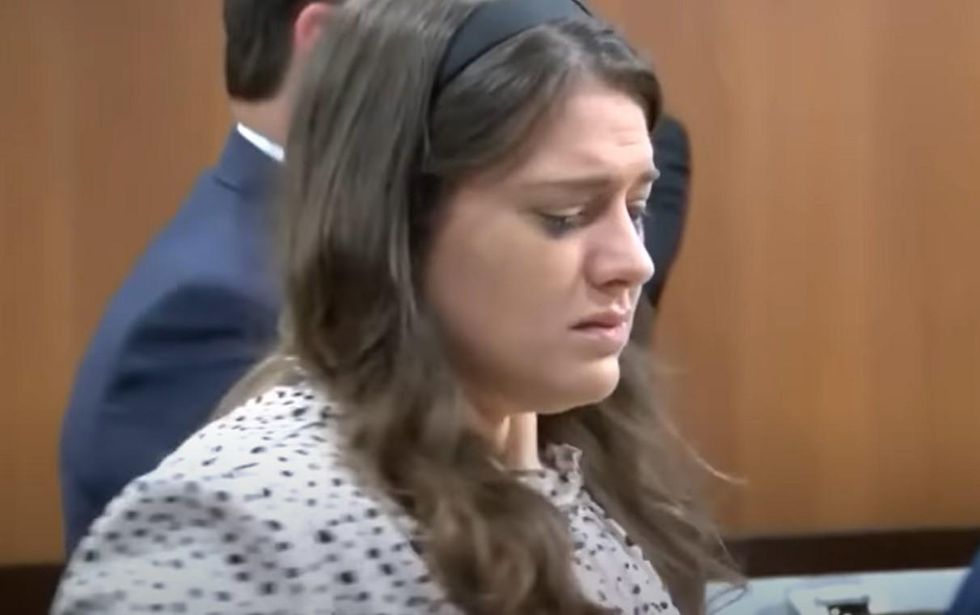 Warning: Graphic content
The Texas woman who brutally murdered a pregnant woman and then ripped her unborn baby from her womb faces the death penalty, a jury has ruled.
Two years ago, Taylor Rene Parker, 29, committed the gruesome murder as part of an elaborate ruse to keep her boyfriend from leaving her. In the months leading up to the crime, Parker, who had already had a hysterectomy and was therefore unable to bear children, went to great lengths to convince everyone around her that she was pregnant. She sent fake ultrasounds to her boyfriend, wore maternity costumes, and even threw a gender reveal party. She had also watched several videos about giving birth to a premature baby at 35 weeks.
Then, on October 9, 2020, parkers told her unidentified boyfriend that she was going to a hospital in Idabel, Oklahoma, just north of the Texas border, to be pre-registered to induce labor. On the same day, the body of 21-year-old Reagan Michelle Simmons-Hancock was discovered at her home in New Boston, Texas. Her skull had been crushed with a hammer and she had been stabbed over 100 times. At the time of her death, Simmons-Hancock was also 34 weeks pregnant, but her unborn daughter had been cut and taken from her womb with a scalpel.
When police pulled Parker over shortly thereafter, they discovered Simmons-Hancock's baby on Parker's lap. "[T]The umbilical cord was connected to the infant, who appeared to be coming out of the woman's pants as if she were delivering the child." statutory declaration said.
Parker and the child were taken to Idabel Hospital, where medical teams determined that Parker had not given birth after all. Parker then admitted that she and Simmons-Hancock got into a "physical altercation" and that she kidnapped Simmons-Hancock's unborn child.
the little girl Braxlynn Sage HancockShe later died because she did not receive the "necessary care". statutory declaration continued.
Last month a jury of six men and six women found Parker guilty of the brutal crime of capital murder. Then, on Wednesday, the same jury was tasked with deciding whether Parker would receive the death penalty or life in prison without the possibility of parole.
It took the jury less than two hours to agree on the death penalty.
In various victim statements, members of the Simmons family expressed their agonizing sorrow for Simmons-Hancock and Braxlynn Sage and their gratitude that justice was served.
"My only biological sister. You need to understand what you took from me and my family," Emily Simmons told Parker. "I didn't celebrate her birthday anymore. I was barely 19 when I got the call that my sister was gone."
Jessica Brooks, Simmons-Hancock's mother, called Parker an "evil piece of flesh demon."
"I'm blown away with happiness that it's over," Emily Simmons later admitted, "because [Parker] has been such a burden in our lives for so long that I couldn't think about my sister without thinking about her."
Parker's family did not attend the sentencing hearing.
Parker's defense team expressed disappointment that she received the death penalty, even though her sentence is subject to automatic appeal. According to the New York Post, she is scheduled to be relocated to the Mountain View Unit in Gatesville, Texas, where the state houses female death row inmates.
Parker is now one of only seven female inmates on Texas death row.
https://www.theblaze.com/news/death-penalty-for-murderous-demon-who-stabbed-a-pregnant-woman-to-death-and-ripped-her-unborn-baby-from-her-womb Death penalty for murderous 'demon' who stabbed pregnant woman and ripped her unborn child from her womb