Democratic governor commutes all Oregon death sentences: 'Justice is not promoted by taking a life'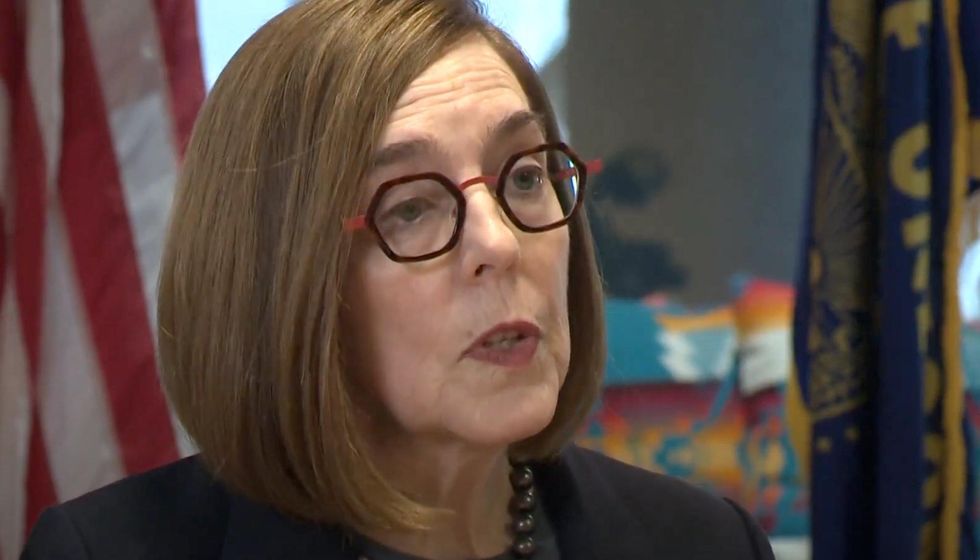 Oregon Gov. Kate Brown, a Democrat, commuted all of the state's death sentences before leaving office.
Brown announced her decision on social media on Tuesday.
"Justice is not promoted by taking a life, and the state should not be concerned with executing people — even if a horrific crime landed them in prison," Brown said.
"Today, I'm commuting all death sentences in Oregon to life without parole, so no one needs to be executed here," she concluded.
In an interview with KGW-TV, Brown gave her reasons for the changes.
"First, it's immoral. Justice is not served by the state taking a life," she asserted.
"Second, its effects are unfair depending on where you live in this state and in this country," she continued. "And third, it doesn't make sense. It doesn't prevent violent crime and costs taxpayers thousands, millions of dollars."
Brown has been in office for less than a month.
Among those whose sentences were commuted were the following:
Jesse Caleb Compton, who starved, burned, and tortured a three-year-old girl in 1997.
Clinton Wendell Cunningham, who raped and stabbed a Canadian hitchhiker in 1991.
Christian Michael Longo, who suffocated his wife and their three young children and stuffed their bodies into suitcases and sleeping bags before returning to work the next day and attending a pizza party in 2001.
Michael Martin McDonnell, who stabbed a woman 42 times on a country road after escaping from Oregon State Penitentiary's farm cultivation in 1984.
Marco Antonio Montez, who tortured a woman, strangled her with a bed sheet and burned her body with lighter fluid in 1987 after being paroled from a Salem prison.
Ricardo Pineda Serrano, who killed a woman and her two sons in 2010.
Bruce Aldon Turnidge and his son Joshua Turnidge for building a bomb and planting it in a bank where it killed a bomb technician and a police captain in 2008.
Tara Ellyssia Zyst, who murdered two brothers with a samurai sword while hiking together in 1994.
The state has not executed anyone since 1997, although the death penalty is legal.
Here is more about commutation of death sentences:
Gov. Brown commutes death row inmates to life imprisonment in Oregonwww.youtube.com
https://www.theblaze.com/news/dem-brown-commutes-death-penalty Democratic governor commutes all Oregon death sentences: 'Justice is not promoted by taking a life'