Democrats' chances of beating Georgia Republicans again: polls
With the November midterm elections less than five months away, Democrats are looking to maintain their momentum going into 2020 and hope to beat Georgia Republicans again.
President Joe Biden narrowly beat former President Donald Trump in Georgia by just over 12,000 votes — a margin of 0.2 percentage points. Biden was the first Democratic presidential candidate to win in the conservative state since 1992.
At the same time, Democratic Senators Raphael Warnock and Jon Ossoff defeated Republican incumbents to blue their seats during a runoff election last January. Prior to its elections, Georgia last elected a Democrat in 1996 to represent the state in the Senate.
However, recent polls show it could be an uphill battle for Democrats to retain power in the state — especially as Biden and his party face low approval ratings nationwide.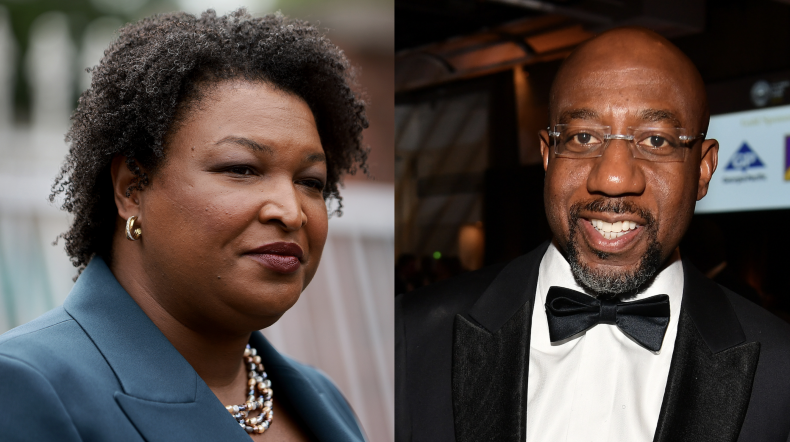 The race for the governor's mansion and the battle for Warnock's hard-fought Senate seat are being watched closely by Democrats and Republicans alike. While Democrats aim to continue and extend their winning streak, Republicans hope to stave off their advance and regain the Senate seat they lost in the 2021 runoff.
When it comes to the gubernatorial race, incumbent Republican Governor Brian Kemp faces a second challenge from former Democratic State House Minority Leader Stacey Abrams, who previously lost to the GOP politician in 2018. Recent polls show the prominent Democrat may find his way back to victory elusive.
The current Real Clear Politics average of Georgia polls shows Abrams about 5.2 percent behind Kemp. About 49.6 percent of Georgians support the incumbent Republican, compared to 44.4 percent who support the Democratic candidate.
Meanwhile, the most recent poll, conducted June 6-9 by East Carolina University, shows similar results, with Abrams falling five points. Kemp is backed by 50 percent of Georgia's registered voters, while the Democratic hopeful has a mere 45 percent backing. The poll included 868 voters with a margin of error of plus or minus 3.9 percent.
Warnock looks slightly better positioned to fend off his GOP challenger Herschel Walker. However, the Democratic senator and his Republican opponent, who was backed by Trump and Senate Minority Leader Mitch McConnell, are virtually level.
The Real Clear Politics average currently puts Walker by a slim margin of less than a point. The Republican hopeful is backed by about 47.2 percent of Georgians, while the Democratic incumbent is backed by about 46.6 percent.
East Carolina University's most recent poll shows that both Walker and Warnock are supported by 46 percent of Georgia's registered voters.
Especially if Warnock loses to Walker, that GOP win could shift the balance of power in the Senate. With the Legislative House split evenly, it would be enough for the Democrats to lose just one seat without winning another seat from a Republican at the same time for the GOP to regain the majority.
The same poll from East Carolina University shows that Biden's approval ratings are deep under water in the Southern state. A majority (54 percent) of Georgians disapprove of the democratic president's work performance. Only 38 percent agree.
A poll conducted by Emerson College and The Hill in early April showed the President's approval underwater as well. This poll showed that 49 percent of registered voters in Georgia reject him. Only 42 percent approved of the work Biden was doing. The poll included 1,013 registered voters and had a margin of error of plus or minus 3 percent.
Whether Democrats can ultimately pick up victories in the two high-profile statewide races in Georgia, as well as others for the lieutenant governor, attorney general and secretary of state remains to be seen. However, the latest polling data shows that the coming months will be challenging as they present their agenda to voters.
https://www.newsweek.com/democrats-chances-beating-republicans-georgia-again-polls-1717206 Democrats' chances of beating Georgia Republicans again: polls