DeSantis guts reporter for 'politicizing' Florida's response to Hurricane Ian: 'Whoa, whoa, whoa! Give me a break! This is nonsense!'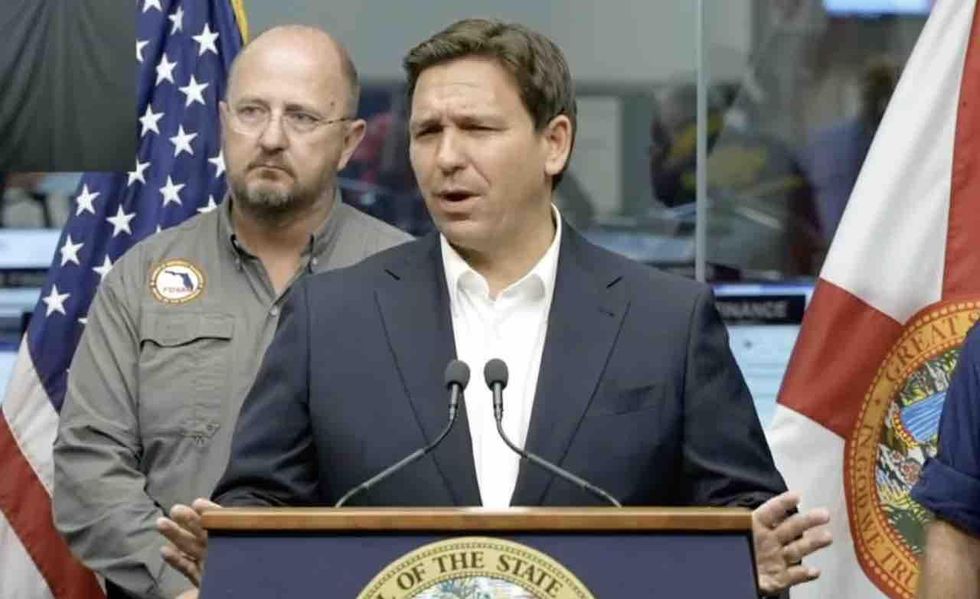 Florida Gov. Ron DeSantis attacked a reporter Tuesday afternoon for "politicizing" the response to Hurricane Ian.
what are the details
DeSantis' tongue-lashing followed the White House earlier in the day as he dodged questions about why President Joe Biden hadn't called DeSantis — a Republican running for re-election in November — but was calling mayors in the state. the This was announced by the Daily Wire.
The reporter said, "FEMA Administrator [Deanne] Criswell said today that she acknowledges concerns that … Florida, as stated, has no response to the storm as of yet and that — " before DeSantis interrupted him.
"Wow, woe, woe! Give me a break! This is nonsense! stop politicizing, okay? Stop it," the governor barked. "We declared a state of emergency when this thing wasn't even formed. We had people in here, you had districts that did… a lot of hard work, and frankly, you're trying to attack me, I understand, but how you're attacking these other people who've been working very hard. And that's just totally wrong. I don't think we've ever declared a state of emergency this early, especially since I've been governor. We made sure we were very inclusive. We said there was a lot of uncertainty and then we worked to ensure that the preparations that have been made are secured… They talk to the people in the districts, if they need something, things come very quickly there on. .."
"We don't have time for trifles"
DeSantis amidst his Remarks appeared to criticize Biden for the no-phone-call shutter, saying that "we don't have time for trifles," the Daily Wire reported.
"So I didn't speak to the president personally, but FEMA approved our application prior to landing," noted DeSantis, the outlet said.
"We feel we have a good relationship with FEMA," the governor continued, according to the Daily Wire. "You know, I'm happy to let the President know if he's interested in hearing what we're doing in Florida, you know, my take on all of this is like you've put people's lives on the line, you've got their property jeopardized, and We have no time for trifles. We have to work together to make sure we're doing the best job for them."
"So, my phone — my phone line is open," DeSantis added, the outlet said. "But we are – we appreciate the quick approval of the declaration prior to landing."
Politicizing from the left seems to be the name of the game when it comes to Hurricane Ian:
Democratic Senator Amy Klobuchar of Minnesota cited the hurricane and climate change as reasons Democrats "need to win in the midterms" during an appearance on MSNBC's "Morning Joe."
Rachel Vindman – wife of former US Army officer Alexander Vindman, a notorious anti-Trumper – tweeted a suggestion that people should refer to Hurricane Ian using "they/they" pronouns to irritate DeSantis.
CNN's Don Lemon unsuccessfully tried to get an NHC expert to attribute Ian's intensity to climate change.
priorities, anyone?
A Wednesday morning report from the Orlando Sentinel said Hurricane Ian is showing "dangerous winds near Category 5 status" and "has begun making landfall" and "expects to make its way into Orlando tonight."
The Sentinel, citing the National Hurricane Center as of 11 a.m. Wednesday, said the center of Ian was about 45 miles west-northwest of Naples. Gusts of 190mph are forecast when it makes landfall around 2pm, the newspaper said, citing the NHC.
https://www.theblaze.com/news/desantis-eviscerates-reporter-for-politicizing-floridas-response-to-hurricane-ian DeSantis guts reporter for 'politicizing' Florida's response to Hurricane Ian: 'Whoa, whoa, whoa! Give me a break! This is nonsense!'