DeSantis Spox tears up Charlie Crist for calling a top Florida surgeon a "quack".
Christina Pushaw, Florida Gov. Ron DeSantis' rapid response director, slapped Democratic gubernatorial nominee Charlie Crist on Sunday after he criticized Florida's Surgeon General Joseph A. Ladapo over new information about the COVID-19 vaccine.
"A Billboard attorney who failed twice thinks he knows more about science than a Harvard MD/PhD who was a professor at UCLA Medical School." Pushaw said of Ladapo.
Her comment came in response to Crist's comments about Ladapo, saying: "Our quack Surgeon General Ladapo is back with more misinformation. When I'm governor, I will appoint a surgeon general who is not a partisan ideologue and who provides sound medical advice."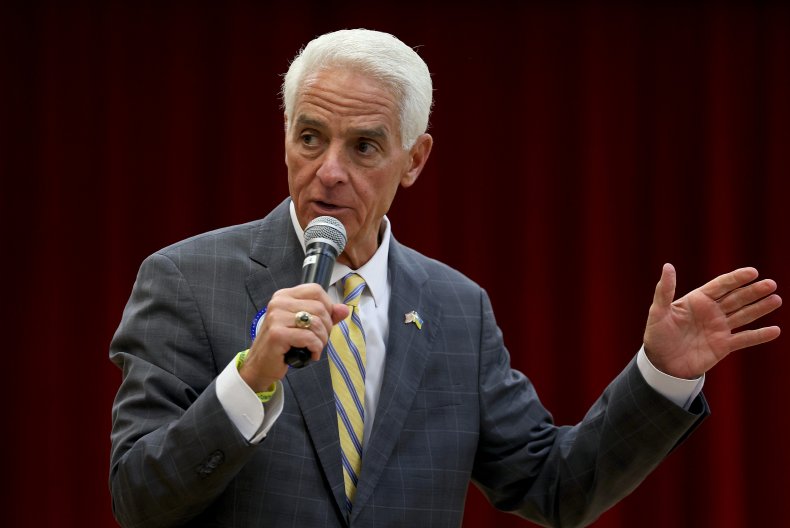 Ladapo warned Friday that COVID-19 vaccines containing messenger mRNA used in Pfizer-BioNTech and Moderna pose a risk to men under the age of 40.
"Today we published an analysis on COVID-19 mRNA vaccines that the public needs to know. This analysis showed an increased risk of cardiac death in men aged 18 to 39 years. FL will not hide the truth," Ladapo tweeted, citing an analysis by the Florida Department of Health that found the vaccine posed a "high risk" of death.
DeSantis spokesman Bryan Griffin said Sunday that Twitter temporarily removed Ladapo's post due to misinformation, but later confirmed the tweet was restored.
"@Twitter censored data posted by Florida State Surgeon General @FLSurgeonGen showing an increased risk of cardiac death in men ages 18 to 39 within 28 days of mRNA vaccination. ' Griffin said before Twitter restored Ladapo's tweet.
The Florida Department of Health said the analysis used a self-controlled case-series technique to assess vaccine safety and found that the "relative incidence of heart-related deaths in males ages 18 to 39 increases by 84 percent within 28 days" after vaccination.
The study, which medical experts said was not peer-reviewed, explained that the COVID-19 vaccination was associated with a "modestly increased risk of cardiac mortality" 28 days after receiving the vaccine.
The study, which concluded on June 1, did not include people who were infected with COVID-19, received a booster shot, or had their last COVID-19 shot after December 8, 2021.
"Individuals with pre-existing heart conditions, such as myocarditis and pericarditis, should exercise caution and speak to their doctor before considering vaccination," the Florida Department of Health said.
However, some vaccine experts questioned the validity of the study's findings, asserting that the benefits of the COVID-19 vaccine outweighed its risks. Daniel Salmon, director of the Institute for Vaccine Safety, said news week on Saturday that the analysis contains insufficient detail to really assess what was done in this study and the validity of its findings.
"mRNA COVID-19 vaccines have been shown to cause myocarditis at highest risk in younger men after the 2nd dose. In general, vaccine-induced myocarditis appears to be milder than other types of myocarditis," Salmon said.
"There have been some reports of post-vaccination myocarditis deaths worldwide, but this appears to be extremely rare. Even in the groups at highest risk of post-vaccination myocarditis, the benefits of the vaccines still outweigh the risks," he added.
The Department of Health's analysis was conducted using Floridians aged 18 and older "who died within 25 weeks of COVID-19 vaccination" since the vaccines were first distributed in December 2020.
Meanwhile said Dr. Kristen Panthagani, a Yale-based emergency medicine physician, said in a Twitter thread on Saturday that she found it "strange" that the analysis didn't list authors, adding that it appeared to be a Microsoft Word document, that has not been peer-reviewed.
"How did you rate cardiac deaths? They looked at death certificates and all deaths that had an ICD 10 code under Other forms of heart disease (ICD I30-I52) were included. They looked at death certificates and all other deaths with an ICD 10 code under Other forms of heart disease (ICD I30-I52) were included," Panthagani said.
She continued, "And while we can't say for sure, this whole analysis smacks of p-hacking, which occurs when people slice and dice the data in a whole bunch of ways until they find a result they like." ."
Additionally, Holden Thorp, Editor-in-Chief of the Science family of medical journals, also criticized the analysis, tweeting on Saturday: "Great thread about the fake study being circulated by Ladapo. Unreal that @UF [University of Florida] allows this unchecked."
news week contacted the Florida Department of Health and Charlie Crist's office for comment.
https://www.newsweek.com/desantis-spox-rips-charlie-crist-calling-top-florida-surgeon-quack-1750213 DeSantis Spox tears up Charlie Crist for calling a top Florida surgeon a "quack".