Did Andy let Ogle's toddler hold a gun? Old Instagram post sparks outrage
Tennessee Representative Andy Ogles, whose district owns the private elementary school where six people were killed in Monday's mass shooting, has drawn the public's ire over a 2016 shared photo showing his young child with an assault-style gun seems to show.
On Monday, three students and three staff at Covenant School in Nashville, Tennessee, were killed by 28-year-old Audrey Hale, who police said was armed with two assault weapons and a handgun.
Ogles quickly garnered attention online after the shooting after gun control advocates resurfaced a family Christmas card the congressman posted to his Facebook account in 2021 showing him, his wife and two of their three children armed with AR-15 guns. Style seen in front of them are a Christmas tree. The photo drew criticism from Ogles, a staunch supporter of Second Amendment rights, amid the Covenant shooting.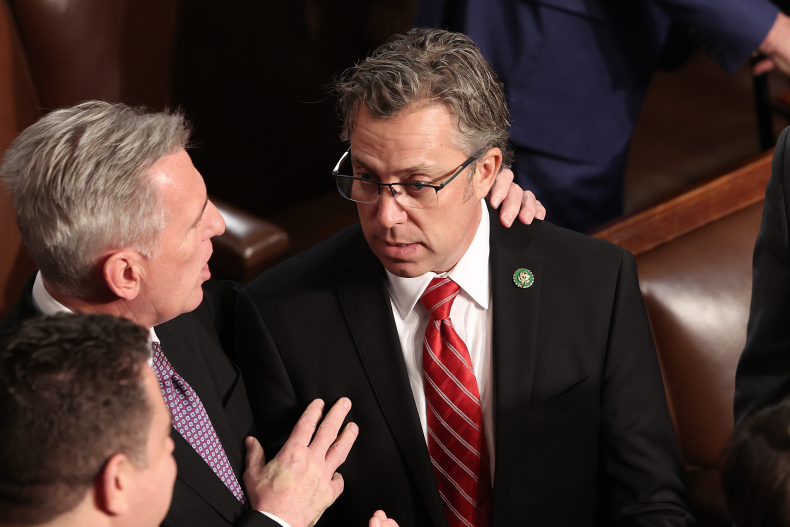 Co-founded March for Our Lives on Wednesday David Hog also helped resurrect a photo from Ogles' Instagram account from 2016, which appears to show the congressman's youngest child wielding an assault-style weapon, with the caption: "Weapons training. #2Indemandment".
"This is a photo from Rep Ogle's Instagram — the congressman representing the Nashville borough where the shooting occurred," Hogg wrote in his Twitter post, which included a screenshot of the photo and a link to Ogles' Instagram account . "Call his office and tell him what you think (202) 225-4311."
Ogles communications director Emma Settle narrated news week via email on Wednesday that the object shown in the photo is a toy. Hogg also addressed the gun's legitimacy in a subsequent tweet, Write"Apparently this gun is an airsoft gun (thank goodness) but that's still not okay."
A screenshot of the image that Ogles posted on July 1, 2016 was also posted on Twitter by Katherine Abughazeleh, researcher at progressive monitoring site Media Matters. Abughazaleh also shared a screenshot of Ogles' Christmas card in a following tweet.
Several users reacted with outrage to their thread about Ogles' Instagram picture. Former correspondent for CBS News Don Champion commented, "Talk about grooming!"
Other user asked, "Don't you have child care in the US?"
Ogles' Instagram comments section was also full of new criticism, despite the post being several years old, with more users claiming the photo was an example of "nursing" or "child abuse." One user commented Wednesday night: "This post has not aged well. You are a sick man."
Some Twitter users came to Ogle's defense. Brandon Herreraa YouTuber and owner of a firearms company in North Carolina, responded to Hogg's screenshot: "I think teaching kids about gun safety is extremely important. Well done @RepOgles."
Other user added: "I teach my kids gun safety and trigger discipline with BB guns too! Clever!"
In an interview with Fox News host Andrew Craft on Tuesday, Ogles dismissed the criticism he received for his family's 2021 Christmas card and shared with Craft that earlier that day a reporter asked him if he I regret posting the photo.
"And the answer is a simple no, I do not regret taking a picture with my family, nor do I regret exercising my Second Amendment rights under the United States Constitution," Ogles said. "And see, you know, while you're looking at photos, it's a public statement about how to properly hold and point a gun. My kids have been trained, they know how to use a gun."
"This is the United States of America. I have the right to bear arms, I will bear arms," ​​Ogles continued. "I will not change my stance on this because someone stupid is doing something terrible in our communities. But we have to go to the root causes and see, we can't banish ourselves from the situation. "
https://www.newsweek.com/did-andy-ogles-let-toddler-hold-gun-old-instagram-post-sparks-outrage-1791337 Did Andy let Ogle's toddler hold a gun? Old Instagram post sparks outrage