Did the Mar-a-Lago crowd try to leave while Trump spoke?
Former President Donald Trump was criticized for having an unusually "low energy" during his 2024 presidential announcement, and a reporter posted on Twitter that some of his supporters attempted to leave before he had finished speaking.
On Tuesday night, Trump spoke for about an hour to a crowd of supporters in Mar-a-Lago to announce his 2024 presidential campaign. He spent much of the speech repeating the same lines from his rallies — berating President Joe Biden's approach to defending his own economic record and calling for electoral reform.
ABC News reporter Olivia Rubin posted video of the Mar-a-Lago crowd on Twitter. She commented that a crowd had formed "at the exit" of the ballroom and people were trying to leave before Trump finished his speech. She added that "security won't let her go."
Also, Jon Karl, ABC News' chief correspondent in Washington said that he saw people trying to leave the speech early and that people were not allowed to leave the room. He speculated that it might be because the hall emptied when a few people left.
Brennan Murphy, producer at The Recount, commented that it was the "most boring Trump crowd" he's ever seen. Others, including Meghan McCain, also criticized Trump for the "boring" speech. Kumar Rao, an associate professor at Columbia University Law School, asked if Trump was ill or "just weathered now." Rao added that his "voice, demeanor, [and] cadence [are] all low energy as hell."
However, Michael Bender, reporter for The New York TimesHe saw the crowd's reaction to Trump's announcement differently. He posted on Twitter that Trump held his audience's attention throughout the 63-minute speech. He noted in his tweet that there was "some murmur" from side conversations in the back of the room, but overall said "most people were cheering and singing."
"Only a few if anyone left early," Bender said.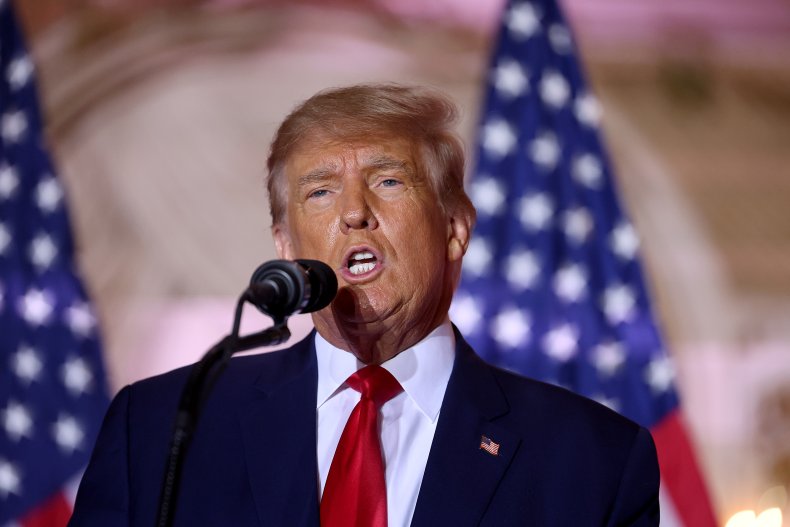 Trump has been teasing a presidential bid since leaving the White House in January 2021, when he told a crowd he would "come back in some form." Trump has since said he felt compelled to run because of the state of the country and that the only thing stopping him from running would be if his health didn't allow it.
Unlike 2020, when many rallied behind Trump for his re-election campaign, his latest bid for the Oval Office has met with mixed reactions. Republicans urged Trump not to pursue the nomination or at least delay the announcement until after the Georgia runoff, fearing it could negatively impact Herschel Walker's bid for the Senate. During Trump's speech, several broadcasters went back and forth between his remarks and their own comments, and Fox News' Laura Ingraham said as they cut away that they would return to the speech if there was anything newsworthy.
Others, however, have wholeheartedly embraced Trump's candidacy for the post. Georgia Representative Marjorie Taylor Greene endorsed Trump ahead of his announcement, and Florida Representative Matt Gaetz encouraged Trump to announce his candidacy earlier.
news week Trump's spokeswoman Liz Harrington has asked for comment.
https://www.newsweek.com/did-mar-lago-crowd-try-leave-while-trump-was-speaking-1759909 Did the Mar-a-Lago crowd try to leave while Trump spoke?