Distinguished veteran who has completed 4 combat missions helps quell suspect in deadly LGBTQ club shooting: 'I'm an officer and that's what we do'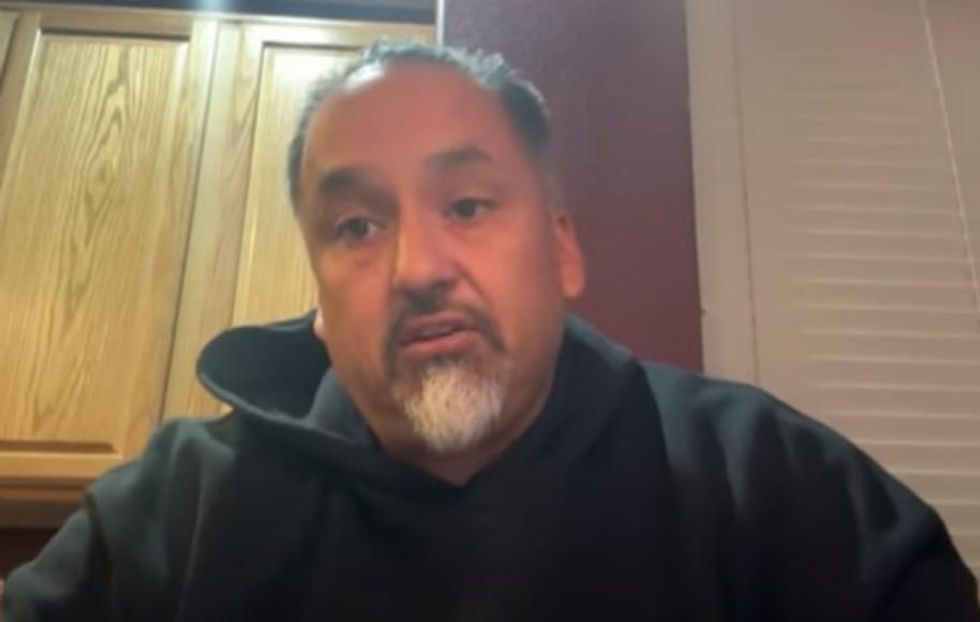 A former soldier used the training he learned in the US Army to subdue the suspect in the horrific shooting at a Colorado Springs gay nightclub over the weekend, potentially saving "dozens and dozens of lives."
richard fierro, 45He was with his wife at Club Q in Colorado Springs, Colorado on Saturday night; his daughter Kassy; and his daughter's boyfriend, Raymond Green Vance, to celebrate a friend's birthday and watch a drag show when the unthinkable happened. Anderson Lee Aldrich, 22, reportedly entered the club with two guns just before midnight that night and began firing into the crowd.
Fierro immediately recognized the threat and, in his words, "went into combat mode".
"I don't know exactly what I did, I just went into fight mode," Fierro said reporter later. "All I know is that I have to kill this guy before he kills us."
"It's just the reflex: go. go to fight end the action Complete the activity. Don't let anyone get hurt," he added.
According to reports from Fierro and other witnesses, Fierro actually did his best to "stop" the shooting. Aldrich allegedly wore body armor during the attack and was reaching for his other firearm when Fierro grabbed the suspect's body armor and pinpointed vulnerable spots.
"[H]He was in armor plates, so I started hitting him anywhere there was skin," Fierro recalled. "The back of his head was my target."
Fierro then pinned the suspect to a staircase, and a drag queen kicked the shooter in high heels.
An association ownerMatthew Haynes credits Fierro with saving "dozens and dozens of lives."
Another clubgoer that night, Thomas James, also reportedly helped disarm or otherwise subdue the suspect, although his role has not been confirmed. On the night of the shooting, Colorado Springs Deputy Police Commissioner Adrian Vasquez claimed that "[a]At least two heroic people at the club confronted and fought the suspect and were able to stop the suspect from continuing to kill and harm others." James did not speak publicly about his actions that night.
Fierro stated his primary motive was to protect others, particularly his family, and he told the suspect exactly what he thought of him.
"I told him, while I was hitting him, I said, 'I'm going to fucking kill you, man, for trying to kill my friends.' My family was in there. My little girl was in there," Fierro said through tears.
Unfortunately, Fierro couldn't protect everyone. Aldrich reportedly managed to kill five people and injure at least 24 others. One of those who died was Vance, Fierro's daughter's boyfriend. Also Kassy, ​​​​Fierro's daughter broke his knee that night, and there are reports of a non-shooting injury. Whether Kassy's knee is this "non-shooting injury" remains unclear.
Aldrich also sustained injuries that evening and was treated at a local hospital. His condition is unknown. He was calculated with five counts of murder and five counts of committing a prejudice-motivated felony that caused injuries, although The Hill claims those charges could change before his first court appearance. He is expected to appear in court practically after his discharge from hospital.
Fierro served his country in the army for decades. He joined as a field artillery officer in 1999 and completed four deployments to Iraq and Afghanistan between November 2003 and April 2012. In 2013 he left the army as a major. During his time in the Army he received the Combat Action Badge and two bronze stars.
"If you actually do this stuff, it's in you. I was proud to be a soldier," Fierro said.
"I'm an officer and so are we. I controlled the scene as best I could."
Now a civilian, Fierro and his wife own a local brewery called the Atrevida Beer Company. The family, who all identify as straight, proudly support the LGBTQ and Pride movements.
"I love every one of them," Fierro said. "I love this community. I have nothing but love I have nothing but love for everyone."
https://www.theblaze.com/news/decorated-veteran-who-served-4-combat-tours-helps-subdue-suspect-in-deadly-lgbtq-club-shooting-im-an-officer-and-thats-what-we-do Distinguished veteran who has completed 4 combat missions helps quell suspect in deadly LGBTQ club shooting: 'I'm an officer and that's what we do'