Domino's worker cheers up girl after friends bail at her birthday bash
A young girl whose friends canceled on her birthday was cheered up by a surprise from Domino's after a worker decided to send a treat.
Pizza maker Miles received a call from a local mother to cancel a large order she had placed because many of her daughter's friends had not turned up.
Miles decided to instead create a bespoke gift, edible of course, to send to the boy.
A post on the Facebook page of the Australia-based Coolum branch shared the touching tribute and a small birthday-themed dessert.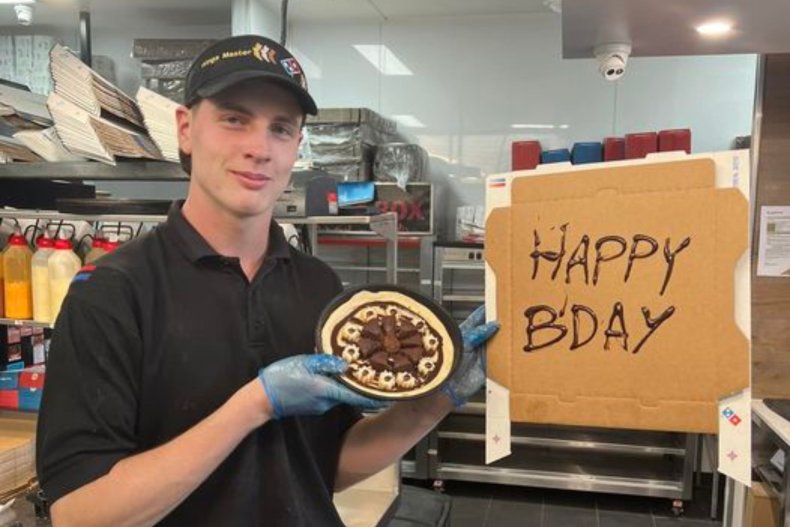 Posted on Tuesday, it read: "Last week Domino's Coolum received a call from a local mum who was hoping to cancel the large order she had placed because some of her daughter's peers had not turned up for her birthday party.
"When she got to the store to pick up the one pizza, Shift Manager Miles surprised her with a custom made chocolate dessert pizza with churros and brownies!
"Thank you Miles for going the extra mile to make this client's day better."
In the snap, which has garnered 81,000 likes, Miles holds up the chocolatey creation, which also reads "Happy B'Day" in chocolate.
miles told news week: "When I first heard that one of our customers wanted to cancel a large pizza order after just one friend showed up for her daughter's birthday party, I knew I wanted to do something to cheer her up.
"I thought about what would have made me happy at that age and immediately decided to surprise her with a chocolate fudge brownie and churro pizza – because maybe the only thing better than pizza is a chocolate!"
"It was a small thing, but I'm pleased to know that in some ways the Domino's Coolum team and I were able to change her day and make her feel special." And he added that the response to the post was "overwhelming."
While it's not clear what age the girl celebrated, friendship groups are a "crucial" aspect of adolescence, notes the Pew Research Center.
Published in 2018, it said: "Many teenagers who see their friends less than daily express a desire for more personal time.
"Only 17 percent of teens who meet friends daily say they spend too little time together, but that proportion rises to 42 percent for teens who meet friends less frequently."
The rise of social media has been touted by critics as one explanation for why young people don't spend as much time in face-to-face conversations, but research found other factors play a role.
"Teenagers themselves cite a variety of reasons why they don't spend more time with their friends in person.
"The most common of these (cited by 41 percent of teens) is teens themselves reporting that they just have too many other commitments to find time to hang out with friends.
"Meanwhile, 34 percent say their friends are too busy with their own commitments to find time for activities with friends, and 32 percent say the difficulty of finding transportation prevents them from meeting their friends seen more often," the results say.
The chart below, provided by Statista, shows popular food brands.
A woman named Lauren O'Rourke is believed to be the mother as she reposted Domino's photo to her own Facebook page as she also praised Miles and confirmed her daughter enjoyed her big day.
"Skylah's birthday [sic]. This was the most wonderful, generous and loving gesture from Miles and the team at our local Domino's," she said.
While she also commented on Coolum's post, saying her daughter had a "lovely birthday" and celebrating with "two very special friends."
She said: "Having Miles at our door was very special and the biggest surprise.
"The love of our community has been most memorable for our family. So much love.
"We are so thankful and thankful to have this beautiful life. We send love and happiness to all."
O'Rourke tells news week: "If all of us can always choose kindness in our lives and live a life of love, this world will live a life of peace and happiness.
"We must live our best lives and find the true meaning of happiness – which is love and kindness for all."
In the comments, Miles was hailed as the champion, with Odette Van Wyk writing: "What's the deal with this sudden trend of parents not taking their kids to birthday parties, or at least letting the parents know they won't? So absolutely cruel – imagine what they teach their children."
Peta Hardman gushed: "Miles was raised right!! Well done mate!!"
Charvonica Elizabeth McCandless said: "This is my biggest fear as a parent. I'm so happy that there was something of a happy ending."
Jayden Lawry replied: "This is so heartbreaking. Miles we love you, thank you for bringing a little happiness to this kid on his birthday."
Maddie Burness added: "Go Miles! Absolute champion."
https://www.newsweek.com/dominos-worker-cheer-girl-friends-bail-birthday-party-1749468 Domino's worker cheers up girl after friends bail at her birthday bash