Donald Trump and Kevin McCarthy share lovemaking after 'crazy' speaker race
Former President Donald Trump has celebrated the victory of newly elected House Speaker Kevin McCarthy while acknowledging that the 15-election race could be viewed as "insane".
Trump took to his platform Truth Social early Saturday and praised McCarthy's victory after the Republican finally won the 15th ballot after four days of opposition from a minority within his own party.
"The selection process for the 'spokesperson', as crazy as it may seem, has made everything much bigger and more important than if it were done the more conventional way. Congratulations to Kevin McCarthy and our GREAT Republican Party!" wrote the former President.
Speaker McCarthy also had kind words for Trump, thanking him for his support after the last vote. He spoke to reporters around 2 a.m. ET after the night's vote.
"But I want to give a special thank you to President Trump," McCarthy said. "I don't think you should doubt – everyone should doubt their influence. He was with me from the start… And he was all in. He would call me and he would call others."
"And he really — I spoke to him tonight — helped get those final votes," McCarthy continued. "And what he's really really saying for the party and the country that we need to come together. We have to focus on the economy. We must concentrate, secure our border. We have so much work to do and he's been a huge influence to make it all happen. So thank you, President Trump."
Trump had publicly backed McCarthy despite opposition from some Republicans in Congress who are seen as close allies of the former president, including Reps Matt Gaetz and Lauren Boebert.
news week has reached out to Speaker McCarthy's office for comment.
This is breaking news and will be updated.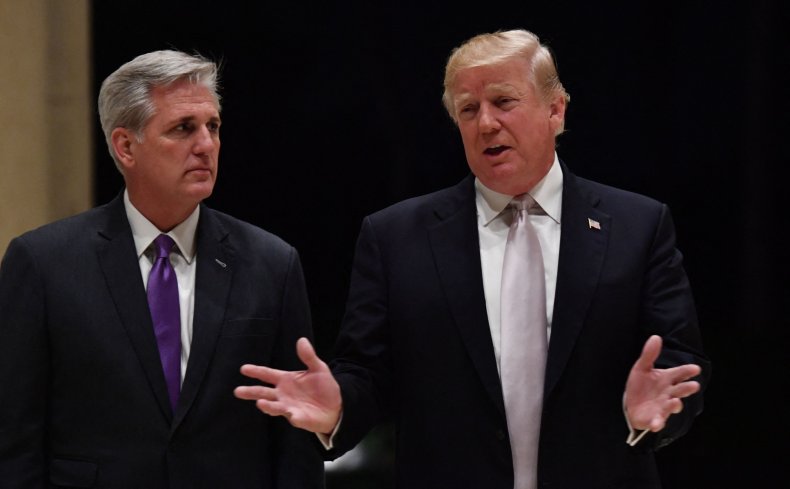 https://www.newsweek.com/donald-trump-kevin-mccarthy-share-love-after-crazy-speaker-race-1772033 Donald Trump and Kevin McCarthy share lovemaking after 'crazy' speaker race