Donald Trump says in a video from the New Year's Eve party that the US is "like a third world country".
Donald Trump, during his New Year's Eve party at Mar-a-Lago, the former President's club for private members, claimed that America was "like a third world country."
Speaking to hundreds of attendees, Trump said: "We are watching a war, we are watching nuclear weapons that are being talked about all the time, we are watching inflation going through the roof. All these things that we watch and so unnecessary and so sad to see. Now we have airports where people can't fly.
Trump appeared to be referring to the impact of winter storm Elliott and problems at Southwest Airlines that caused more than 15,000 flights to be canceled between December 22 and 25.
The leading Republican continued, "It's sad when people can't get to Florida from New York, we're like a third world country."
When he arrived, Trump answered a number of questions from journalists, but specifically declined to respond to a reporter who asked if Florida Gov. Ron DeSantis should "investigate the Covid vaccines your administration helped develop." Has".
DeSantis, who has emerged as the main threat to Trump's hopes of being the Republican nominee in the 2024 presidential election, has asked a grand jury to investigate "any wrongdoing" related to coronavirus vaccines and their use in Florida.
However, videos have resurfaced of DeSantis endorsing the vaccines in May 2021, when he said, "My message is that the vaccines protect you. Get vaccinated and then live your life as if you are protected."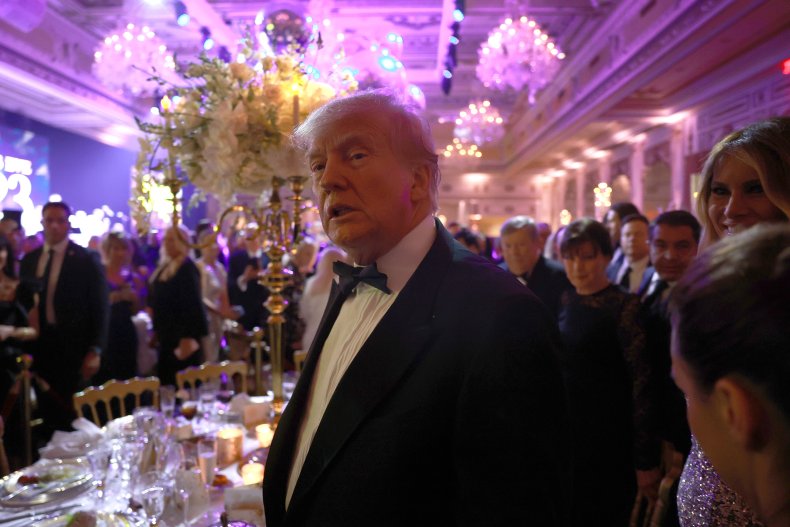 Trump also criticized the FBI, which raided Mar-a-Lago on Aug. 8 as part of an investigation into handling official documents, including possible violations of the Espionage Act.
Speaking to a reporter, he said: "I find it disgraceful what is happening to the FBI and the arming of the judiciary. There has never been anything like it and it's a shame."
A number of videos from the party have surfaced on social media, including one showing Donald and Melania Trump entering the sound of Lee Greenwood's God Bless the USA.
Another clip, apparently shot by Rudy Giuliani, shows the former New York mayor turning to the camera, though he's largely drowned out by the song Footloose.
The video was reposted on Twitter by Ron Filipkowski, a former attorney with over 610,000 followers.
PatriotTakes, a Twitter account that bills itself as "exposing far-right extremism," released an 18-second clip showing two women dancing in front of a swimming pool at the party while dozens of other guests watched.
Trump also posted a New Year's message on his Truth Social website, where he took a swipe at Elaine Chao, the Taiwan-born wife of Republican Senate Leader Mitch McConnell.
The former President wrote: "HAPPY NEW YEAR to all the radical left Democrats, Marxist maniacs, China loving Coco Chow and her obedient husband Mitch, and clueless RINOS working so hard to DESTROY our once great country."
RINOS, or "Republican in name only," is a term Trump supporters use to describe GOP politicians they see as insufficiently conservative.
Trump continued, "More importantly, HAPPY NEW YEARS to the incredible, brave and strong American patriots who built, loved and cherished America. The REAL leaders of our country will always remain FAITHFUL and LOYAL to you. Bigger & better & stronger than ever. GOD BLESS YOU ALL!"
news week has reached out to a Donald Trump representative for comment.
https://www.newsweek.com/donald-trump-says-us-like-third-world-country-video-nye-party-1770611 Donald Trump says in a video from the New Year's Eve party that the US is "like a third world country".