Donald Trump slams 'disgraceful' lawyer as bombshell book released
Donald Trump has launched a series of attacks against a New York prosecutor after the attorney published a scathing book containing inside information about a criminal investigation into the former president.
Mark Pomerantz resigned as the special assistant district attorney in February 2022 after reports that Manhattan District Attorney Alvin Bragg would not press charges against the former president over his business practices.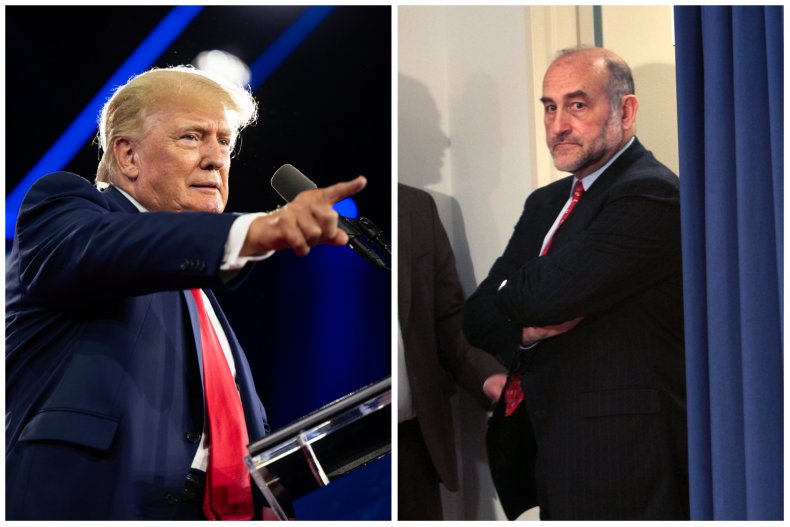 In a letter of resignation released in March 2022, Pomerantz said the prosecutor's office had "no doubt" that Trump committed "numerous" crimes, including falsifying financial statements. Pomerantz was one of the lead prosecutors working on the investigation into alleged tax fraud by the Trump Organization.
He also claimed that Bragg's predecessor, Cyrus Vance Jr., who retired in 2021, asked the department to file charges against Trump "as soon as reasonably possible" over the evidence against the former president.
book by Pomerantz, People vs. Donald Trump: An insider accountIt was released on Tuesday and has already caused controversy.
Bragg demanded that the book not be published because he feared it could hamper the Manhattan DA's ongoing investigation into Trump.
On Friday, the Association of Prosecuting Attorneys (APA) wrote a letter to Bragg saying Pomerantz could face a ban from practicing law and a felony charge if the book is published. In a statement to New York Legal JournalPomerantz said his book was "legal, ethical and in the public interest."
When sharing the New York Legal Journal Article about APA's letter on Truth Social, Trump said: "This is disgraceful behavior on the part of Pomerantz, especially as, as always, I did nothing wrong."
Trump also shared a quote from David LaBahn, president and CEO of the Association of Prosecuting Attorneys, in his Truth Social post. It states, "The most likely consequence for any attorney who publicly discloses materials from a grand jury proceeding, including testimonies, without a written court warrant, is a formal criminal complaint for breach of grand jury secrecy."
Posting again on Truth Social, Trump accused Pomerantz, who previously worked for 2016 presidential nominee Hillary Clinton, of "wanting to make money from a book but putting himself in grave legal jeopardy." I did nothing wrong!"
Trump also shared another quote from J. Anthony Jordan, president of the District Attorneys Association of New York State, accusing Pomerantz of "reversing the norms and ethics of prosecutorial conduct." He may have broken New York City criminal law by writing his book.
In another update from Truth Social, released early Tuesday morning, Trump suggested that the publication of Pomerantz's book was another example of Democrats "weaponizing" law enforcement.
"Hillary Clinton's attorney is taking time off from his Democratic law firm, run by Chuck Schumer's brother, to work pro bono in the Manhattan District Attorneys Office doing GET TRUMP while illegally writing a book about it totally 'tainted' experience," Trump wrote.
"The Injustice Division, which works with the corrupt FBI, also stocks the DA's office. SHAME!!!"
Excerpts from Pomerantz's book were released on Friday The New York Times In it, the lawyer compares how Trump ran his business to the notorious mob boss John Gotti.
"He demanded absolute loyalty and went after anyone who got in his way. He always seemed to be one step ahead of the law," Pomerantz writes. "In my legal career I'd only come across one other person who touched all of those foundations: John Gotti, head of the Gambino organized crime family."
Trump has previously said he would sue Pomerantz if his book were published.
news week asked Pomerantz for comment.
https://www.newsweek.com/trump-mark-pomerantz-book-lawyer-manhattan-investigation-1779389 Donald Trump slams 'disgraceful' lawyer as bombshell book released