Donald Trump will not testify in E. Jean Carroll case: Attorney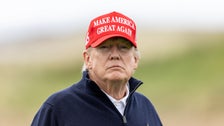 Donald Trump's attorney confirmed Tuesday that the former president would not testify in the rape case brought forward by columnist E. Jean Carroll, multiple news outlets reported.
Carol sued Trump for assault and defamation, who claimed he raped her at Bergdorf Goodman, a luxury department store in Manhattan, in the mid-1990s. She came forward first with these allegations in 2019.
According to PoliticoUS District Judge Lewis Kaplan has repeatedly asked Trump's attorney Joe Tacopina whether the ex-president would testify. On Tuesday, Tacopina confirmed that Trump had decided against it.
However, the jury will still be hearing from him during the trial, as the court is expected to hear a 45-minute video recording of Trump responding to Carroll's allegations. According to NBC NewsKaplan said there was no need for Trump to testify live and that Carroll "has the right to play Donald Trump's testimony in court."
The possibility of Trump taking a stand seemed unlikely given the former president's absence so far, including during Carroll's emotional testimony last week.
Carroll told the court Trump asked her to help him buy a lingerie gift while they were in the store's lingerie department. She said he asked her to try on a lace bodysuit, but she declined. Trump then allegedly pushed her against the wall of the dressing room and sexually harassed her.
"I pushed him back … I was almost too scared to think about it," Carroll said during her testimony. according to the New York Timesadding that she was in pain and that Trump blocked her view while attacking her.
Several other witnesses joined Carroll to testify, including Jessica Leeds, a woman who accused Trump of sexually harassing her on an airplane in the 1970s.
Trump has denied Carroll's rape allegation. While she was making her statement, Trump, who was not present, posted about it on his social media platform Truth Social.
"Does anyone think I would take a then almost 60-year-old woman I didn't know from the front door of a very crowded department store (of which I'm very well known, to say the least!) into a tiny dressing room and… she," wrote Trump, adding: "SCAM!"
As of 2020, at least 26 women had accused Trump of sexual misconduct since the 1970s, Business Insider reported. The former president is currently embroiled in several other high-profile court cases, some of which he will not testify.
Do you need help? Visit RAIN's National Online Sexual Assault Hotline or the National Resource Center on Sexual Violence website.