Dozens of Ukrainian troops are given a crash course in US howitzers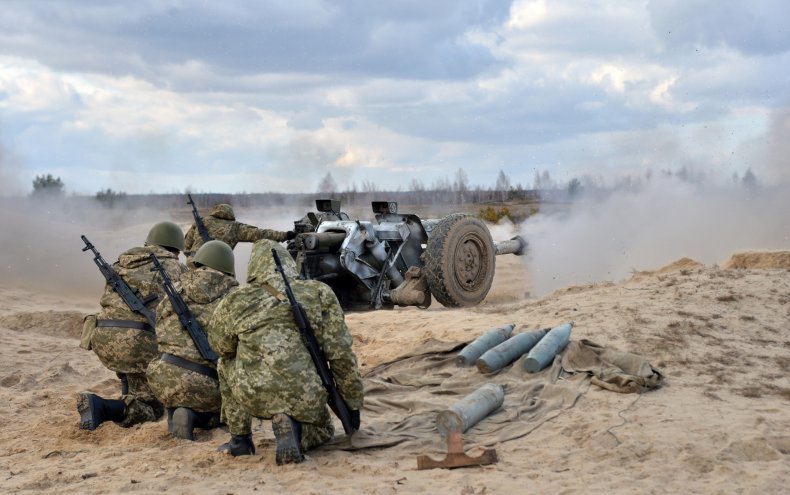 Dozens of Ukrainian troops have reportedly begun receiving US military training in howitzer artillery while battling invading Russian forces.
The US announced last week that it would send 18 howitzers, which resemble small cannons, along with 40,000 artillery pieces and training in operating the systems to Ukraine as part of an $800 million security aid package. Another $800 million package was announced Thursday, which includes 72 additional howitzers, 140,000 artillery shells and 121 unmanned drones.
A senior US Department of Defense (DoD) official said Wednesday, on condition of anonymity, that "slightly more than 50" Ukrainian troops have already begun training to use the artillery, according to Reuters. The official said the training will be conducted outside of Ukraine and is expected to last about a week.
On Tuesday, Pentagon press secretary John Kirby told reporters that training on the weapons system would begin "very, very soon," adding that a limited number of Ukrainian trainers would learn how to operate the system, and then would train their own colleagues "within" days." Training is needed because although the Ukrainian military has used similar weapons, the American howitzers are of a different caliber than they are used to.
"We're going to train a small number of Ukrainians on the howitzers and the 155 artillery because they don't use that caliber and they don't — they don't have American howitzers in their arsenals," Kirby said.
Kirby added Thursday that the "additional 72 howitzers will essentially help equip five more … artillery battalions for the Ukrainians." of fighting that has already begun there and we expect to continue in the coming ones days and weeks to go on."
President Joe Biden announced the second military aid package during a White House address on Thursday morning. The president said the additional aid would "further strengthen" Ukraine's ability to counter the Russian attack in the Donbass region.
"We have to accelerate [the] Aid package to prepare Ukraine for Russia's offensive, which will be more limited geographically but not in terms of brutality," Biden said. "It will ensure a steady flow of arms and equipment to Ukraine over the next few weeks. "
Ukrainian Prime Minister Denys Shmyhal thanked the US for the help but stressed at a meeting with Defense Secretary Lloyd Austin on Thursday that more is needed to defeat Russia.
"Your support helps us stand our ground and push back the enemy while saving the lives of our military and civilians," Shmyhal said, before urging additional help in the form of "a steady supply of firepower and weapons that "would give us gain a great advantage".
According to the Ministry of Defense, the new pack includes 72 155mm howitzers and 144,000 artillery shells; 72 tactical vehicles to tow the howitzers; more than 121 Phoenix Ghost Tactical drones; and field devices and spare parts.
news week contacted the DoD for comment.
https://www.newsweek.com/several-dozen-ukrainian-troops-get-crash-course-us-howitzers-1699943 Dozens of Ukrainian troops are given a crash course in US howitzers