DPS makes dozens of arrests in first week of partnership with APD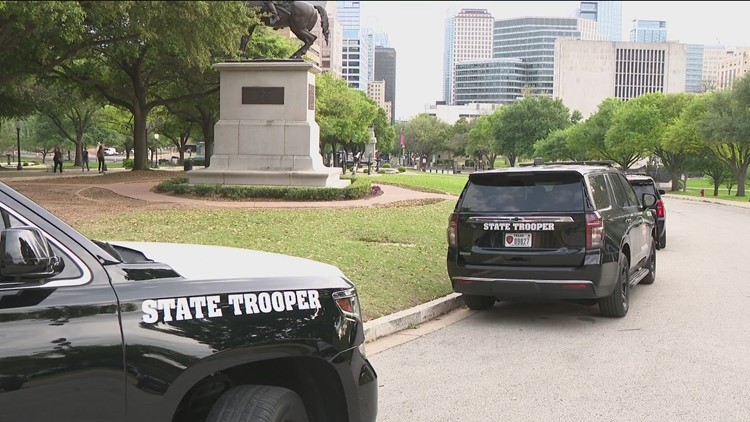 Police officers arrested 52 felonies and 31 misdemeanors in Austin from March 30 to April 3, seized 174 grams of cocaine, 40 grams of heroin and issued 765 parking tickets.
AUSTIN, Texas – The Texas Department of Public Safety made 52 felony and 31 misdemeanor arrests, seized 174 grams of cocaine and 40 grams of heroin and issued 765 parking tickets in Austin from March 30 to April 3, according to new data.
The figures provide a snapshot of the controversial partnership between the Austin Police Department and DPS, which was announced last month.
Since March 30, DPS has conducted 1,570 traffic stops and conducted 15 accident investigations. Soldiers also recovered six stolen vehicles and seized 127,415 grams of methamphetamine and 11 firearms, according to new data.
DPS also said it helped halt three "large-scale street takeovers across the city" over the weekend.
The partnership between APD and DPS comes amid what officials say is an urgent need caused by staff shortages.
Police Chief Joe Chacon and DPS Director Col. Steve McCraw announced the unprecedented agreement for Austin on Monday, March 27. The city said state forces would focus on violent crime and traffic problems, and also provide assistance in other emergencies.
Officials say the decision to get DPS assistance was made because the department was struggling to respond quickly to 911 calls and conduct routine patrols like traffic enforcement.
They say it's also the result of decisions by previous city governments that included dropping cadet classes to revamp the curriculum, leaving the department with fewer officers. The Austin Police Department has also lost a significant number of officers in recent years due to an unusually high rate of retirements.
Meanwhile, some Austin councillors asked for a briefing on the partnership during the April 11 working session and a "complete understanding of how this partnership will work to uphold Austin's values".
https://www.kvue.com/article/news/local/dps-apd-partnership-numbers/269-880e1128-c0ac-48ae-b4a6-004ca6226060 DPS makes dozens of arrests in first week of partnership with APD