Drag queens protest Kirk Cameron's Christian children's book event in Fayetteville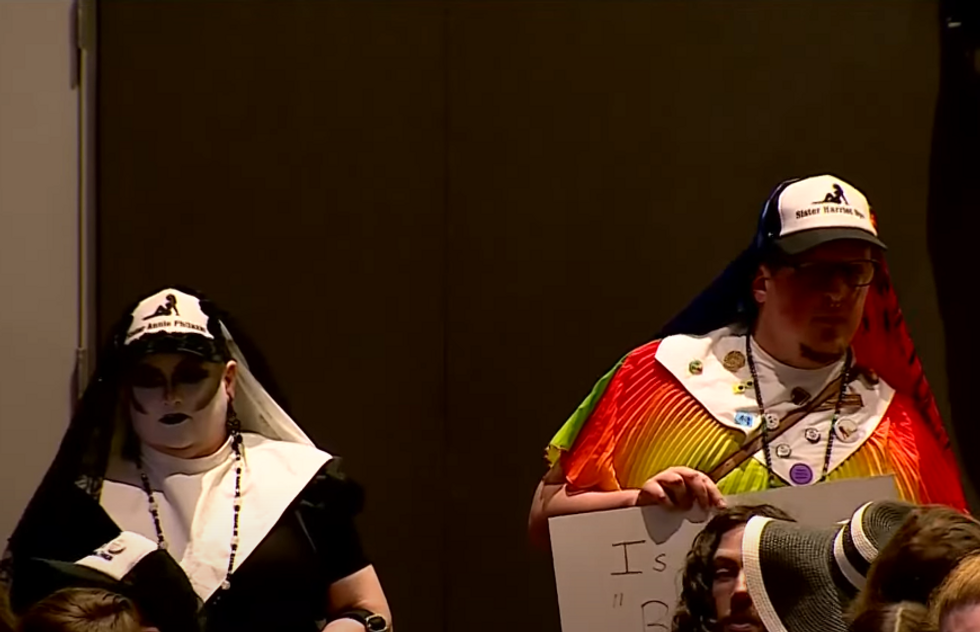 About 500 people attended Kirk Cameron's book reading event for children in Fayetteville, Alabama. While most in attendance were parents, grandparents and children, there were also drag queens protesting a children's book promoting Christian and conservative values.
Cameron is currently on a tour of the National Library reading his Christian children's book As You Grow, which teaches "biblical truths of the fruitage of the Spirit." The book's publisher, Brave Books, organized the "Freedom Island Book". trip as a healthy alternative to drag queen story hour events and to "stand for truth and biblical values."
Brave Books called in December that more than 50 libraries turned down proposals for Cameron to read books, even though the same libraries sponsored drag queen story hours.
On Friday, Cameron held a book reading at the Fayetteville Public Library.
An overwhelming majority of attendees supported Cameron and his book, as did Mandy Brooks.
"We love Christ. We love Jesus and we just wanted to help promote that. We love these Brave Books and we just love our country. So we just wanted to come here and be a part of what he does," Brooks said KFSM TV.
There were also protesters, including Pastor Clint Schneckloth of the progressive Good Shepherd Lutheran Church practices methods exercises "full inclusion of the LGBTQ community in the life of the church" and defends certain communities such as "Black Lives Matter, the transgender network, Latinx, refugees, immigrants".
Schneckloth described described the event as "overwhelming and much stranger and frightening than I had imagined". He claimed reading the book was "indoctrination" and "propaganda." The progressive pastor held up a sign that read, "Is Cashing In on 'Christian' Hatred Fruit of the Spirit?"
"They had the group sing the national anthem and say the pledge and loudest applause of the entire event was even more for nationalist/patriotic stuff than Christian crap," Schneckloth wrote on Facebook.
The Sisters of Perpetual Indulgence of the Arkansas Chapter of Hillbilly Harlots also protested against the children's event – a "group by queer nuns on a mission to spread love, light and joy through education, awareness and support for the LGBTQ community."
A member of the drag queen group was accused of stepping on a "poor tiny white girl" and hitting her with a stick.
The postmillennial reported: "Drag Queen Patty Johnson was also there and said that reading to kids Cameron 'looks like indoctrination' and she taunted the kids as 'a bunch of homeschooled kids who're being sold a 'freedom' line of nonsense will, if they actually say so, vote for more of your freedoms to be taken away from you because communism and abort culture are SO bad… so come buy our books, capitalism is good of course!
Cameron labeled the disruptors as "a small group of protesters that included a few adult males wearing goofy makeup, dressed in skirts and heels, and pretending to be women."
Brave Books chief of staff Zac Bell said, "When we got to Fayetteville, Arkansas, we expected a crowd of supportive Christian and conservative families to show up. What we didn't expect was that a group of drag queens and activists would attend and walk up and down the event, giving the kids in attendance goosebumps."
Brave Books author Chaya Raichik, who runs the @LibsOfTikTok account, has had to cancel her book reading event in New York City due to security concerns.
"We received threats of potentially inappropriate and unsafe behavior at Sunday's New York Storytelling with Chaya Raichik," Brave Books said on Friday.
Kirk Cameron's story from the Fayetteville Library has met with some resistancewww.youtube.com
Like Blaze News? Bypass censorship, sign up for our newsletters and get stories like this straight to your inbox. Login here!
https://www.theblaze.com/news/kirk-cameron-protest-book-drag-queens-fayetteville Drag queens protest Kirk Cameron's Christian children's book event in Fayetteville