Drug Task Force seizes opium poppies mistakenly grown for bridal bouquet
An Australian flower grower was shocked this week when her patch of pretty pink poppies led to a visit from the local drug task force.
Kate Dixon lives in Tasmania, Australia and has been growing flowers for her flower shop Clifton Blooms for two years.
Dixon primarily provides floral arrangements for weddings and events and is always keen to grow her own beautiful flowers.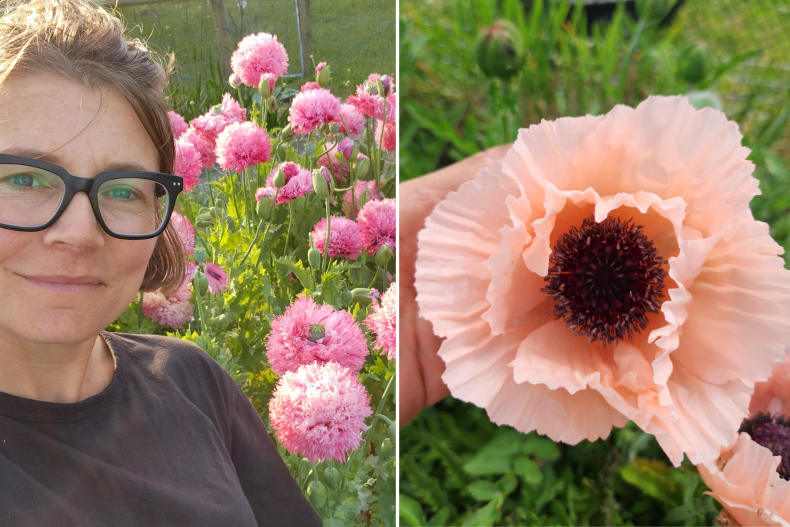 "I grow a mix of Australian and South African native flowers," she said news week. "Old cottage garden favorites – that's why I grew some of these lovely ornamental poppies."
Dixon often shares pictures of her flora on Instagram, so she ended up getting a call from the Department of Natural Resources and Environment Tasmania (NRE Tas).
"They said to me, 'We saw your photos on Instagram and we think they're restricted poppies,'" Dixon said.
Shortly after, representatives from NRE Tas were in the garden digging up the plants to take to a botanist at the University of Tasmania in Hobart for testing.
When the results came back, it turned out that Dixon had inadvertently planted two forbidden species of poppy: the opium or breadseed (Papaver somniferum); and the Iranian, Persian, or the great scarlet (Papaver bracteatum).
Both poppies are grown commercially in Tasmania under strict conditions and used to extract the alkaloid material they contain, which includes morphine, thebaine and codeine.
However, the poppies are also sometimes cultivated illegally to make opium tea or heroin, which is made from the gum of opium poppies.
NRE Tas officers returned and removed more than 50 plants from Dixon's farm.
In the United States, under the Controlled Substances Act of 1970, Papaver somniferum is considered a Schedule II substance and is classified in the same category as methadone and fentanyl.
However, growing these poppies in the US remains technically legal as long as they are for consumption or to accent your home or garden. The Opium Poppy Control Act of 1942 attempted to prevent Americans from growing poppies altogether, but it was difficult to enforce and the law was repealed in 1970.
Despite some ambiguity in the law and the likelihood that officers would turn a blind eye to a plant or two in a front yard, the U.S. Drug Enforcement Administration (DEA) is far from relaxed when it comes to enforcing the regulations.
In 2013, a 40-acre opium poppy farm in Washington state was shut down after an undercover agent caught the owner claiming to be selling 500 pounds of dried poppy seeds a month.
"I was very shocked, to be honest," Dixon said, recalling the moment she found out her plants were an illegal substance. "They're available at ordinary hardware stores around here."
In early November, Food Standards Australia New Zealand issued a national recall of poppy seeds due to potentially high levels of thebaine – the opioid alkaloid.
Meanwhile, the government warned residents not to drink poppy seed tea, which has been linked to more than 32 cases of poppy toxicity in Australia since October.
"People died from it," Dixon said. "It's a health issue and of course I don't want to do anything illegal."
When the NRE Tas team arrived to remove the plants, Dixon said they were very kind. "You were lovely, so nice," she said. "They're just doing their job. It was a mistake – I had no bad intentions."
But after her plants were confiscated, Dixon wanted to spread the word and took to social media to talk about her experience.
"I said you need to make this information more accessible for people to know about poppies," she said. "I know there are so many other people who have these poppies in their garden and they may not know that it's a health hazard and that it's actually illegal."
https://www.newsweek.com/drug-force-seize-opium-poppies-australia-1762364 Drug Task Force seizes opium poppies mistakenly grown for bridal bouquet