Edward Snowden is grateful after Vladimir Putin granted him Russian citizenship
Edward Snowden, the whistleblower wanted by US authorities for divulging top-secret National Security Agency (NSA) secrets in 2013, has expressed relief after Vladimir Putin granted him Russian citizenship.
Snowden has lived in Moscow since 2013, when he fled to the Russian capital to avoid spying allegations in his home country.
The former intelligence worker was granted temporary asylum, which was repeatedly renewed until he was granted permanent residency in 2020.
After being granted Russian citizenship, Snowden tweeted: "After years of separation from our parents, my wife and I have no desire to be separated from our SONS.
"After two years of waiting and almost ten years in exile, a little stability for my family will make a difference. I pray for privacy for them – and for all of us."
He accompanied the post with a photo of his wife, blogger Lindsay Mills, and their two sons.
Mills, who has also applied for a Russian passport, and Snowden were married in 2017. Their first son was born in 2020 during the coronavirus pandemic.
Snowden revealed he had applied for Russian citizenship in November 2020 and said he fears being separated from his family in times of "closed borders".
He tweeted: "After years of being separated from our parents, my wife and I have no desire to be separated from our son. That's why, in times of pandemics and closed borders, we're applying for dual American-Russian citizenship.
"Lindsay and I will remain Americans and will raise our son with all the values ​​of the America we love – including the freedom to speak his mind. And I look forward to the day when I can return to the States so the whole family can be reunited."
Snowden rose to prominence in 2013 when information he leaked revealed that the National Security Agency had collected phone records from millions of Americans and tapped the servers of nine major internet companies to monitor online communications.
Then-Director of National Intelligence James Clapper accused Snowden of causing "great, serious harm" to US intelligence, while President Obama said he had undermined the government's ability to "protect our people".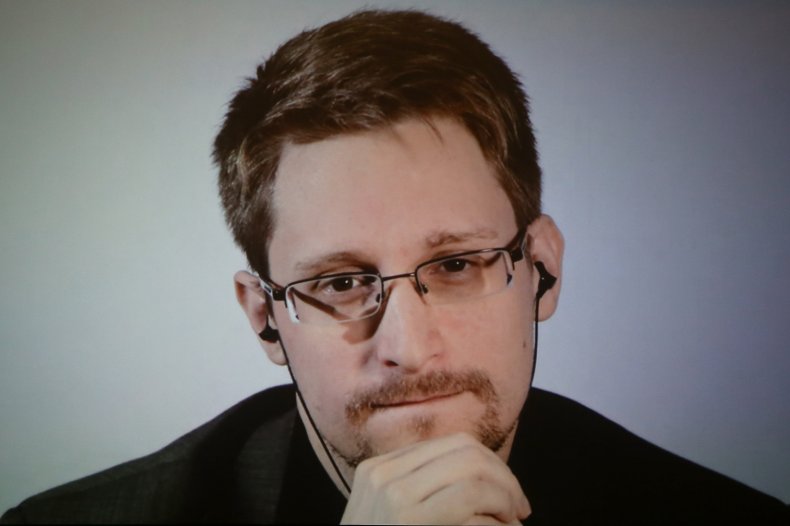 In Moscow in 2015, Snowden called internet censorship and the treatment of gay people in Russia "fundamentally wrong".
Snowden received Russian citizenship just days after Putin ordered a partial Russian mobilization to support his ongoing invasion of Ukraine.
Russian authorities said they planned to conscript 300,000 people with previous military experience, but there were widespread reports of men with no military background being conscripted.
This sparked mockery on the internet, with politicians and commentators asking whether Snowden could be drafted into the Russian army.
Republican Senator Lindsey Graham tweeted: "Now that Edward Snowden has been granted full Russian citizenship, I expect he will fight for Putin on the battlefield in Ukraine any day.
"Or could it be that he will be released while other Russian citizens are called upon to fight for Putin in a war of aggression?"
International security expert Aki Peritz added: "Snowden is now an RU citizen and under 50; he was now to be mobilized, given him a Tsarist-era rifle, Soviet-era boots and rations expired in 2012, and sent to the frontline of Ukraine. For the glory of the fatherland, of course."
Snowden's lawyer, Anatoly Kucherena, said his client did not meet the criteria for Putin's draft.
Speaking to Russia's RIA news agency, he said: "Since Edward has not served in the Russian army, he has neither the practice nor the experience of military service, so he is not subject to conscription."
https://www.newsweek.com/edward-snowden-grateful-after-vladimir-putin-grants-him-russian-citizenship-1746621 Edward Snowden is grateful after Vladimir Putin granted him Russian citizenship