Eighth grade transgender students interviewed by Texas officials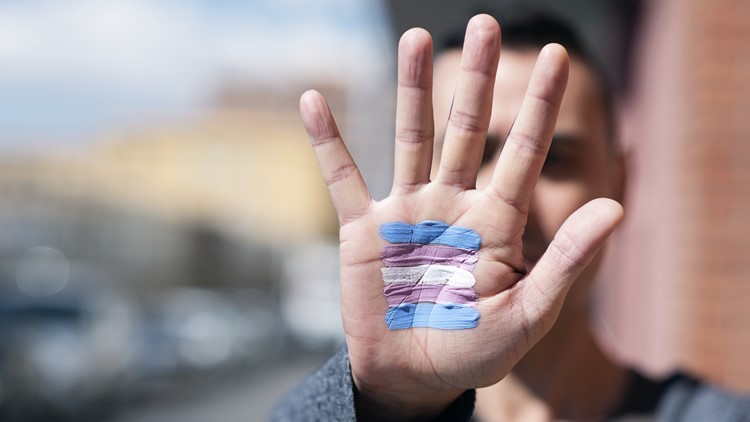 The mother's statement is part of an ongoing lawsuit by LGBTQ+ advocates against Gov. Greg Abbott's order to investigate gender-affirming care.
In a letter filed with court late Wednesday, Carol Koe, using a pseudonym, said the DFPS investigator questioned her son in a school conference room about "his most intimate thoughts, his family, his diagnosis" and "she asked him whether he takes all 'performance-enhancing drugs'."
The conversation lasted almost an hour, the mother said in her statement to the court.
The son, who was assigned female at birth, was too upset to go back to class and "had a breakdown," the mother said.
The filing is part of a new set of evidence filed in an ongoing lawsuit by LGBTQ+ advocates asking the court to block Gov. Greg Abbott's order asking DFPS to prosecute families of transgender youth for gender-affirming investigate care.
Koe told the court the DFPS investigator said she was being investigated for "child abuse" for seeking testosterone treatment for her son, "and that it was "illegal."
During the 2021 legislative session, the Texas legislature failed to pass legislation restricting gender-affirming care.
However, Doctors largely agree that gender-affirming care is medically necessary and rarely involves surgery.
Instead, most treatments include puberty or hormone blockers, which delay puberty but can be reversed.
In Wednesday's court filing, Koe told the court that the DFPS investigator told her attorney that the investigator was "not referring to any law" but wanted to know if Koe was "aware of the new regulations and practices that were recently enacted." ".
Koe told the court the prosecutor confirmed she was being investigated for physical abuse for killing the boy, who she says is "finally being himself" after being treated with puberty blockers and hormones under the guidance of a Pediatrician, endocrinologist and two gender-affirming nursing therapists have examined.
Marissa Gonzales, director of media relations at DFPS, told WFAA on Friday that she will be reviewing responses to our questions about whether DFPS has officially resumed investigations into gender-affirming care and whether it is DFPS policy to remove children from classrooms, without questioning their parents' knowledge and consent.
On August 23, in response to an earlier request from the WFAA, Gonzales said eight of the investigations were closed and three were still open.
"None of the investigations have resulted in the removal of any child," Gonzales said at the time.
The statement shows that despite ongoing legal battles to block investigations, DFPS continues to conduct child abuse investigations into parents who provide gender-affirming care to transgender children.
In May, the Texas Supreme Court allowed the investigation to continue but blocked at least one investigation into a family suing the state.
Over the summer, three more child abuse investigations in Travis County were blocked for gender-affirming grooming.
Abbott's order for the investigation came a day after Attorney General Ken Paxton issued a non-binding legal opinion on March 21 that said sex reassignment care "can legally constitute child abuse."
In July, a Travis County judge asked attorneys to provide additional evidence about how DFPS is handling these investigations, leading to Koe's filing Wednesday.
The filing also included a statement from Samantha Poe, the mother of a 14-year-old child who uses she/she pronouns, who said they were "in the midst of exploring what social transition feels like."
Poe said she is currently being evaluated by DFPS, although she has confirmed her child is receiving gender-affirming care.
DFPS asked Poe for her approval for an investigator to interview her child on August 25. DFPS also requested a tour of Poe's home, which they declined.
Poe's child "attempted suicide due to past trauma, challenges related to identity exploration … and response to her gender identity," she wrote.
"My biggest fear is that they'll start blaming themselves that I'm at risk of being labeled a 'child molester' because they stand by who they are and because I support and love them."
When Abbott gave his order, confusion and anger reigned among DFPS. Nevertheless, the investigations continue.
Internal emails obtained by WFAA show that DFPS managers worked to discourage lower-level staff from handling the cases by demanding that they be escalated to supervisors.
The workers also shared their opinions, despite strict instructions not to send emails or share their personal thoughts about the order.
"Effing bull poop," wrote one worker.
"I'm going to quit," said another worker.
Uvalde police investigate shooting at city's Memorial Park; two teenagers being treated at San Antonio hospitals
APD is seeking help locating a missing adult believed to be in danger
Two people arrested on drug charges after Hays CISD reports fourth student overdose death
https://www.kvue.com/article/news/local/texas/transgender-student-questioned-by-texas-officials-at-school/269-5d234391-3110-4dd9-8a47-a71b999c875a Eighth grade transgender students interviewed by Texas officials