Elderly couple survive 2 nights in swamp without food or water: 'They'll find bones one day'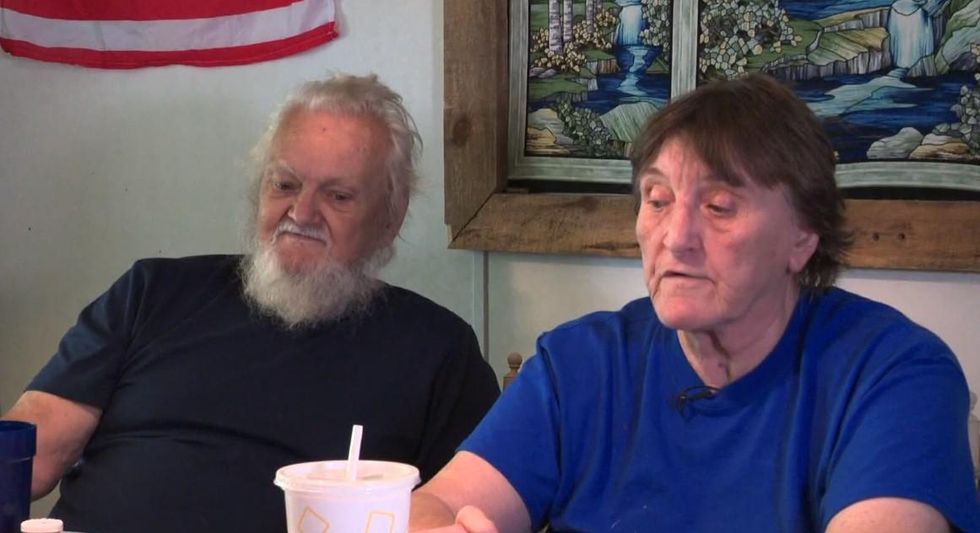 An elderly couple in Michigan recently found themselves in a desperate situation when they got stuck in the mud with no food, water or a working cell phone.
On a Monday morning late last month, Butch and Janice Duncan — who are believed to be from Blanchard — were driving to Mecosta County, Michigan, about a half hour away. However, the couple took a wrong turn onto a dirt road, and when they tried to find their way back, their truck got stuck.
Butch Duncan left to seek help and Janice stayed in the truck awaiting his return.
"It was getting dark and I was like, 'He should be here any time now,'" said Janice Duncan WZZM TV. "And he didn't come back."
Janice ends up spending the night in the truck. When Butch, who had left without a cell phone, still hadn't returned several hours later, Janice became concerned. She quickly scribbled a note detailing her situation and approximate whereabouts, left the note in the truck's windshield, and went in search of her husband.
She found him stuck in the mud without shoes. She tried to save him but eventually fell in herself.
"You can't go in. You take a step and you fall," said Janice. "I'm trying to get to him and I've kept falling and falling and falling."
Apparently, her cell phone had also been dropped. By this time it was so submerged in the water that it was no longer operational. All they could do was hope, pray and call for help.
"I yelled, I yelled, and I yelled to call 911, get us help, get us help," Janice said, "and no one came."
The husband and wife, both in their 70s, ended up spending two cold nights in the mud with no food or water, and both began to fear the worst.
"He got pretty shaky," Janice recalled. "He's trying to sleep and I said, 'Butch, wake up! Don't go to sleep!' I told him, 'I think we're done. I think we're going to stay here and one day they're going to find bones.'"
However, their prayers were answered on Thursday morning. A nearby landowner had spotted the abandoned vehicle, read Janice's hasty note, and called the police. Authorities then conducted a search for the couple, found them in the swamp and dragged them to safety. They had been in the elements for almost three full days.
"Thank you God!" Janice remembered saying.
The Duncans were then placed in an ambulance and taken to a nearby hospital in Mount Pleasant, where they stayed for a few days recovering from dehydration, exposure and some infections. They are fine now.
"The ambulance driver told me, he said, 'If you'd been out there one more day, you'd be dead,'" Janice explained. She warned anyone who hears her story to make sure they always share her whereabouts with friends or family just in case an emergency arises.
Butch offered another lighthearted advice: "Don't get old."
https://www.theblaze.com/news/elderly-couple-survives-2-nights-stuck-in-a-swamp-without-food-or-water-they-re-going-to-find-bones-someday Elderly couple survive 2 nights in swamp without food or water: 'They'll find bones one day'