Electrify America to double electric vehicle chargers at Bank of America
Bank of America and Electrify America (EA) announced Tuesday that they plan to more than double the number of banks equipped with electric vehicle chargers by the end of next year. According to the bank, 172 individual chargers have been installed at 46 outlets, with the number expected to grow to 350 chargers at more than 90 locations.
Currently EA has 800 total stations in the United States with 3,500 installed or completed fast charging stations. By 2026, 1,800 stations and more than 10,000 chargers are expected in the US and Canada.
"Electrify America is powering the electric future by bringing ultra-fast charging to customers in convenient locations," said Anthony Lambkin, senior director of operations at Electrify America. "Working with companies like Bank of America—who share our goals for a more sustainable future—helps accelerate the transition to electric transportation and meet customer needs."
This is a similar deal to Volvo and Starbucks' March partnership, in which the two companies worked with ChargePoint to install up to 60 chargers at 15 of the cafe's locations. One will be placed every 100 miles between Seattle and Denver.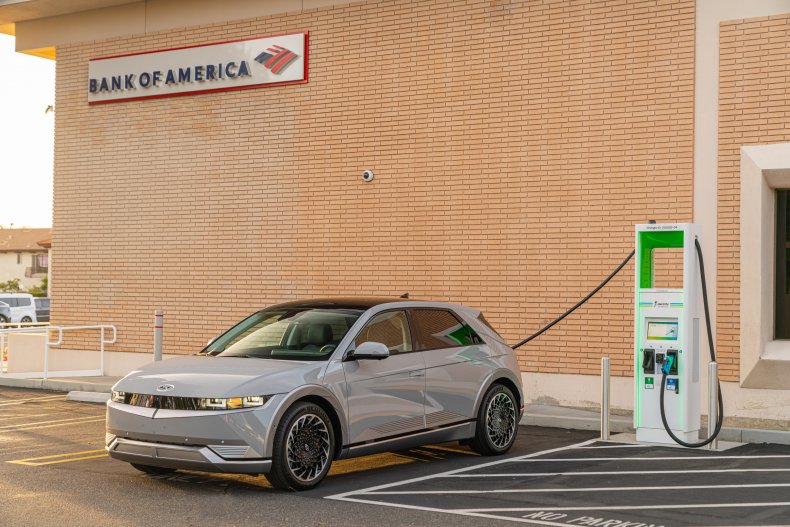 Bank of America's partnership with Electrify America began in 2019. Since then, Chargers have been located in Florida, Georgia, Illinois, Maryland, Massachusetts, New Jersey, Oregon, Virginia and Washington. Next, more Chargers will come to Colorado, Connecticut, Indiana, North Carolina, New York, Oklahoma and Texas.
"At Bank of America, our commitment to a more sustainable future is woven into our culture and the many ways we serve our customers and communities," said Aron Levine, President of Preferred Banking at Bank of America. "Through our collaboration with Electrify America, we make life easier for the communities we serve and contribute to a more sustainable future."
The bank is also a member of EV100, a group comprising 121 global companies that have committed to electrifying their fleets and/or installing charging stations for employees and/or customers by 2030. B of A is joined by Goldman Sachs, AstraZeneca, Zenit and many others. In addition to actual bank locations, Bank of America has employee chargers at more than 100 locations.
Through the company's Approach to Zero program, the company aims to achieve zero greenhouse gas emissions in its financing activities, operations and supply chain by 2050. It also recently announced an electric vehicle funding grant for Detroit's Wayne Health Mobile Unit.
https://www.newsweek.com/electrify-america-double-electric-vehicle-chargers-bank-america-1709763 Electrify America to double electric vehicle chargers at Bank of America