Elise Stefanik's ex-mentor 'shattered' by embracing Trump's 'big lie'
Rep. Elise Stefanik's former mentor, John Bridgeland, said he was "shattered" by her embrace of former President Donald Trump's "big lie."
When Stefanik was first elected in 2014, she was widely regarded as one of the most moderate Republicans in Congress, representing a then-competitive district in New York. But in recent years, many have pointed out her fast panning rights.
Once a Trump critic, Stefanik has morphed into a staunch Trump defender. After he lost the 2020 election, she embraced his claims of widespread voter fraud and voted against certifying Electoral College voting in Pennsylvania, a swing state won by President Joe Biden.
Since then, she has only continued to support those claims, eventually replacing Wyoming Rep. Liz Cheney, who emerged as a leading Trump critic, as chair of the Republican Conference.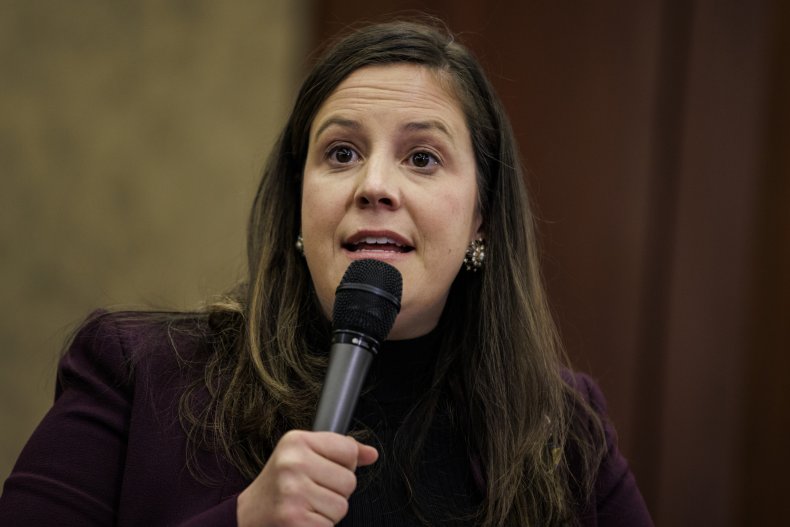 Bridgeland, who served as Stefanik's mentor at Harvard's Kennedy School of Government, said in a Washington Post Interview this week that her support of Trump's electoral fraud "shook him up".
"I was shocked. I was really heartbroken," he told the newspaper.
After a racially motivated shooting in Buffalo last week, Stefanik was investigated over ads allegedly invoking the "Great Replacement" theory — a racist conspiracy that argues that white Americans will be replaced by people of color — published in a manifesto of the alleged shooter is mentioned.
During her time at the institute, Stefanik was "extremely bright" and "public service minded," Bridgeland said, adding that he "kept the world of her." He told that post Office that he points to their apparent ideological shift as part of their "lust for power" to rise in the Republican ranks, a task that would be difficult for a moderate in an increasingly conservative party.
Bridgeland told the newspaper he was "shocked that she would take such a dark path".
"No power, no position is worth the complete loss of your integrity," he said. "It was just really scary for me to watch this transformation."
Stefanik has fought back claims that her ads – which accused Democrats of trying to create "a lasting liberal majority" by letting undocumented immigrants vote – pushed the Great Replacement Theory. She told CNN reporter Manu Raju last week that she "never made any racist comment."
"I condemn racism," she said. "The disagreement on immigration is that I support a safe border, while Democrats have advisory bodies. I am not in favor of illegals being able to vote."
The Harvard Institute of Politics removed Stefanik from its Senior Committee last January over her vote against Electoral College certification, prompting them to accuse her of ducking and backing down "to the woke left."
news week has reached out to Stefanik's office for comment.
https://www.newsweek.com/elise-stefaniks-ex-mentor-shattered-her-embracing-trumps-big-lie-1708957 Elise Stefanik's ex-mentor 'shattered' by embracing Trump's 'big lie'