Elon Musk calls The New York Times a "lobby firm for far-left politicians" after the paper appeared to have failed to publish a story about "The Twitter Files."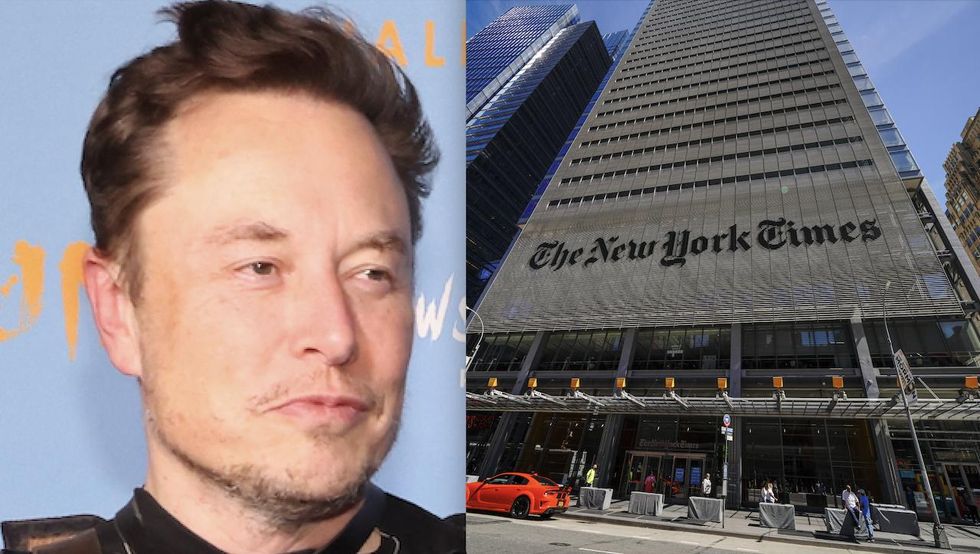 Elon Musk on Saturday called The New York Times, a "lobby firm for far-left politicians," after the newspaper appeared to have failed to publish a story on Friday's publication of "The Twitter Files" — the treasure trove of internal emails calling for censorship of Hunter's laptop story Biden was detailed by the social media platform ahead of the 2020 election.
Emails also showed members of then-presidential nominee Joe Biden's inner circle reaching out to Twitter, urging his staff to "review" tweets — at which point Twitter deleted them.
While journalist Matt Taibbi noted that those who worked for then-President Donald Trump also had access to Twitter for such requests, which Twitter honored, it was not an equal company.
"This system was not balanced. It was based on contacts. Since Twitter was and is predominantly occupied by people of one political persuasion, there were more channels, more opportunities to complain, open to the left (well, Democrats) than the right," "Tabbi explained.
What did Musk tweet about the NYT?
Outkick.com founder Clay Travis tweeted Saturday that the Times app "this morning" didn't include stories about Musk or Friday night's Twitter "email release."
Musk replied, "That's because The New York Times has become, by all accounts, an unregistered lobbying firm for far-left politicians."
TheBlaze searched the Times website for "Twitter" and "Elon Musk" on Saturday night and returned no Friday or Saturday headlines with "The Twitter Files." However, the search turned up the following headlines – all from Friday:
"Elon's Two Day War With Apple + How To Defeat An AI Censor + SAQ's 'Bad Month'"
"The rise in hate speech on Twitter is unprecedented, researchers find"
"Twitter Continues to Miss Advertising Goals as Problems Mount"
"Kanye West will be banned from Twitter after posting a swastika"
Fox News, citing Media Research Center's Alex Christy, reported that all three major TV news networks — ABC, CBS, and NBC — ignored The Twitter Files story Friday night.
Fox News said it reached out to the Times for comment on the matter, but had "received no response as of the time of this article's publication."
Oh, and referring to the Times story headlined "The Rise of Hate Speech on Twitter Is Unprecedented, Researchers Find," Musk tweeted Friday that the claim "totally wrong."
https://www.theblaze.com/news/elon-musk-calls-new-york-times-lobbying-firm-for-far-left-politicians-after-paper-apparently-ran-no-story-about-the-twitter-files Elon Musk calls The New York Times a "lobby firm for far-left politicians" after the paper appeared to have failed to publish a story about "The Twitter Files."